Quality education will certainly create skilled and well-informed youth who will be better employable and can create businesses that can generate employment opportunities for others as well, says Kiran Dham.
Illustration by Dominic Xavier/Rediff.com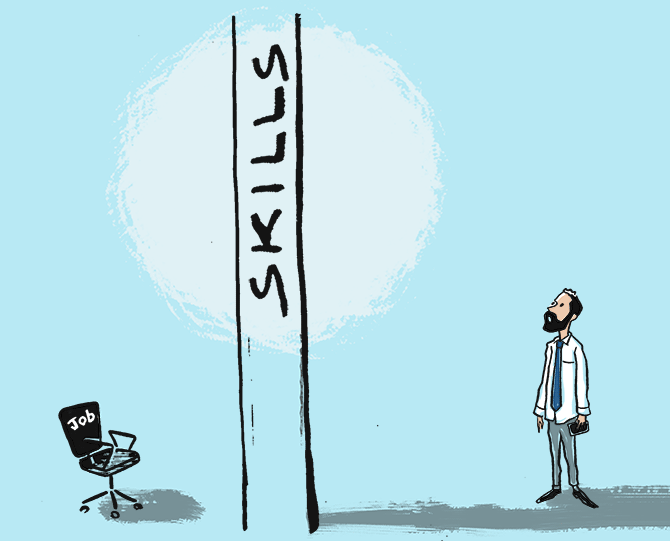 India has always been a country of opportunities and growth.
But in the last decade, the number of unemployed graduates have increased making some of us wonder what really went wrong.
Among several different aspects to be considered responsible for the issue we must speculate on the steps which are necessary to resolve the problem and bring more opportunities for the youth of this country.
Some of the suggestive measures the Indian government can take to increase employment are:
1. Improve quality of education
One of the biggest challenges faced by Indian industry is that quality education is still difficult to achieve for Tier 2 and Tier 3 city students.
The pedagogies applied at most institutes are traditional and do not meet the rapidly evolving industry requirements.
Most companies want skills that are global and go beyond textbook education.
The government and educational institutions must work together to ensure quality education is accessible to all regardless of distance, language or time and this could only be possible with the help of technology.
Online learning platforms can easily provide job oriented higher education courses to learners with the minimum requirement of a laptop/PC/smartphone and an optimum internet connection. Learners can also seek help of online resources and study material to discuss and learn with global connoisseurs.
The curriculum needs to provide an immersive learning experience.
Schools, teachers and government need to adopt and implement digital learning solutions in their regular curriculum.
It is imperative to focus on improving infrastructure, connectivity, electricity and create awareness about technology among the rural audience.
Skills training needs to be imparted at the most basic level of population, especially those living below the poverty line.
Quality education will certainly create skilled and well-informed youth who will be better employable and can create businesses that can generate employment opportunities for others as well.
2. Invest in technology
Investing in technology is a massive multiplier. It will lead to the creation of many prestigious and well-paying jobs.
The Indian leadership needs to put forth an audacious idea for technology led growth and take steps to realise it.
Only when steps towards achieving a bold vision are taken can it be accomplished.
It's evident that technology, particularly big data, AI, IoT, cloud computing and digital payments will play a central role in its vision to become the dominant global power and serve as multipliers of productivity which creates wealth and jobs.
Such advancements are needed to be embedded in the workforce in order to upskill them.
India needs to upgrade the regular job skills with technology intervention and bring in more technology enabled job profiles to accommodate more young professionals.
Investing in advanced technology infrastructure would certainly accelerate the growth and economy.

3. Invest in physical infrastructure
A slowdown or recession is the perfect time for a country to expand its physical infrastructure.
India needs world-class physical infrastructure for robust economic growth into the middle of this century.
The government must put people to work on massive public works projects.
The physical infrastructure in India is astonishingly inadequate for meeting the country's global ambitions.
With more freeways, more and larger ports and airports, power plants, dams, and high-speed rail India will become closer to realising its vision of becoming a global player by the middle of this century.
In the process, it will put millions to work designing and building infrastructure projects that will facilitate commerce.
4. Structural reforms by lower taxes
Our government needs to implement structural reforms to create a favourable environment for businesses maintaining a healthy competition among the players.
We must work in the direction of an innovation and technology driven economy which could boost up creation of jobs and open advanced and newer avenues of employment within the country.
Lowering taxes or providing short time concessions to the businesses can stimulate the economy by encouraging more people to enter the industry and create jobs.
Lowering taxes allows more disposable income in consumers' hands.
When consumers spend more, demand rises and businesses employ more workers to produce more goods and services. The government has already lowered corporate taxes to stimulate the economy- the result has been as expected.
More innovative tax measures that put money in consumers' hands will stimulate the economy further and generate jobs.
Corporate tax rates should also be lowered further to free up capital with enterprises giving them an incentive to invest more, thereby creating more jobs.
5. Lower interest rates
Before 2008, discussions on interest rates were held mostly in academic circles.
Today more non-specialists understand the role played by interest rates in the economy and hence reviews on them are held by people who aren't academics.
To create jobs, the government should consider further lowering the reverse repo rate, so banks are encouraged to lend more to consumers.
When banks earn less by parking money with the RBI, they will be incentivised to lend.
When consumers have to pay less interest for borrowing money, they will be encouraged to borrow more money.
They will subsequently purchase more goods and make investments in real estate.
More purchases and investments will lead to higher demand and lead to companies investing more and hiring more people. Eventually, this will lead to the creation of more jobs.
The government will have to find a way for a low turn around rate for loans which could be possible with AI. It could assesses loan applicants by cross-checking as many as five-thousand data points.
Such innovative techniques need to be adopted by India which could lead to a significant drop in the default rates and there will be a higher demand for goods made by the automotive industry.
Buoyed by higher demand, the automotive sector will also be able to hire more workers lowering the unemployment rate in India.
---
Kiran Dham is CEO, Globus Infocom. She can be contacted on ga@rediff-inc.com.
---