Rediff readers from across the world have been sending us photographs and sharing their stories of Ganeshotsav celebrations.
You can share yours too!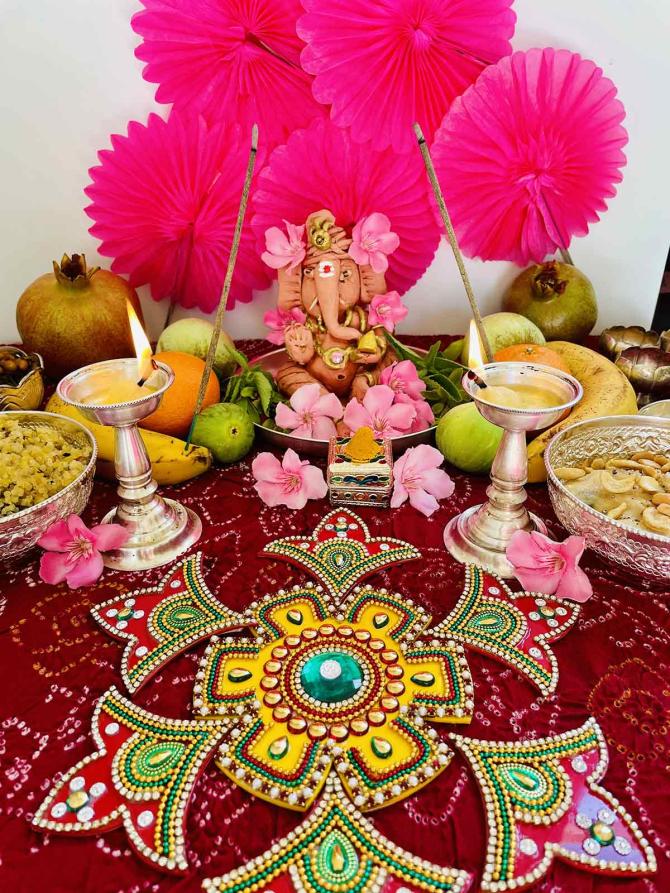 Aanya Kandala says she enjoyed making this clay Ganesha at her home in the Bay Area, California.
"We prayed for good health, peace, prosperity and to end this pandemic soon so that I can visit my grandparents and extended family in India. I miss them dearly," Aanya adds.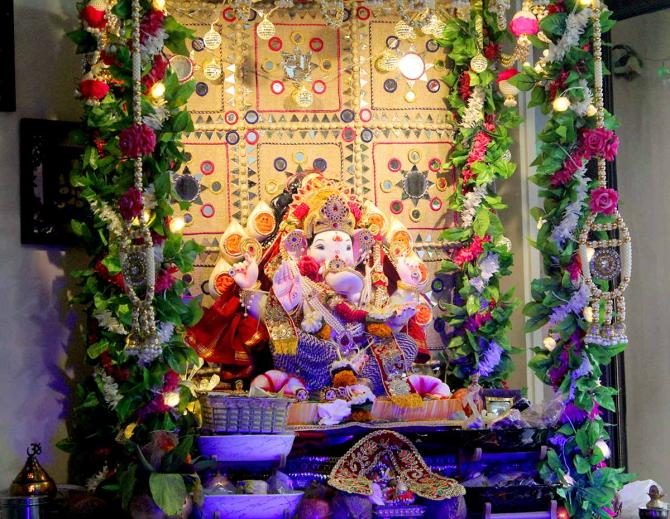 Jagat B Parekh from Kandivali, north west Mumbai, shared this photograph of his Ganpati decorated beautifully with dhoti and khes (hair) made from lace, aabhla (differently shaped glass) and kodi.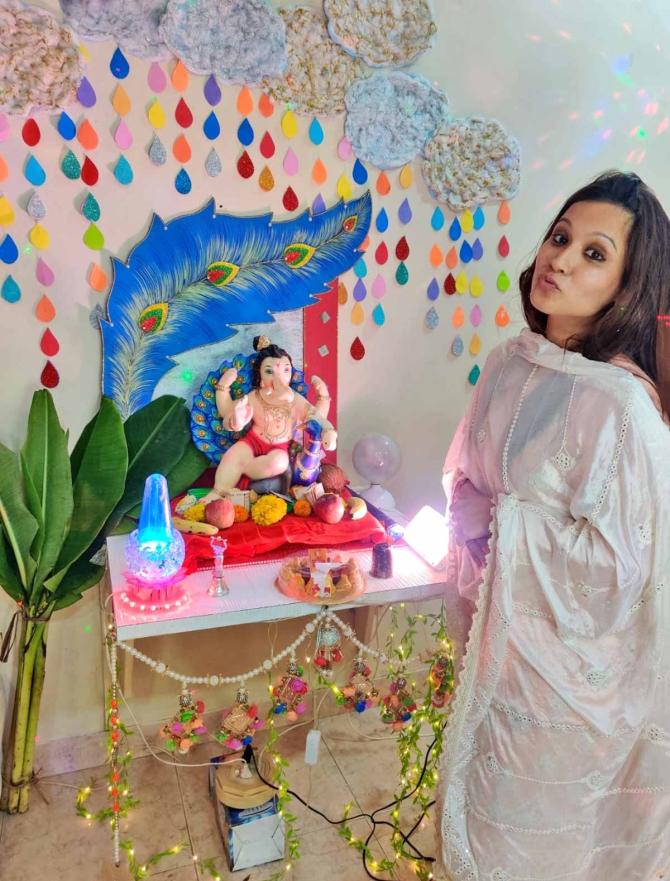 Shivika Mehra from Bandra, north west Mumbai, explains the theme for her Ganesha celebrations this year.
"This year the theme was rain -- barso re megha."
"During covid times, our life came to a standstill. Ganesha being known as the God of Success and prosperity is seen bringing showers of hope through vaccines."
It's raining blessings -- Splish splash splish splash."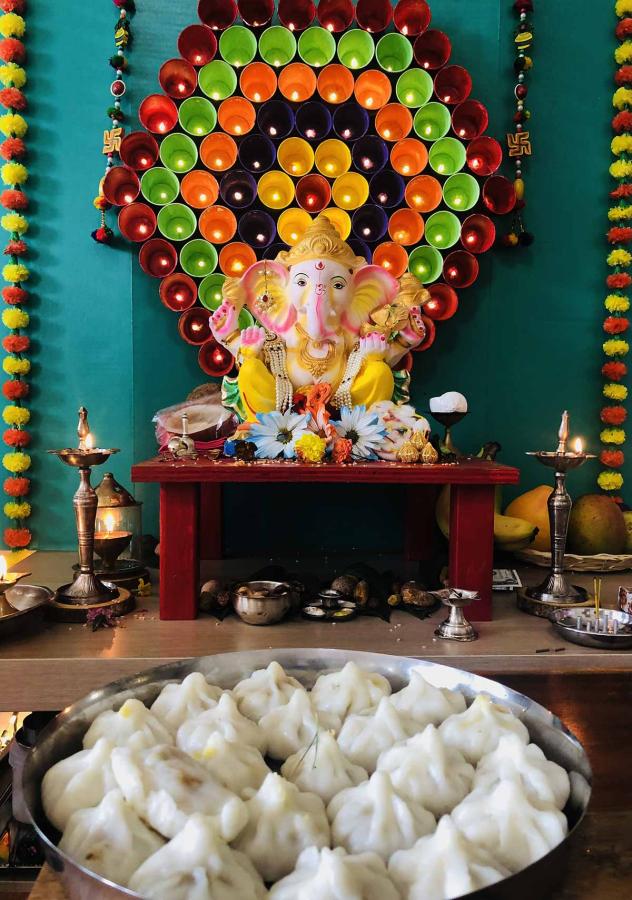 Grade 2 student Swara Kelkar, who lives with her parents Ninad and Dipti in Charlotte, North Carolina, says "It's 10 years of Ganpati celebration and we celebrate this festival with all friends."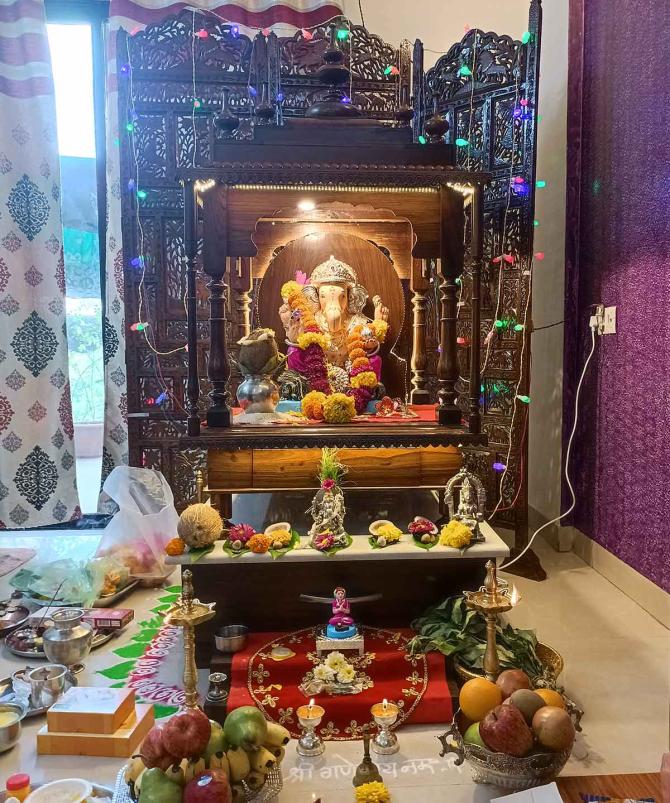 Venkatesh Bhat shared pictures of Ganpati celebrations in Magarpatta City, Pune. "These decorations are over five decades old and still looks so stunning and beautiful," he says.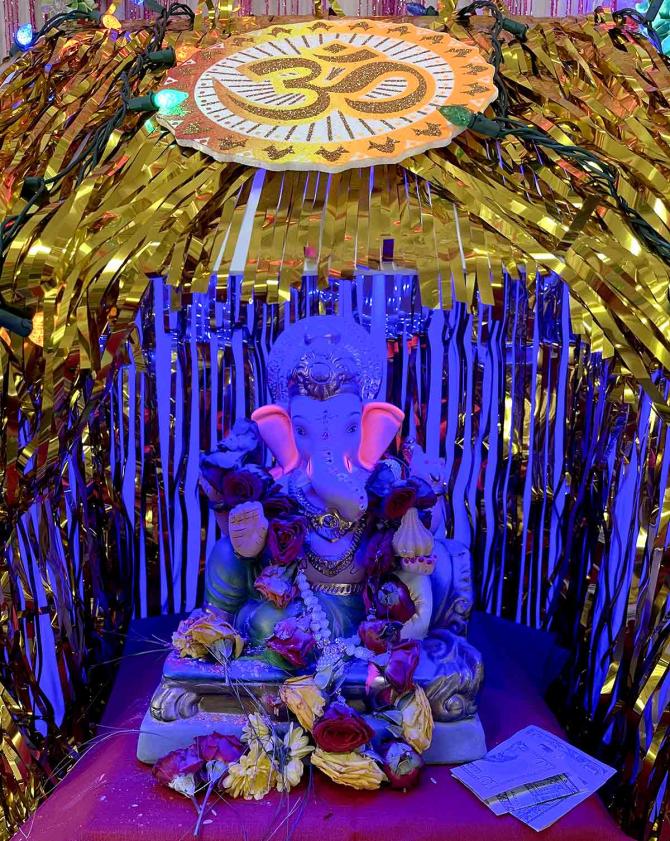 Nehal Tandel, who is based out South Brunswick, New Jersey, calls it her favourite festival. She says: It is the 6th year of celebrations and it's such a divine experience. Ganpati Bappa Moriya".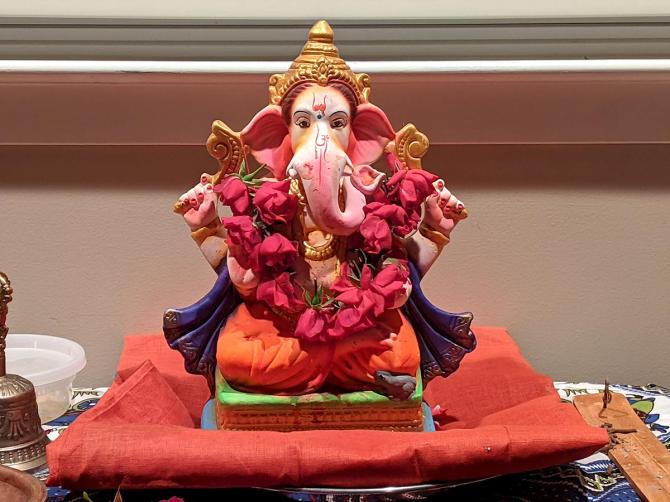 Anirudha Shanbhag and Jayshree Desai welcomed this Ganpati Bappa in Saratoga, California.
"A year where the vaccines helped control the number of infections and deaths thanks to the Lord," the couple write.
"Looking forward to the next year where we can have the pandemic behind us."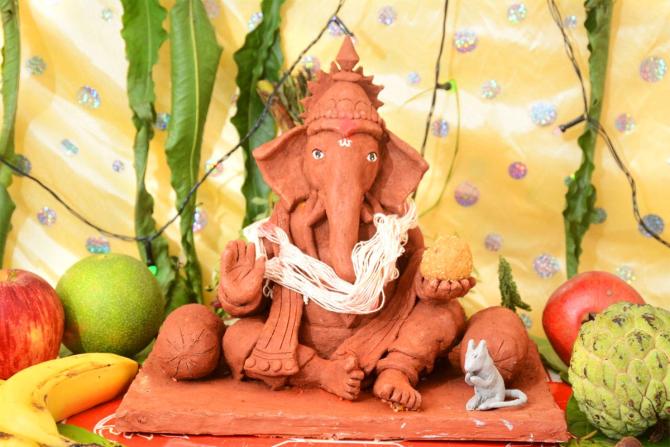 Bakulesh Trivedi from Borivali, north west Mumbai, has been bringing home Lord Ganesha for 10 years now.
"Our Ganesh idol is home made from shadu mati (natural clay) and painted with geru (brown mud)."
"It's an eco-friendly Ganpati. We immersed it in a tub in our building's compound."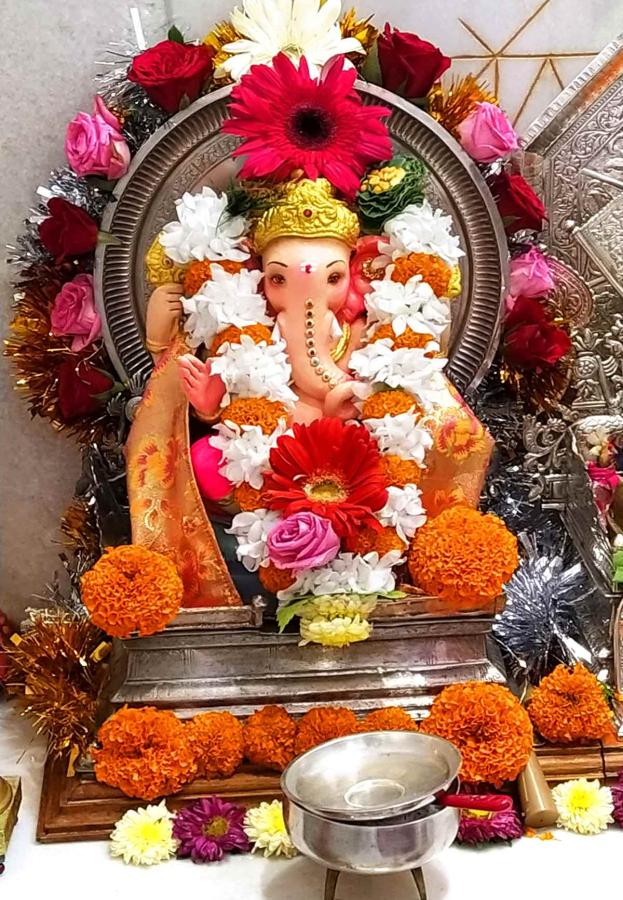 Rajesh Mahajan from Buldhana, Maharashtra, brought home a beautiful Ganesha this year.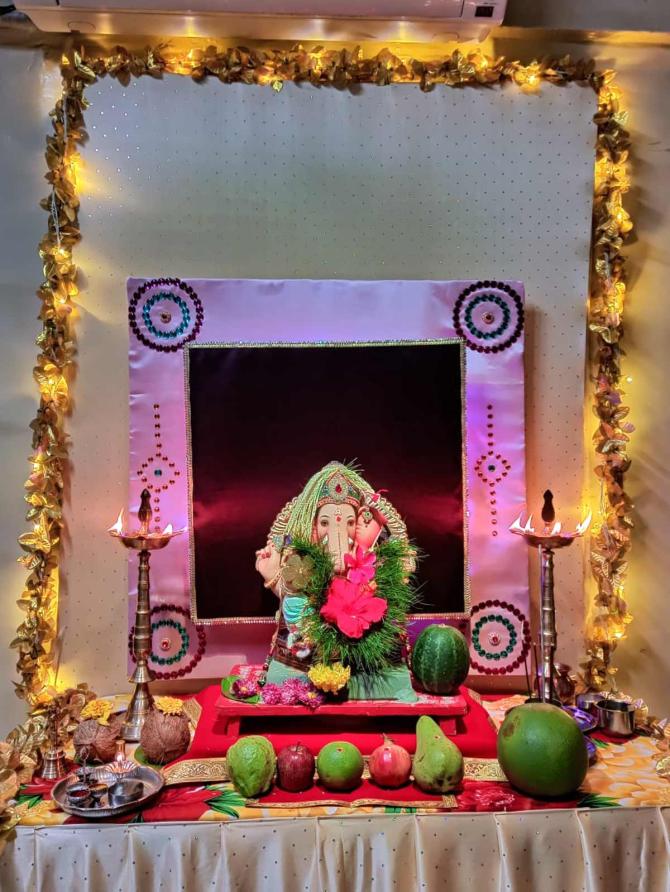 Deepak S Patole from Worli, central Mumbai, shared this photograph of simple yet beautiful Ganpati decorations .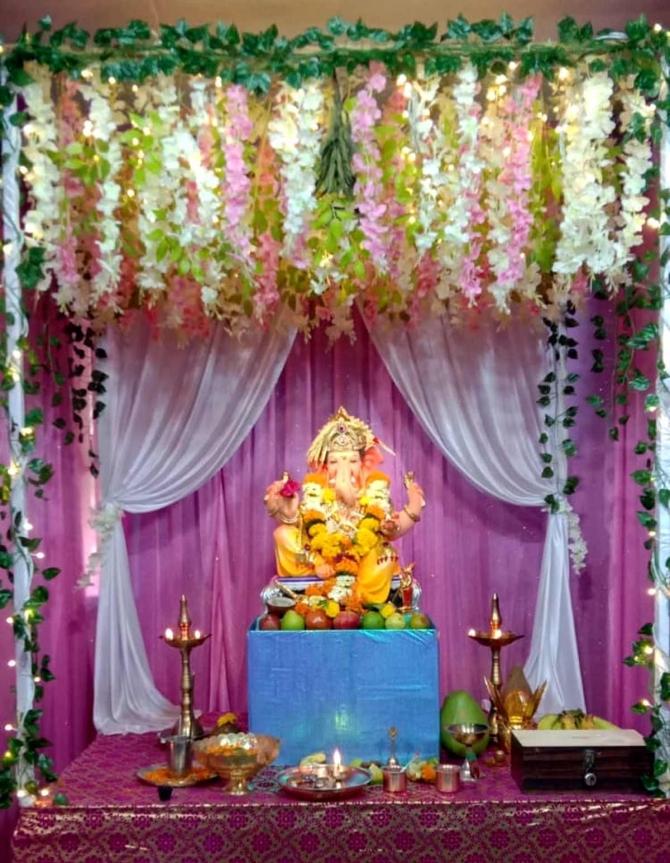 Worli's Baal Gopal Mitra Mandal opted for floral decorations for Ganeshotsav this year.