Rediff readers from across the world have been sending us photographs and sharing their stories of Ganeshotsav celebrations.
You can share yours too!
Bobby Gavhade's family was excited to share this photograph of Ganpati decorations at their home in Kalyan.
"We brought home our first Ganpati 25 years ago. We are celebrating Bappa's 25th anniversary this year. He has always bought so much joy and positivity into all our lives and homes. Ganpati Bappa Morya!"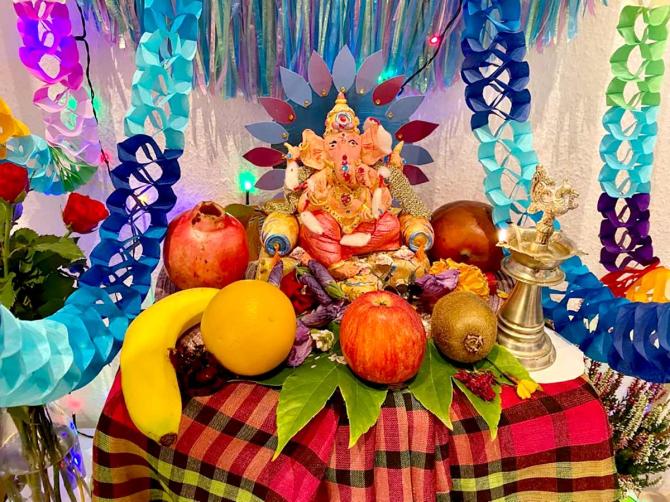 Anirudhha Patki from Darmstadt, Germany, welcomed Ganesha this year with his family.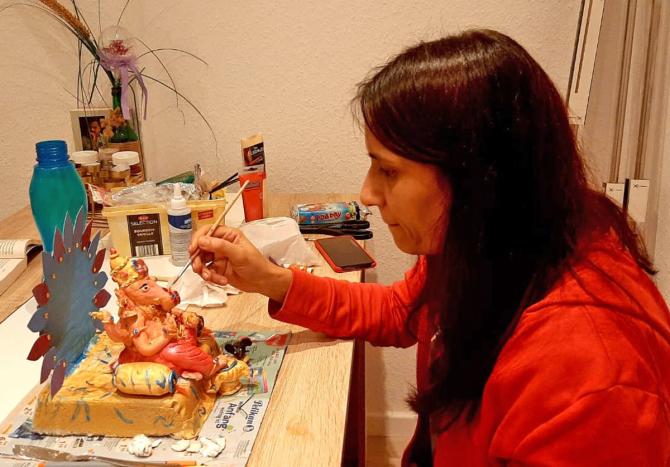 Chandana Aniruddha Patki: "We've been making the Ganesh idol at our home in Darmstadt, Germany, since last year. My husband Aniruddha and children Chinmay and Charvee help me in this enjoyable creative process.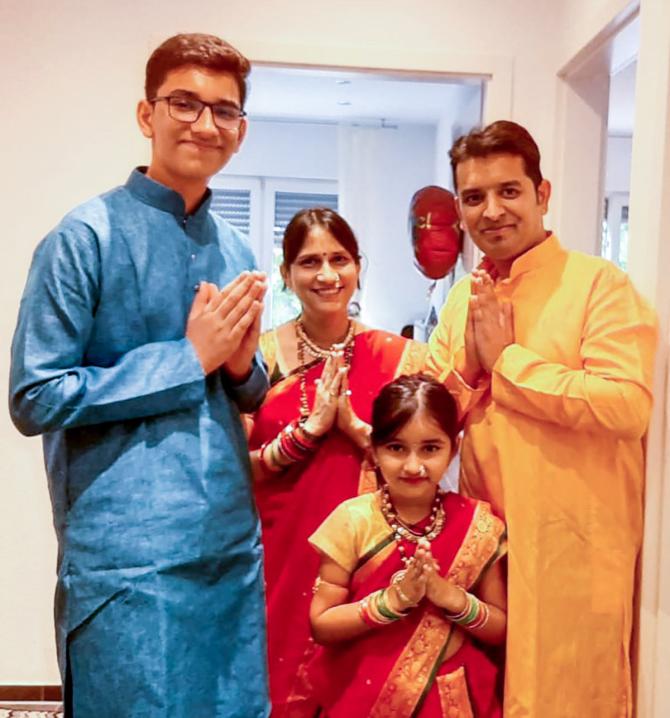 "We celebrate the pooja, aarti in ethnic wear together with a few Indian families, followed by home cooked authentic Indian food," Chandana added.
"We wish everyone at Rediff family and all the readers good health and peace of mind!"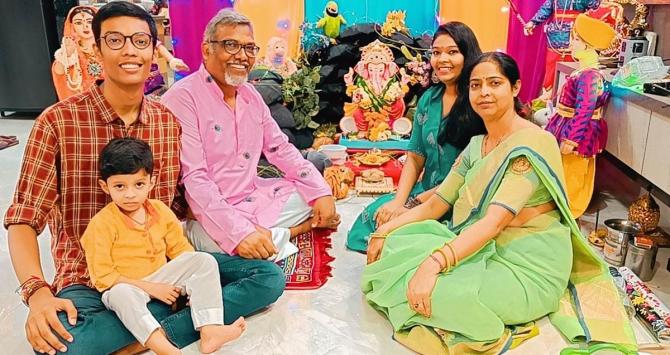 Bhayander resident Hari Prasad Khandelwal's family has been celebrating the festival for 16 years.
"Continuing the tradition of celebrations for 16 years in a row we welcomed Ganpati at our home. For the last 5 years we have been bringing eco-friendly Bappa and trying to share a positive message to society through various themes every year."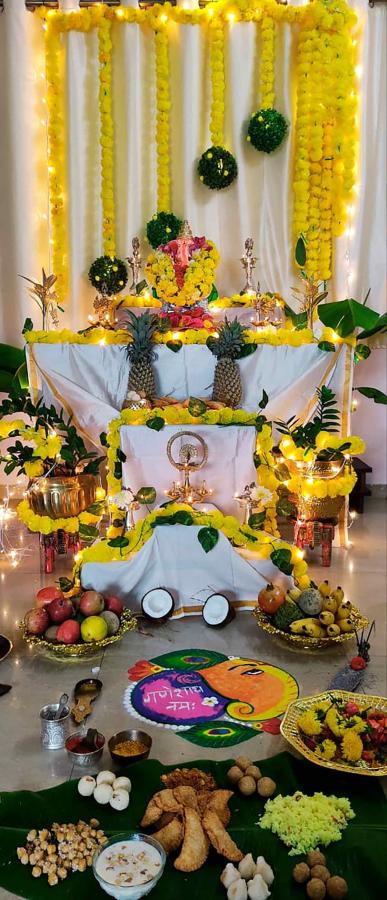 Harshitha R from Bengaluru sent us a photograph of this yellow and green themed Ganesha decorations from their home.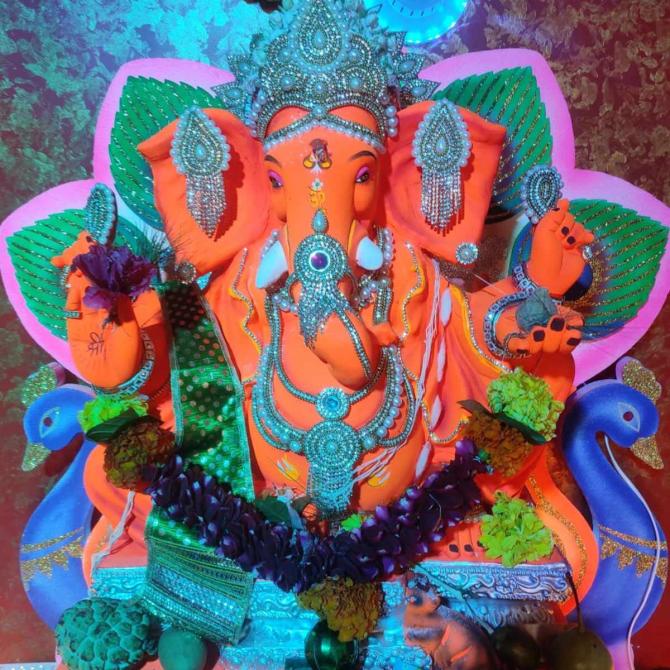 Girdharilal Podar's Ganpati at Thakur Village in Kandivali, northwest Mumbai, has been decorated by his family.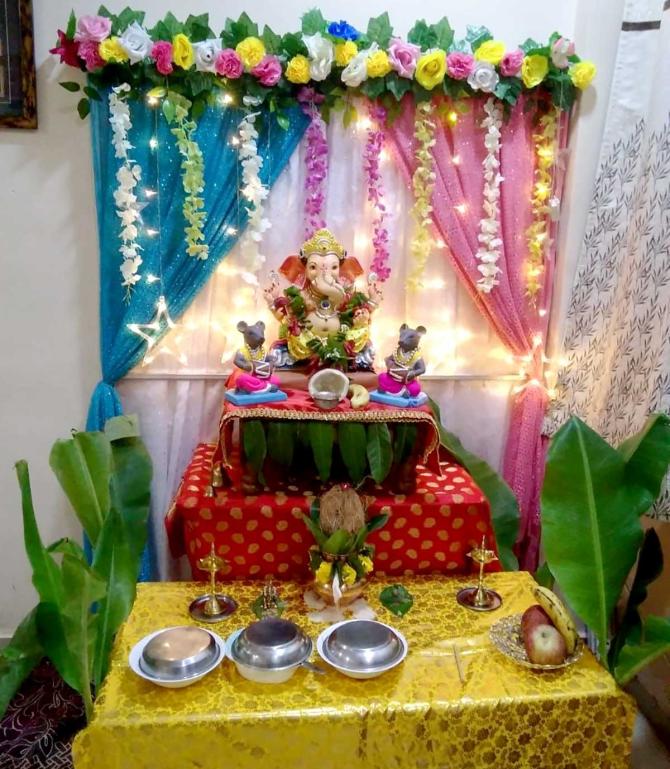 Ashish Bhagwat's beautifully decorated Ganesha at their home in Bhusawal, Maharashtra.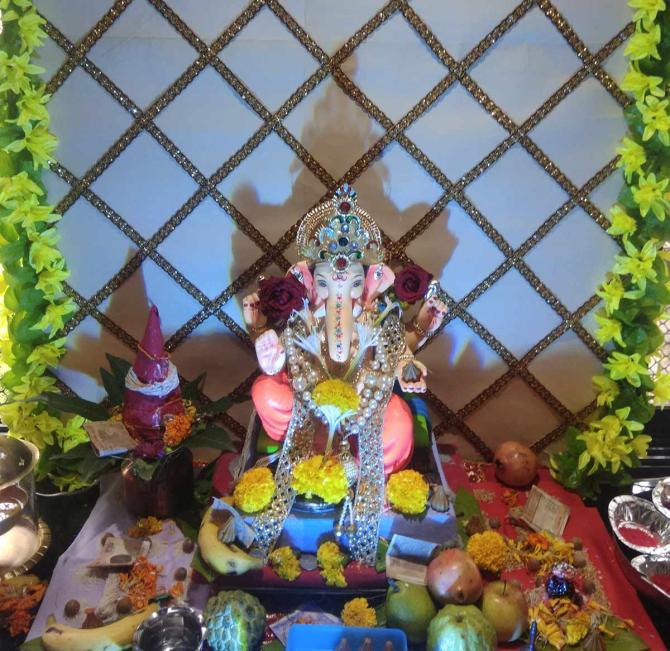 Deepak Singhal from Andheri, northwest Mumbai, shared this pic from his Ganeshotsav celebrations.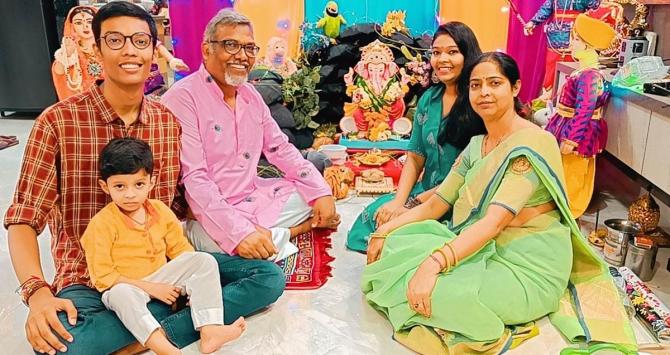 Please mail photographs and videos of your Lord Ganesha idol and celebrations to getahead@rediff.co.in (Subject: Bringing Home Lord Ganesha) along with your NAME, LOCATION and a short description.