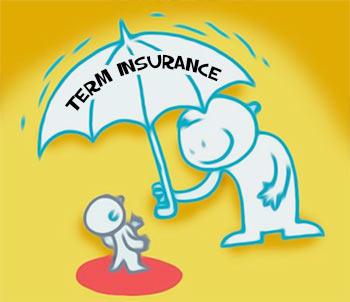 Don't sidestep the idea of investing in term insurance, says Santosh Agarwal.
Here's why.
Some people question the need to have term insurance, especially when they believe that the investments they have made in different market instruments will be enough to take care of any major financial requirement that may arise in case of a sudden death or any other unfortunate incident.
Though nothing can indemnify the loss of a loved one, the amount received as death benefit from a term insurance policy, which is considered to be the best form of life insurance, helps recompense the loss of earnings due to death.
1. A term policy is simple and affordable
The idea of purchasing a financial plan causes many to feel dizzy. This is because choosing the right plan after comparing premium amounts and the extent of financial security available is not easy.
The best way is to go online and compare the most economical term insurance plans available.
The next step would include collecting details of brand reputation of various insurance companies and checking their claim settlement ratio before zeroing in on one term insurance policy.
Having a term plan simply implies that one has to pay the premium and get covered for the term chosen.
The amount of premium to paid is calculated based on the term chosen, the age at which the policy is bought and the term plans offered by the insurer.
For those who wish to avail the merits of having a term insurance, it would be beneficial to start early so that they may gain the benefits at reduced premium.
For example, a term plan bought by a 30-year-old non-smoker male from ICICI Prudential Life Insurance costs only Rs 899 per month and promises life cover of Rs 10,000,000.
2. Deciding coverage amount according to need
Having a term insurance is equivalent to having a backup plan in case of any eventuality that had been overlooked while making investments or planning for long-term goals.
There are times when a loan has been taken with repayments of debts liable to fall upon the family members of the insured, or other financial requirements such as educational obligations.
The benefits of a term insurance which would be available on death of the insured can help take care of the liabilities incurred in addition to ensuring a certain lifestyle of those left behind.
3. Investing early
It is always good to buy term insurance sooner than later.
Those looking to insure themselves must calculate the tenure of the term insurance equal to retirement age minus the current age.
The biggest advantage of having a term insurance policy early in life, however, is that one pays the same amount of premium despite increasing risks with growing age.
So, one starts paying the premium while young, and continues to pay for the same premium through the entire period as determined at the time of buying the policy.
In addition, the insured can assess her/his level of risk after every few years, and decide to add on to the existing cover if needed.
4. Added benefits and riders
Like many other insurance plans, in term insurance as well one can take add-ons or riders to secure added benefits.
Insurance companies allow scope for added riders such as accidental death rider, benefits during critical illnesses, rider for partial or complete disability, premium waiver, and income benefit rider.
5. Duration of term insurance
It does not make sense to invest into a term insurance plan for short periods. Some people tend to limit the term of insurance as they would have to pay fewer premiums.
But one of the basic features of a term plan is that if the insured person outlives the term period, there would be no payout, and in case of a short term the chances of the insured outliving the term are quite high.
The whole purpose of taking a term policy is to ensure protection for loved ones.
While deciding the tenure of the term insurance policy, one needs to take into consideration the age of retirement or the time required to be completely free of the responsibilities like children's education, house loan, daughter's marriage, etc.
6. Accurate disclosures necessary for insurance policies
It is necessary to make correct declarations in the insurance proposal.
This is because insurance companies calculate the risk according to the details provided by the insured.
It is necessary that the insured goes through all the details printed in the document.
Claims are liable for rejection if facts are not shared or misstated.
Death is inevitable and unavoidable. At most, what one can do is to prepare for emergency situations unanticipated before.
While continuing to invest keeping long-term goals in mind, it is necessary that the basic requirements of loved ones are taken into consideration and money invested accordingly.
Santosh Agarwal is head of life insurance, Policybazaar.com
Illustration: Dominic Xavier/Rediff.com