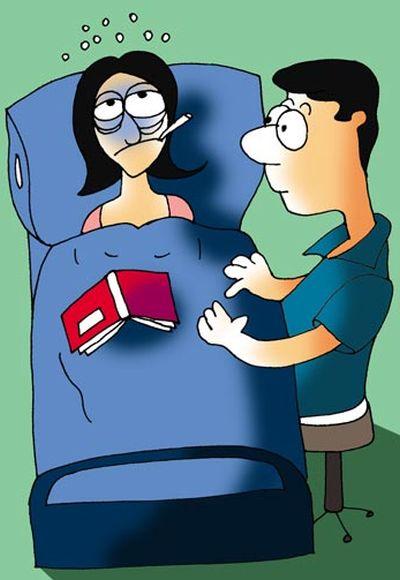 Don't go for family floater plans; though convenient they cost you more.
Tinesh Bhasin tells you more.
Illustration: Uttam Ghosh/Rediff.com
Some companies have started offering family floater health insurance plans that allow individuals to include their parents in the same policy.
While such policies offer the convenience of paying a single premium for the entire family, buying a separate family floater policy for parents is more cost-effective.
An individual should only include parents in a family floater if they are unable to get a separate policy.
"If seniors apply for health insurance on their own, their chance of getting a cover is limited, especially if they have pre-existing diseases. In a family floater plan, their chances of getting a cover improve," says Arvind Laddha, deputy chief executive officer, JLT Independent Insurance Brokers.
Max Bupa and Aditya Birla Health Insurance offer this option.
"In the Max Bupa Heartbeat Family First plan, a person can cover up to 20 relationships in a single policy. There is no age cap for any relationship," says Ashish Mehrotra, managing director and chief executive officer, Max Bupa Health Insurance.
In Aditya Birla Health's plan, customers earn points for keeping fit.
These can be used for health-related expenses such as paying for diagnostic tests, day care treatment, outpatient expenses, alternative treatments (traditionally excluded), or even to pay for future premiums.
Including parents is expensive
A family floater plan's premium is usually based on the age of the oldest family member. Adding parents would mean an individual pays higher premium for a lower sum insured.
"It, therefore, makes more sense to opt for two family floater policies -- one for the parents and the other one for the son and his family," says Rahul Mohata, chief operating officer, 121policy.com.
Consider a family of four.
The son, who is taking the insurance, is aged 30. His wife is 28. Mother and father are 51 and 55, respectively.
For a Rs 5 lakh family floater of Max Bupa Family First, the premium is Rs 59,113, and for Aditya Birla Health Insurance Enhance, it is Rs 62,289.
These are the premiums considering everyone is healthy.
If you were to buy separate plans for the parents and for the son and his wife, you would get double the sum insured for almost the same price.
If the individual opts for Max Bupa Health Companion and buys two separate family floaters with a cover of Rs 10 lakh each, the total premium for the same profile would be Rs 50,321.
Similarly, for Aditya Birla Health Insurance Active Health Enhance, the total premium for the two plans would come to Rs 59,201. As these plans are different from those where parents are included, some features would differ.
Consider restoration benefit feature
Most health insurance companies also offer a restoration benefit in family floater plans. This option doubles the cover if the policyholder exhausts the sum insured.
If you have a policy of Rs 5 lakh and end up using the entire sum insured, the insurer provides another Rs 5 lakh cover automatically without charging you any extra cost.
"Buying two separate family floaters with restoration benefit means you will get double the sum insured," says Dhruv Sarin, head of health insurance at Policybazaar.com.
If you consider the earlier example, you can get Rs 40 lakh cover in two separate family floater plans, helping you to keep pace with medical inflation.
In the same example, if the plans that allow you to include parents also offer restoration benefit, for the same premium you will only get a cover of Rs 10 lakh.
Problems of including parents
If you take a family floater that gives the option of including your parents, they may be required to undergo pre-policy medical check-ups.
Depending on the results, an insurer could even reject your application or put special conditions. If there's a loading due to illness, the premium will rise.
Also, insurance companies offer no-claims bonus (NCB) if the customer does not file a claim. You get a discount on next year's premium.
If you include your parents, there is a possibility of frequent hospitalisation, and you will lose out on the NCB.
In two separate family floaters, at least your policy will be eligible for an NCB, even if your parents' is not.
You can, however, make full use of the income tax deduction under Section 80D, even if you buy a family floater that has parents.
The income tax law offers a deduction of up to Rs 25,000 on premium paid for self, spouse, and children.
Also, there's a deduction of up to Rs 30,000 if you pay premiums for parents who are above the age of 60.
"There are no separate fields for self and parents in the ITR forms. A person cannot bifurcate the premium. The total premium paid towards health insurance policy, including expenses towards preventive health check for self and parents can be an input in a single field provided to claim a deduction," says a spokesperson of Aditya Birla Health Company.
When to include
There are times when insurance companies might not be willing to give a policy to your parents if they suffer from pre-existing illness.
However, an insurance company may agree to insure one or two cases it feels are risky if they come with healthy individuals.
Family floater policies that allow inclusion of parents are designed to consider such cases.
"At Max Bupa, we believe in easing those approaching their senior years from their worries of being devoid of health insurance cover when it is most required," says Mehrotra of Max Bupa. "We understand the importance of providing the elderly with affordable yet quality health care solutions."