To avoid a claim rejection for chronic diseases, ensure proper medical records, experts tell Tinesh Bhasin.
Illustration: Dominic Xavier/Rediff.com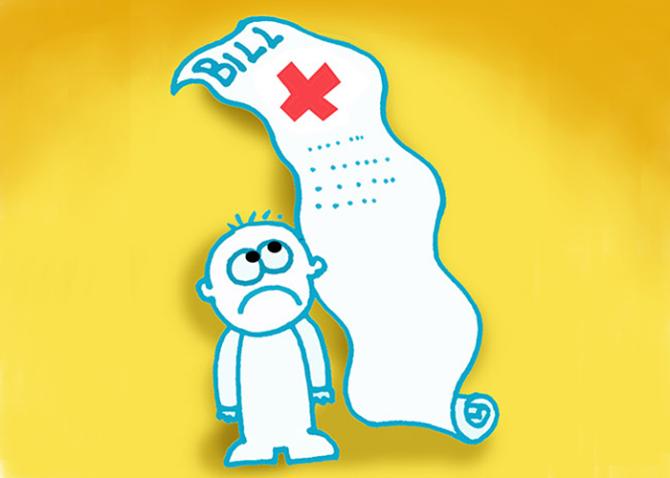 If you undergo a procedure or surgery for a chronic ailment within a few months of taking a health insurance policy, there are chances that the insurer would reject your claim. Such rejections are more common in policies where the insured doesn't need to undergo medical tests when buying the policy.
As it takes time for a chronic disease to become severe, most insurers view such cases with suspicion.
Six weeks after taking health insurance, 64-year-old Gopalkrishna Misra got an angioplasty done, after a doctor discovered a blockage in his heart. He took the policy meant for senior citizens that didn't require a medical test.
When he lodged a claim, the insurer rejected it, saying he had the ailment when he bought the policy but didn't disclose it deliberately.
Misra, however, says he was not aware of the heart blockage when he took the insurance. Two doctors who treated him certified the claim.
"Insurance companies are extra cautious of claims pertaining to chronic ailments in the first year of the policy," says S Prakash, chief operating officer, Star Health and Allied Insurance.
Prakash says only a few individuals take medical insurance to cover unforeseen health-related expenses. "Many who opt for a health cover are scared of contracting a hereditary disease or take one after discovering an ailment," says Prakash.
Ailments that raise doubts
Usually, insurers exclude treatment of certain diseases that can lead to dispute. An insurer cannot ascertain whether the customer had ailments such as tonsils, gall bladder stones, prolapse of the intervertebral disc, etc, when taking the policy.
Ailments like these do not require urgent medical attention. An insured with intention to fraud can take the policy wait for even a year before undergoing treatment.
That's why insurers don't cover such ailments for the first two to four years of taking the policy.
But there are other disputable chronic ailments, such as diabetes, heart-related problems, kidney disease and cancer that are covered.
Insurers cannot ascertain whether customers had it at the time of taking the policy. If an insured lodges a claim for such diseases in the first six months, the claim can come under scrutiny.
Claims related to degeneration of joints can be viewed with suspicion and rejected even after a year of taking the policy.
Insurers may also appoint an investigating officer to probe your case. Cooperate with the company to let them conclude on your claim.
Keep medical records
There are chances that even legitimate customers could face rejection for chronic ailments if a claim is lodged in the first year of a taking policy.
The only way to convince the insurer on the genuineness is by proving the insured was not aware of the disease when buying the policy.
An individual, therefore, should always preserve his medical history. It includes medication prescribed, tests suggested, results of tests, and so on.
There have been many cases where insurers rejected claims, saying the consumer had the ailment when taking the policy. But, the patient was able to prove his lack of knowledge because of medical history.
Consumer lawyers say if an insured doesn't have medical records, the only other way to prove his genuineness is by showing he had led a normal life in the past.
It can be done by showing no medical leave at the office, outstation travel for work etc.
Disclosures matter
There have been cases when an insured buys a policy through an agent without understanding the terms and conditions.
"Relying entirely on the agent can also lead to problems," says Sukhesh Bhave, deputy vice-president, SBI General Insurance.
To sell a plan, an agent can hide information and a person's negligence can lead to claim rejection.
"When buying a health insurance, ensure an individual fills all the information himself. Don't depend on the agent to do it," says an Apollo Munich spokesperson. Also, ensure you don't withhold any information asked in the insurance form.
Some don't disclose all the information, fearing the insurer would turn them down. Also, declare any surgeries, procedures or operations you have undergone in the past, even if it is many years old.
"The form may ask for the medical history of five years. But, there's always a column that asks if the customer wants to provide any more information. You can mention medical history beyond five years in this column," says Nikhil Apte, chief product officer -- product factory (accident and health), Royal Sundaram General Insurance.
Choose a network hospital
In the case of claims within a few months of taking a policy, opt for a network hospital. It will not only ensure that payments are cashless but will save you the hassle of paperwork.
"If an insurance company needs more documentation, it can always go back and forth directly with the hospital. If a customer is going for reimbursement of claim, he would have to bear the hassle of visiting the hospital every time an insurance company demands additional documents," says Anuj Gulati, MD and CEO, Religare Health Insurance.
It will also help to save cost.
Insurers usually negotiate rates for each procedure or surgery with the network hospital. You, therefore, won't be overcharged and the insurer won't do nit-picking on the expenses incurred.
Be prepared to fight
After an insurer rejects a claim, there is no review mechanism. You have to approach the ombudsman.
If an insurance company feels the claim is fabricated or all information is not disclosed, it will not relent. The only option for the insured is to approach a consumer forum.
In the past, insurers have rejected cases of lung cancer for smokers. When such cases reach a consumer court, insurers were asked to prove that smoking is the only reason for lung cancer.
As it cannot be conclusively proven, customers were awarded the claim.