'Remember, if an app breaks the rules while giving you money, it will also break them while collecting.'
Bindisha Sarang reports.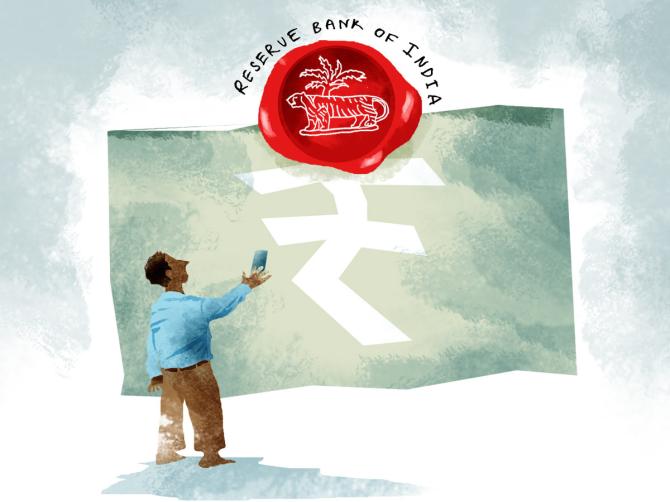 The Reserve Bank of India has cautioned the public about borrowing money from shady digital lending apps.
According to recent reports, several borrowers have been forced to commit suicide owing to the harassment they faced after they delayed repaying loans.
In a statement, the RBI said, 'Members of the public are hereby cautioned not to fall prey to such unscrupulous activities and verify the antecedents of the company/firm offering loans online or through mobile apps.'
Identifying the legitimacy of digital lenders is not easy.
To address this issue, the Digital Lenders Association of India (DLAI) has come out with a few guidelines.
"We want customers to be aware of 'too good to be true' offers by dubious players," says Gaurav Chopra, founder and CEO, Indialends, and executive member, DLAI.
Here is the checklist offered by experts:
Check who are the parties to the loan agreement.
If your loan agreement is not with an RBI-registered entity, it's a big red flag (please see box).
Hidden charges:
Note the interest rate, but also look out for other hidden charges.
"Dubious firms tend to hide or misrepresent the late fees applicable. In certain cases, the late fee applied is as high as 1 per cent per day," says Chopra. That's a 365 per cent annual rate of interest.
Evaluate the permissions the app is asking for.
Be warned if any app is asking for access to more than the usual things, such as photos, contact list and SMS, among others.
"The recent incident of aggressive collection tactics shows the agents had access to the borrower's contact list and threatened to shame the borrower by disclosing his debt to his mobile contacts," warns Anil Pinapala, CEO, Vivifi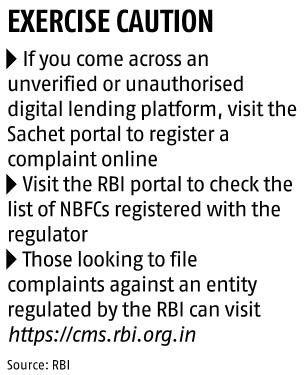 Collection mechanism:
Does the app let you pay digitally? With the shady ones, you can't do so.
You can't set up an auto-payment facility and have to rely on memory to remember the payment date.
If you miss, you are charged exorbitant fees.
Know your customer not needed or minimal: Is the lender collecting all the KYC documents?
"If a loan app is offering a loan without a background check or regular KYC documentation according to the RBI mandate, stay away from it," advisesKunal Varma, chief business officer and co-founder, Money Tap.
Look for details:
Before downloading an app, check a few things.
Pinapala said, "Look for the firm publishing the app in the description page. Check the company's Web site and privacy policy. Most shady apps don't even have a Web site. If they do, they won't have the RBI certification on their Web site."
Income verification:
It's not stringent.
Varma said, "Income verification is important to understand the repayment capacity of an individual. If an app is willing to give you a loan without checking your repayment capacity, avoid dealing with it."
Such an app could be leading you into a debt trap.
Short tenure:
Loans offered for less than 30 days, at very low rates of interest, and with equally high late fees should be avoided.
Taking upfront fee:
Stay away from any app asking you for an upfront fee of a few hundred or thousand rupees while applying for the loan.
Assess on all criteria.
"Remember, if an app breaks the rules while giving you money, it will also break them while collecting," says Pinapala.
While digital loans have been a boon for many amid the pandemic, borrowers need to be cautious about whom they borrow from.
Feature Presentation: Aslam Hunani/Rediff.com