'For a long time I didn't know what my mother did -- she kept me in the dark to protect me.'
'But whatever she did, she did it for me.'
'It's been three years since my mother passed away.'
'If she was still alive, I'd respect her choice and stand by her.'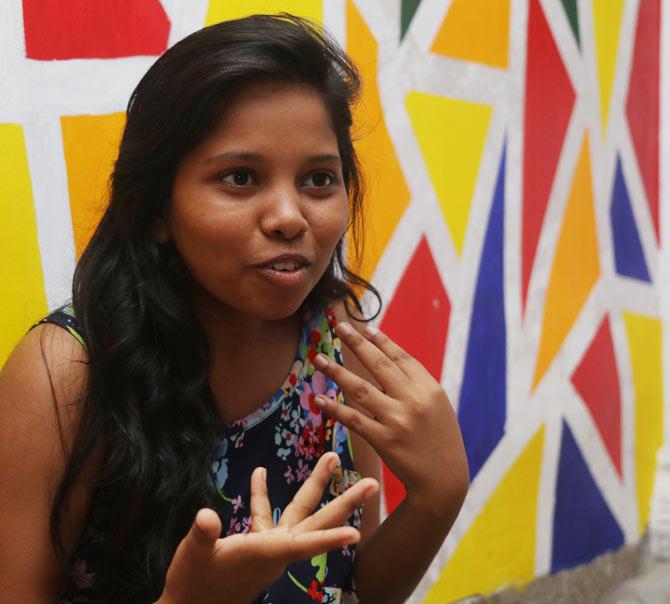 On first sight it is hard to say that Ashwini had a traumatic past.
The 19 year old can easily pass off as any average happy-go-lucky teenager her age.
Behind the chirpy exterior is a young Maharashtrian girl who has been through a lot of suffering.
Born to a sex worker, Ashwini lost her mother when she was around 16.
At 8, Ashwini was sent to a shelter home. There she spent years escaping her teacher's beatings.
She silently took the abuse for 10 years because she didn't know any better.
But the odds were in favour of this youngster, who was welcomed into Kranti, a Mumbai NGO that takes care of girls from Mumbai's red light areas.
Today, Ashwini hopes to go to the US to study art therapy.
She applied to New York University for the term starting September 2017 and secured a scholarship, with her entire tuition covered.
But the scholarship does not cover her accommodation expenses, which is close to Rs 10 lakh.
To cover the expenditure, the Humans of Bombay page, which chronicles the lives of Mumbaikars, has taken on the responsibility of raising funds for her on Ketto, a crowdsourcing platform
So far, Rs 947,083 of the required amount has been raised. She is just about Rs 53,000 short.
Ashwini, who is now in the process of getting ready to apply for her US visa, spoke to Rediff.com's Anita Aikara about her struggle, life after her mother's death, her love for art therapy and her anxieties about studying in the US.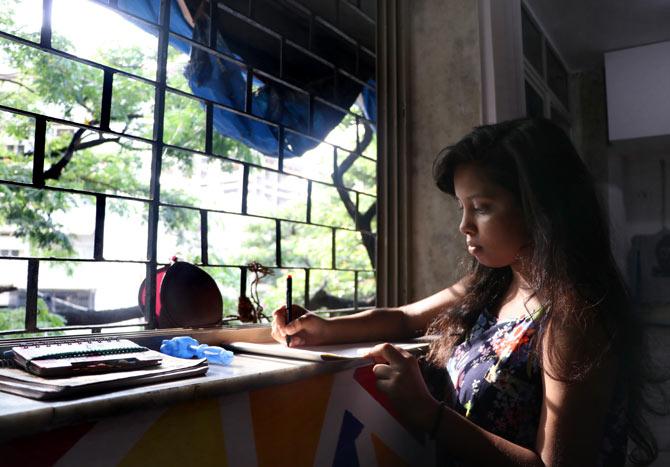 Humans of Bombay and Kranti are raising funds to send Ashwini to New York University for further studies.
All Photographs: Hitesh Harisinghani/Rediff.com
Tell us about yourself.
I always loved painting.
I haven't spent a lot of time with my mother as I lived with her only till I was in the third standard.
I went to a Marathi medium school back then. I was also sent to a tuition class run by an NGO.
Through them, my mother sent me to a hostel. I changed several schools.
In the sixth, I was sent to an English medium school.
In the ninth, I was put in a big school in Nerul (Navi Mumbai).
I was uncomfortable as there were many students. It was an English medium (school), and my command over the language was weak.
Around the time I was in my 11th class, my mother passed away.
Eventually, I ran away from the (Nerul) hostel.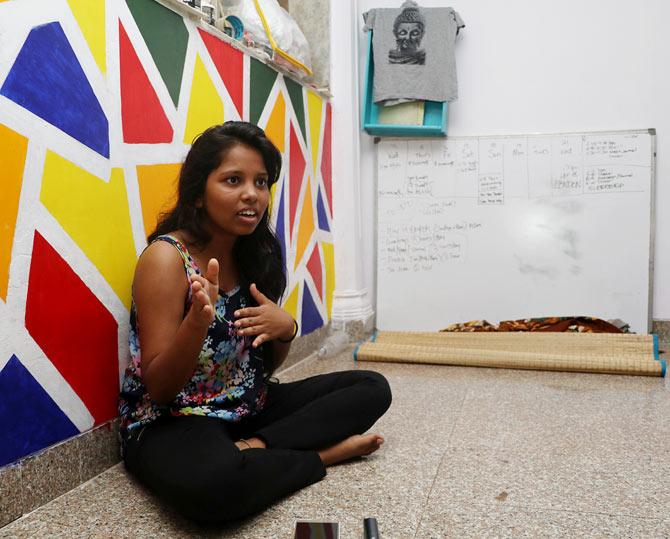 With just a school bag in her hand and dreams of a safe future, Ashwini ran away from her hostel.
She didn't want to go back because she was scared that they would never let her step out again.
Why did you run away?
The hostel rule was that we could step out only to go to college/school.
The second rule was that when someone left the hostel, you couldn't stay in touch with them.
My mother was allowed to visit me just once in a month.
The hostel staff kept a tab on us.
Every day, once college was over, we had to rush back.
When my mother passed away, I was just allowed to see her face and had to return.
Once a friend and I ended up sitting at a bus stop and chatting for hours.
Somebody from the hostel saw us there and as punishment we had to do the chores.
My friend then decided to leave the hostel. I stayed back, but they continued to traumatise me.
They let me go to college to write the exams on the condition that I had to return the minute the paper was submitted.
That day when I went to college, I met my best friend (who had left the hostel).
Like old times, we sat at the bus stop chatting. (Someone from the) hostel staff saw me and left in a hurry. I was scared.
I didn't want to return to the hostel.
I feared I'd never be able to step out (again).
So with my school bag in hand, I ran away -- first to a friend's house, then I kept travelling.
I went to Himachal (Pradesh), Kolkata, etc. I was away for six months.
Friends, who had run away from the hostel, told me about Kranti.
They encouraged me to follow them and I finally took the brave step of approaching Kranti.
That's when my life changed.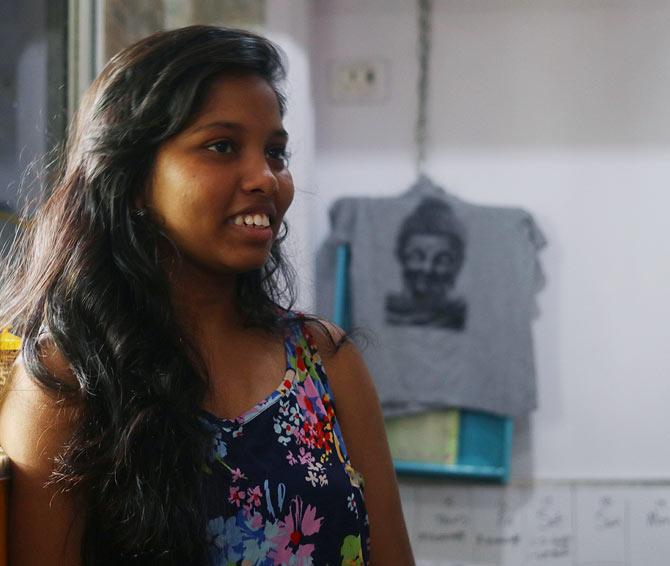 Help is pouring in for her from all corners. Ashwini is surprised by the response and appreciation she has received from people wanting to contribute to send her abroad.
What is your biggest fear?
I have lived in a hostel where I was punished all the time.
They'd beat me, make me do household chores, etc. That trauma has stayed with me.
Usse daar lagta hain (I'm scared of it).
People feel that beating is the only solution to correct someone. They don't realise that it is a big mistake!
Often you end up treating people the way you were treated in your childhood.
If you were thrashed up by your mother, you might consciously beat your kids too.
Are you prepared to deal with the challenges you may face in the US?
My command over the (English) language is poor.
I'll have to start conversing in English the minute I step out of the airport. It is not that I can't speak in English.
I guess once I'm thrown into the situation and there's no way out, I will have to speak in English.
I fear going to a big college as I am not too good with my studies.
I may not be able to cope. I got admission to Columbia University and Clarke College too. But after brainstorming, my therapist agreed that I should settle for a college where I feel comfortable.
I am not scared of living alone.
I think I will eventually get along with people.
The Indian education system is very different, compared to the US.
Settling down and getting a hang of the syllabus will take time.
I am scared that I will fail.
But then I think that even if I fail in one semester, I will still be able to work hard and do better in the next semester.
What will you miss the most about India?
I'll miss the way we celebrate birthdays at Kranti.
The celebrations start with a surprise cake cutting at midnight. The next day we go watch a movie, eat out, etc.
We have our fights and differences, but live as a family.
I'm not in touch with my family, except for a sister, whom I just discovered exists.
I can fall back on everyone here; they will always be there when I need them.
Also, I get to do what I like, I have that freedom.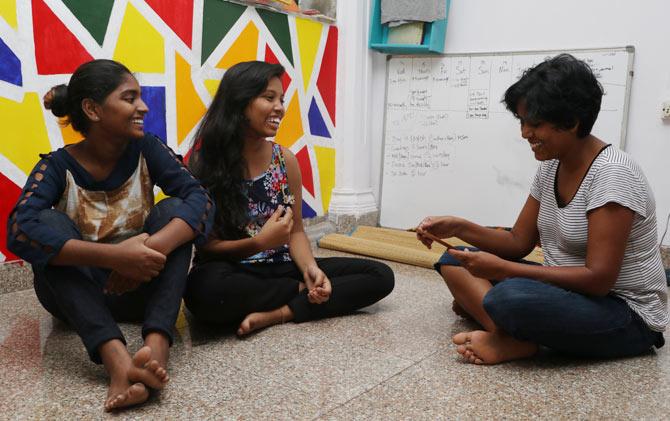 Ashwini spends a light moment with Banididi, right, from Kranti.
Is there one thing you'd like to change about the past?
I wish I could have spent more time with my mother.
Because of my past I landed up in this NGO and met some wonderful people.
I'd not like to change anything else.
On women in red light areas...
I have great respect for them. They are very courageous. Hats off to them.
Society may look down at them, but raising your children in that environment and protecting them requires a lot of courage.
When you witness the struggle they go through to raise their kids, you understand how brave they are.
My mother was a brave woman. She didn't want me to be dragged into her profession, so she kept me away from her.
For long I didn't know what my mother did; she kept me in the dark to protect me.
Whatever she did, she did it for me.
It's been three years since my mother passed away.
If she was alive, I'd respect her choice and stand by her.
My mother had a huge responsibility; she hoped that I move out of my environment and do something in life.
You should see the sizes of the homes in red light areas, they are so tiny.
Living in such situations, the mothers are desperate to send their children away.
I was young when I was sent away from my mother to the hostel, so I have very little memory of her.
I know she loved me. Because if I ever fell sick, she would come to meet me and get me something nice even if she didn't have enough money to spend.
Video: Watch Ashwini talks of her dream to study at NYU
What do you like most about Kranti?
We all stay together and live as one big family.
We cook, clean the house, etc.
So in a way we are self-reliant.
Here, the pattern of teaching is very different.
They don't rely on subjects, instead the focus is on making us confident and self-reliant.
We are taught music, world news, creative thinking, etc.
Yoga and meditation are a part of our syllabus.
I don't think that by mugging up different subjects like history, geography, I will get knowledge.
I need to be taught to deal with situations in life rather than running away from it.
When I came to Kranti, I started believing that my background is my strength, not weakness.
When did you get interested in art therapy?
I didn't know what art therapy meant until recently.
I have never gone for art classes.
But when I am sad and lonely, I paint.
It calms me down. Art was a subject in school that I loved.
At the Tata Memorial Hospital I conduct art activities for children waiting for their cancer treatment.
The smiles on their faces makes me happy.
For the last two years, I travelled across India. I learned theatre in West Bengal, attended photography classes in Himachal Pradesh, volunteered with NGOs in Gujarat and worked with Dalit communities in Delhi.
I was clueless on what I should do for a career.
I visited my therapist who helped me decide that I should go to the US to study art therapy.
At Kranti, the girls live like one big family.
Future plans...
For me, this (to get into a college, study what she loves and make a difference) was the biggest validation in my life.
I am finally finding peace and stillness within me.
A lot of people have come together to make my dream a reality.
I got a second chance in life and I want to help other such girls too.
I want to complete my education and return to India and teach art therapy here.