"The world is not very safe for women and not ideal but that doesn't mean women should remain in their homes only."
Photograph: Courtesy Anuradha Beniwal/Facebook
Former National Chess Champion Anuradha Beniwal has penned her debut book in Hindi Azadi Mera Brand.
The book recounts her travel experiences to 10 countries in Europe in an under Rs 100,000 budget.

The 30-year-old who was ranked number two chess player in the country at the age of seven has penned her dynamic travel journey in the book, which was launched at the ongoing New Delhi World Book Fair.

Born in Meham near Rohtak into a middle-class family, Beniwal was home-schooled and after being introduced to chess by her professor father at an early age, she participated in many competitions and became a world champion.

In her book -- published by Rajkamal Prakashan -- she writes about building her career as a professional chess coach based in London, and being a chess master at several British clubs.

"My book is about wanderlust, and I want to expose the myth that Europe is expensive and the world is unsafe to travel for women," said Beniwal who was accompanied by her parents and cousins at the Book Fair.

"I wish that women, not the rich women who go to hotels with swimming pools, but those from the lower middle class also could travel outside (India) and understand how cheap it is to travel the entire world.

"They would know how kind, beautiful and safe the world is. So, this book is all about encouraging common people to travel," she added.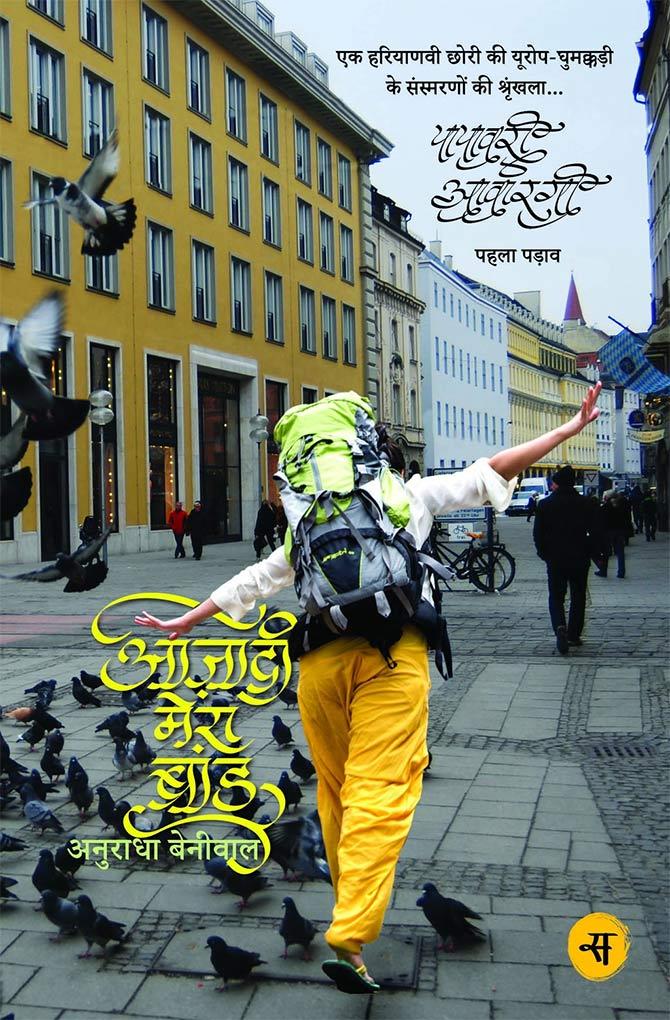 Photograph: Courtesy Anuradha Beniwal/Twitter

As a writer she also advocates for the freedom of women. She wants women to take the risk of travelling the world and fight the existing stereotypes which dissuade them from venturing into the 'unsafe world outside'.

"The world is not very safe for women and not ideal, but that doesn't mean they (women) should remain in their homes only. When a woman stands in a bus-stop alone it is unsafe for her, but once 50 ladies stand in a bus-stop together, they are safe. So, women should come out to make the country safer for themselves," Beniwal said.

The chess player also described her trip last summer during which she covered 10 countries.

"I began backpacking in India, to the South and Rajasthan, and last summer after saving up a little money, I went on a trip to Europe and covered 10 countries including UK, France, Belgium, Holland, Germany, Slovakia, Hungary, Czech Republic, Austria and Switzerland," she said.

Beniwal added that living in London she feels secure about walking on the road at odd hours and even travelling solo. She wants girls in India, especially from her home state Haryana to feel the same.

"I wish girls on the streets of Rohtak too can experience that sense of freedom," she said.

Beniwal opted to write the book in Hindi because she wanted common people to read her book and be encouraged to go on similar trips and understand how easy it is to travel the world.

The former chess champion has a degree in English Honours from Miranda College, Delhi University and a degree in Law besides a masters in English Literature.

Noted journalist Ravish Kumar and Hindi author Anuradha were also present at Beniwal's book launch.