The iconic book shop frequented by the likes of Nehru, Kalam and Manmohan Singh downed shutters after 70 years.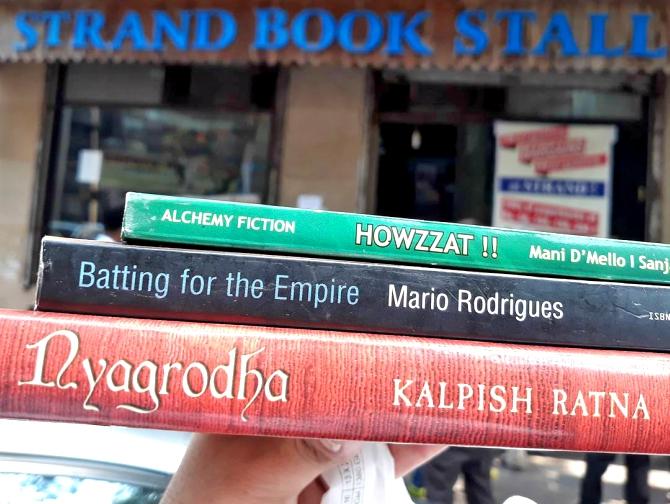 Photograph: @siddhanth.hoskote/Instagram
Strand Book Stall, frequented by India's famous figures, including former prime minister Pandit Jawaharlal Nehru and former president APJ Abdul Kalam, downed shutters on February 28 after a run of 70 years.
The curtains came down a day after the ninth death anniversary of its founder T N Shanbagh, who started it as a kiosk at Colaba's Strand Cinema in 1948, and in 1953, moved it to south Mumbai's Fort area.
"This was our flagship book store. The first to open, the last to shut down," Shanbagh's daughter Vidya Virkar. Five years ago, the five branches she had opened in other cities were shut.
"It is not viable to run a book store. The footfall is very low. People's reading habits have changed. It required deep pockets and subsidies to run this business," Virkar told the Press Trust of India.
Visitors to the book shop, which became a landmark in south Mumbai, included scientist Vikram Sarabhai, who had introduced late President APJ Abdul Kalam to Shanbagh, who was awarded the Padma Shri in 2003.
The legend goes that once when Nehru visited the bookshop after the usual closing hours, Shanbagh gave him 20 per cent discount in the bill, a trademark of the small, compact shop which always had the "new book smell" that so entices bibliophiles.
Noted author late Khushwant Singh once described Strand as the "only personal bookshop" in India, while former Prime Minister Manmohan Singh used to drop by often during his days as the RBI Governor.
After Shanbhag's death in 2009, the footfall reduced, with the usual suspects being blamed -- online retailers and proliferation of e-books.
Photograph: @dhaval.sanjay.shah/Instagram
Tributes and laments poured in from across Mumbai, which lost another iconic store -- Rhythm House -- not long before.
Journalist and filmmaker Pritish Nandy tweeted, 'Samovar's gone. So is Wayside Inn. Eros is about to shut down. So is Strand Book Stall, once the city's best bookshop. Irani cafes look tired. The old brothels have disappeared. Only Sahir's words resonate in a city where nothing survives but the loneliness of its people.'
Sharing thoughts that looped into a Twitter thread, writer and bibliophile Vivek Tejuja wrote, 'Please! Let's not pretend to mourn the death of Strand Book Stall. Every time you or I preferred shopping for books on Amazon, because of pricing or convenience, we added to Strand dying a slow death. So please. Let's not be hypocrites.
And it isn't like Strand didn't give discounts. I ignored it as well because I couldn't be bothered going to town and when I did, offlate it was because of Wayword and Wise. Strand had stopped stocking books I wanted.
It is a vicious circle really. Readers and booksellers have a volatile relationship with very tall expectations of readers. I just hope and regret I didn't support it enough. Sorry Strand. You did well. My college years wouldn't have been the same without you. For B and M (brick and mortar) stores we also so need staff that knows their books, who read for crying out loud! It is imperative for readers to build bonds and keep coming back. Mr. Shanbhag not only knew books but he knew readers who walked into Strand, forever recommending.'
Writer Meenakshi Reddy Madhavan wrote, 'Really want to support physical bookstores, but when even well stocked ones don't carry your book, you're forced to refer everyone to Amazon. Nowadays I'm just like "why take a chance, just buy it online".'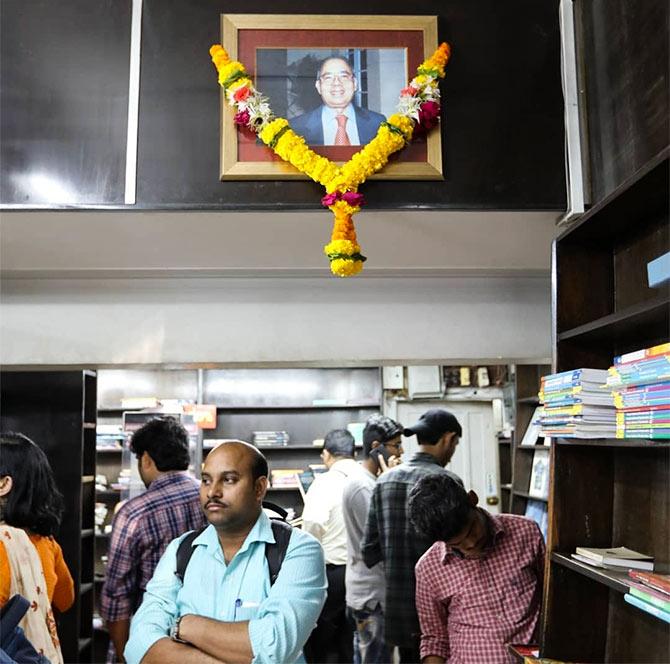 Photograph: @maxiecooper/Instagram
People also took to social media to post about their last -- and in some cases only -- visit to Strand Book Stall.
Maxie Cooper wrote on Instagram, 'Today was the last day of the much-loved Strand Book Stall. I went to meet Vidya Virkar, the present owner and daughter of the founder, Mr Shanbagh, who started it in my father's cinema, Strand (hence the name), much before either of us were born! (I used to buy my novels at the cinema and go to the shop at PM Road for my art books).
'During our meeting she asked if I were looking for a particular book and I told her I'd love to find another copy of Vasari's "Lives Of The Artists" as I'd misplaced the one I had had since my teens, probably bought at Strand. She said, "If it was Vasari, it had to be from here. Who else would have stocked it but my father! " And no, they didn't have a copy left!'
Mumbaikar Dhaval Shah also took to Instagram: 'The very first time I stepped into this place was in 2001. It was Solar Eclipse on that day and I bought my very first and only Atlas from here. So in literal sense, this place showed me the world and left me in awe :) I came here today too. There's no vibe or old worldly charm, at least not how I expected it to be. Felt more like how visiting an aging soul waiting to be freed feels like. Death is certain. All one can wish is for it to be pain-free.'
Twitter user @ekjactly wrote, 'My First and Last Visit to the #StrandBookStall was yesterday - I wanted to imbibe the general sense of despair around the downing of its shutters but I simply couldn't; In that wake I a digital native stood awkward, alone and left hurriedly without buying anything.'
Twitter user @piyul wrote, 'Just left #StrandBookStall for the last time. 'Left' is the operative word - I am one of those 1000s who had stopped going there, & bought my books on Amazon. Funny thing is, even after all the good books hv been snatched up by others, I found at least 7 great books worth buying.'
Another Twitter user, @rsutaria, said, 'We will have a generation of people growing up who may not know the feeling of stumbling upon a book that one is not looking for!'
-- With inputs from Press Trust of India