Rahul couldn't stop thinking about her. Did he have the courage to approach Her?
Read this excerpt from The Secrets We Keep by Sudeep Nagarkar...

Illustration: Uttam Ghosh/Rediff.com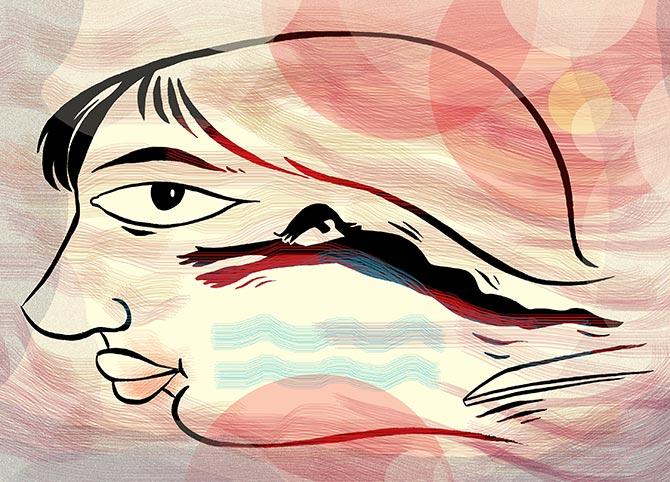 Love is as peaceful as it is chaotic. Peaceful because it lends you a placid look in your eyes, as you scroll through romantic tunes resonating with your heartbeats. Chaotic because despite your calm disposition, thoughts are racing in your head; thoughts that rid you of your sleep; thoughts that cause you to daydream. Rahul was happy because this was the closest to love he'd ever been.
'Have you topped a class test? Why are you dancing like crazy?' Rahul's mother inquired.
I just feel light today. As if I am free from the worries of the world. You only get one life, Mom. You should live it and you should love it. I have decided to explore the beauty of my life. Fall in it, swim in it and float in it. My English teacher was right: we should value relationships. I value you, Mom, I value Dad, and I value Karan and everyone else. I value my schoolmates and even those who study in the school opposite to mine. We should love everyone. Isn't that true, Mom?' Rahul was blabbering dreamily.
'Yes, as of now, go and love your history book. You have a school test tomorrow,' his mother replied sharply.
Poor woman, he thought, she does not understand love.
Rahul couldn't stop thinking about her. He dreamed that she whispered in his ear and told him that she loved him. It felt so real that he thought he could hear her speak.
Every day, he'd wait for her before school, and then follow her after school till they reached the traffic signal, where the two headed in different directions. He did not follow her to her house. He kept waiting for her to turn and look at him and smile like she had done before, but she never did. He was too afraid to speak to her and this worried him. With time, it made him sad because he could not picture his love story moving any further than this.
Sitting in his room, he would gaze at the ceiling, lost in thought. Oh! How he prayed she'd acknowledge him, at least once.
Falling for her taught him how to value someone's presence, but he had no clue how to deal with someone's absence. His wish to meet her was fulfilled the next morning when he waited for her outside school. She was on her bicycle and was pedalling towards her school gate. He told himself he had to break his silence today. They had a long vacation ahead of them due to Ganesh Visarjan, which meant he wouldn't be able to see her until it ended. This was his only chance and he had to make the most of it. Without further thought, he shouted, 'Hello, the girl on the bicycle.' After ascertaining that she hadn't heard him, he shouted louder, 'I am talking to you, Ladybird girl.'
This time, the girl heard him and she turned to look at Rahul. In that moment, Rahul felt goosebumps on his skin. He was once again left speechless. Not knowing how to react, he stood there like a mannequin. On receiving no response from Rahul, she turned away and, without acknowledging him, she went inside the school gate, leaving Rahul dejected again. This was not the kind of encounter Rahul had hoped for.
Fate had a way of pulling them together, but it was up to Rahul to take the first step. And as of now, circumstances were evidently not on his side.
All he wanted from the world was her. Even a glance from her was enough to tickle his nerves. She, on the other hand, knew nothing about him. She wasn't even aware of the existence of her lover who would go to the world's end to do anything that made her happy. They say drowning is bad but he wanted to drown... in her love. He wanted to swim in the deepest parts of her soul and be pulled in -- he wanted the currents to take him to places close to her heart, so he could feel her heartbeat surround him.
Love has made me a poet, Rahul thought. He could think about her all day long. Sometimes, she entertained his dreams. He did not wish to wait until after Ganesh Visarjan to see her again.
To his amazement, his next meeting with her was shortly after, as the festival brought with it a surprise for Rahul. Students from every school, who were good at extracurricular activities, were selected to volunteer for an environmental awareness event. Rahul was one of them. Miraculously for Rahul, his dream girl stood there, as a part of the rally, holding a placard for pollution control, along with all the other students. Rahul, who'd been mentally absent until then, jumped up in delight.
Ganpati Bappa Morya! chimed in his heart.
She stood a few students away from him, and he cautiously moved towards her. He tried to push his way through the students who, in turn, gave him annoyed glances. He did not care in the least, and soon he was standing a few inches from her. He stood silently, not knowing what to say. He saw her glancing towards him a couple of times and wondered if she recognized him from the other day when he'd called out to her.
'Hi. Are you from Holy Cross?' Rahul finally gathered the courage to speak.
'Sorry?' she turned towards him, pretending she hadn't heard him.
'I was asking if you studied at Holy Cross,' he repeated his question.
'Yes. Why? Do I know you?' she inquired. Her voice was playing with his senses again.
'I've heard about a teacher at your school who also offers home tuitions for mathematics. I've heard she teaches very well,' Rahul said. He'd learnt this piece of information from the frontbenchers at school.
'Yes, Miss Perera. I go to her classes after school.'
Well done, Rahul, he applauded himself.
'Does she teach boys as well?'
'Yes,' she smiled.
'Okay, thanks,' Rahul smiled back.
That was all Rahul needed to sustain him for the day. He did not try to talk to her after that. In his mind, he relished the idea of sitting next to her. He always knew that they were meant to be, and that God would find a way to bring them together. It was time Rahul concentrated on his weakest subject. The first step would be to take tuitions for mathematics.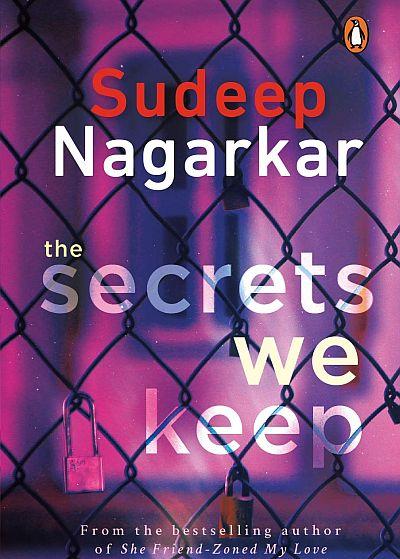 It was one of the rare occasions when Rahul was confident about asking his parents' permission. Every demand of Rahul's was fulfilled after a lot of scrutiny, but when it came to his studies, his parents did not question him much. They were happy that their child wanted to join private classes to improve his mathematics. They happily handed over the fees to him, which he paid the next morning itself due to a free day at school. Miss Perera asked him to attend the afternoon session and, for obvious reasons, he looked forward to attending it. After having lunch at his house, he prepared to leave for class.
Surprises were a part of Rahul's life; he was always ready for them. He got a big surprise when he reached the society complex where Miss Perera taught. It turned out that Sandy also attended the same classes, and the moment they saw each other, Rahul kicked him on his calf.
'What are you doing here?' Rahul inquired.
'What are you doing here?' Sandy asked, surprised to see Rahul.
'My girl... she studies here.'
'Here? At Miss Perera's tuitions?'
'Yes, and you never bothered to tell me that you attended tuitions here or about the girl I love taking these classes with you,' Rahul said, annoyed.
'Wow. You want me to tell you about a girl although you haven't told me her name, her class or anything else. All you knew was her school, and in this class, there are so many students from Holy Cross. How on earth was I supposed to know that your dream girl studied here?'
'All right, sorry. Let's go,' Rahul indicated that they should go upstairs.
'What's her name?' Sandy asked.
'I don't know.'
'What? Then how did you get to know she studied here?' Sandy was curious.
'Long story,' Rahul dismissed Sandy's curiosity.
Rahul located his girl sitting on the second to last bench. The class had just begun. Both Rahul and Sandy sat on the last bench, which surprisingly was vacant. Rahul was disappointed when he received neither a friendly greeting nor an acknowledging smile.
'Now, who's your girl?' Sandy asked.
Rahul pointed to where she was sitting and, in return, Sandy told him that she was his friend.
'Really?' Rahul couldn't believe his fortune. Sandy nodded. Rahul was a little relieved knowing that it would be easier to get himself introduced to her. An introduction was, after all, the first step where most relationships failed even before commencing.
'Why didn't she greet you then?' Rahul wanted to be certain.
'She is very serious in classes but equally fun outside. Her name is Trisha.'
Trisha. So, that was what his Ladybird girl was called. Her name was as enchanting as her personality. 'Trisha. Trisha. Trisha.' Rahul kept repeating her name under his breath. He loved the music it created on his lips. Once the class was over, she turned back to greet Sandy.
Excerpted from The Secrets We Keep by Sudeep Nagarkar, with the kind permission of the publishers, Penguin Random House India.