Attrition is driving the hiring effort on campuses.
Shivani Shinde reports.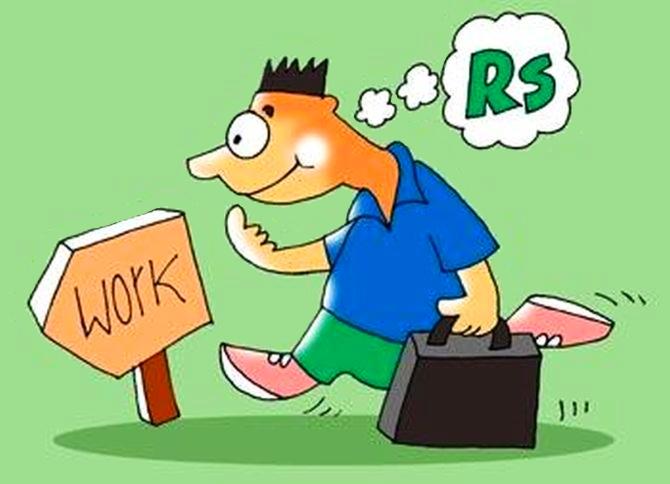 With demand environment robust and attrition rising, the Indian IT services industry is ramping up its supply side by hitting the campus for hiring.
A look at the top three large hirers from the IT sector shows how attrition could well impact their speed to double digit growth.
Going by the commentary the top three IT services will hire over 75,000 campus freshers for FY22.
Bengaluru-based Infosys that has guided for a double digit revenue growth for FY22, saw its attrition touch its highest at 15.2 per cent.
Attrition in the preceding quarter was at 10 per cent. Add to this the company's utilization was also at a high of 82.2 per cent.
Similarly, at Wipro too attrition for the fourth quarter peaked at 12.1 per cent, one percentage point higher from the preceding quarter and its gross utilization touched 76.7 per cent.
The only company that has managed to keep its attrition low is Tata Consultancy Services.
For the fourth quarter of FY21, TCS' attrition was the lowest at 7.2 per cent.
Despite the low numbers, TCS continues to be highest hirer in the industry.
The company stated that for the FY22 they aim to hire from campuses the same number they did in FY21, or maybe more.
For FY22 the company onboarded 40,000 freshers into the company and Milind Lakkad, CHRO, TCS during the results announcement stated that going ahead too the company will hire similar or higher numbers.
When asked if the company expects to see its hiring going up and if it is ready to meet the supply side challenges as the company eyes digital deals, Lakkad during the analyst call after the results said: 'Our key sources of our talent is internal, and strategic talent development which we do quarter-after-quarter and looking at the longer horizon as well as mid-term goals.
'We depend on people from campus, internal talent development, and then whatever we need from the market in addition. So, these three together, will drive our numbers from a supply side, and I don't anticipate any challenge on the supply side.'
In the case of Infosys, the firm has a dual target to manage; utilisation and attrition.
U B Pravin Rao, COO, Infosys hinted that the company expects attrition to be high for the next two quarters.
"We have a compelling proposition and we have initiated several interventions to retain the best of our employees, including salary hikes," he added.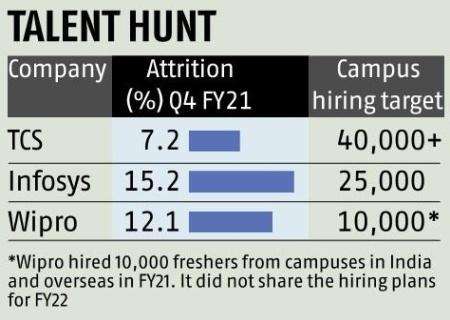 The top three IT services firms -- TCS, Infosys and Wipro -- reiterated that they will make all attempts to retain talent.
And to do so they have not only announced salary hikes but also targeted incentives for people with right skills.
Take the case of Wipro, which has not only announced salary hikes and promotion, but Saurabh Govil, CHRO, Wipro said, "We are also giving out skill based bonus for the people with right skills, and it is already underway."
It is not just the Indian players. Accenture, which has over 200,000 of its employees based in India, is also focusing on retaining talent in the digital area.
'As a talent-led organisation, Accenture in India is focused on inspiring and retaining its best talent, maintaining its strong commitment to helping them realise their career aspirations, and hiring for in-demand skills in areas such as digital, cloud, security, data and AI as well as platform and other core skills,' said a statement from Accenture India spokesperson.
'We are also hiring experts across various industries including financial services, consumer goods and services and life sciences, and functional experts in the areas of finance and accounting, marketing, procurement and supply chain,' the Accenture India spokesperson added.
Accenture had recently announced a one-time bonus equaling one-week of base pay to all its employees.
Cognizant, earlier this year set up $30 million corpus, called as retention fund for top performers and digitally skilled employees.
The firm had reported an annualised attrition rate of 19 per cent for the December quarter, the highest in the industry.
Feature Presentation: Rajesh Alva/Rediff.com