He has driven into the Limca Book of Records twice.
Tamanna Naseer finds out more about the battles Eric Paul fights despite being paraplegic.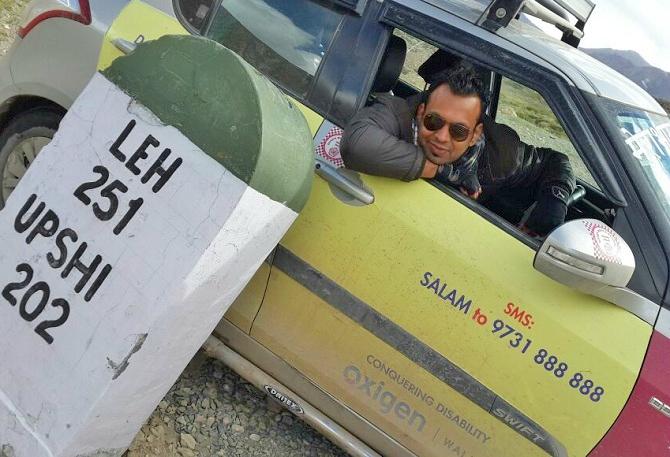 IMAGE: In June 2017, Eric Paul travelled from Leh to Kanyakumari -- covering a distance of 3,917 km -- in a record 159 hours and 59 minutes in a customised hatchback with hand controls.
Photograph: Kind courtesy Eric Paul Conquering Disability/Facebook
Eric Paul was always obsessed with cars.
As a child, he insisted that his parents buy one and when they did, he slept in it the first night they brought it home.
His was no childhood obsession.
Such has been his passion for cars that even after a car accident left him paralysed chest down at the age of 24, he fought both the disability and a serious bout of depression to create two world records -- in his specially modified car.
One could say Paul, now 29, literally drove his way to the Limca Book of Records.
"My physiotherapist Pradeep Kumar, who went on to become my friend, motivated me to come out of my depression," he says.
"I wanted to drive and create a record. But I was also aware that I had to act responsibly because in case something happened to me while driving, other paraplegics would be demotivated."
In June, Paul travelled from Leh to Kanyakumari -- covering a distance of 3,917 km -- in a record 159 hours and 59 minutes in a customised hatchback with hand controls.
He achieved the mean feat in spite of having to continuously make changes in his plan because of uneasy weather.
Earlier, in November 2016, Paul completed the Golden Quadrilateral road task of the Limca Book.
He drove from Delhi to Mumbai and then to Bengaluru, Chennai and Kolkata and then all the way back to the national capital from where he had started his 6,000 km trip.
It took him less than seven days, including night stays at various places, to complete the journey to set the record.
During his second expedition, Paul took it upon himself to spread the message for fighting disabilities and also promoted the Swachh Bharat Mission.
He cleaned parts of the roads that were dirty, including construction sites and parks in areas such as Leh and Kurukshetra, with the help of the local population.
Besides courage and concentration, these trips required money.
Paul spent around Rs 3 lakh on the first expedition and about Rs 7 lakh on the second.
For his second trip, given the arduous terrain, he also needed an oxygen cylinder, hand brakes, tools, special lights and extra diesel tanks.
He also got his car modified in Jaipur, Karnal and Delhi.
Oxigen Wallet, a payment solutions company, sponsored both his trips.
For his second expedition, Paul also took the Queen Mary's School, Rohini in Delhi, on board.
All India Radio, too, gave him a small amount after he completed his second record trip.
However, the major part of the expense was borne by his family and friends.
"I approached many companies for sponsorship. Some refused, others asked me to wait. But, I was never demotivated because my family always supported me."
Paul has been working as a guest service attendant at Taj Mahal Hotel, New Delhi since 2010.
He also plays table tennis and participates in state-level tournaments.
He believes sports helped him cope with his depression.
His parents, too, were confident that the sportsman's spirit would make him stronger.
A firm believer of the power of sports, Paul has now created a Facebook page, 'Eric Paul Conquering Disability', to help motivate people -- paraplegic and able-bodied -- to turn to sports.
Many people get in touch with him through the page and he counsels them.
Recently, he received a message from a girl from Saharanpur: "She is a paraplegic. She told me how difficult it was for her to remain confined to the four walls of the house. I could relate to her situation. I had also faced these problems. I feel spirituality helped me, and I advised her to trust her spiritual master."
Impressed after a visit to London earlier in the year, Paul has also pledged to take steps towards making every part of India accessible to the specially-abled.
To begin with, he is encouraging his friends to make changes in their homes and offices by creating ramps for easy access.
He also feels that it is important to publicise even small measures so that others are inspired to take similar steps.
Not willing to stop chasing records, Paul is planning to hit the road for his third record journey in November. So, what is on his mind?
He prefers to let others take a guess before he makes the big announcement.