We'd asked you, dear readers, to tell us how you've been coping with work after the lockdown.
'I've walked 1 hour, 25 minutes to work,' says Nalini Kudalkar.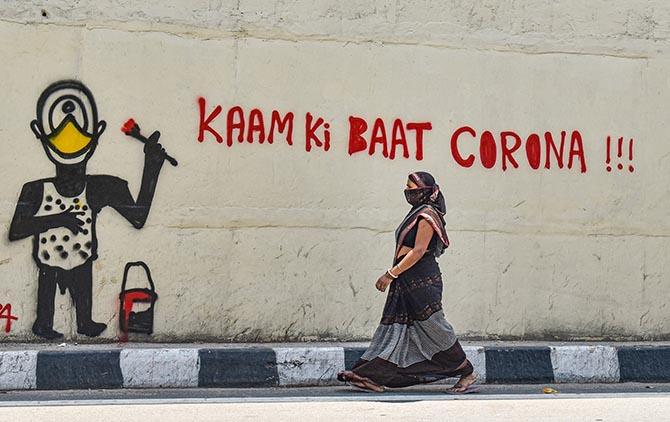 I work as a freelancer and have a small office in Mira Road (a township on the outskirts of Mumbai, in Thane district).
After two-and-half months, I resumed work last week.
Initially I felt happy to be at work.
Soon I realised it was a signal that the worst is yet to come.
The cost of one way travel has tripled as public transport is unavailable.
The autos have stopped sharing customers and become exclusive, which has naturally tripled fares.
Before the lockdown, I'd pay Rs 15 to be dropped till Kashimira junction (in Thane district). From there to Ghodbunder Road (also in Thane district) a shared autorickshaw ride would cost Rs 20 per seat.
A bus ride would cost between Rs 10 to Rs 15 per person.
However, post the lockdown autorickshaws don't ply on a sharing basis. The auto fare to Mira Road has been increased to Rs 60 per seat.
Everything has become extremely expensive for the middle class.
On the days when autos weren't available I would walk from my home in Ghodbunder Road to Mira Road station in the heat.
In the absence of public transport, if I walk fast, it would take at least 1 hour and 25 minutes to reach work from Thane/home from work.
The mere satisfaction of being back to work motivates me to keep going.
This lockdown does not have any meaning when the common man has to struggle with daily amenities and live the life of a nomad.
I am still struggling to balance my work and home schedule which has become increasingly difficult.
In the days to come, we must all help find a way to get ourselves out of the current economic crisis.
---
Dear Readers, have you resumed work after the lockdown?
How would you describe the experience of going back to work after spending more than two months at home?
Did you face difficulties travelling? Or was it a smooth run for you?
What precautions did you take to ensure safety at work or while travelling?
How is your office dealing with the situation? What are the new rules and guidelines at work?
Tell us how you got to work after the lockdown and how you are coping with it. Send us your pictures and videos to getahead@rediff.co.in (subject: Resuming work after lockdown) along with your NAME, AGE, LOCATION and a photograph of you. We'll feature the best responses on Rediff.com.