A group of South Asian American advocates who work on race, immigrant and gender justice issues have put together 'The Aziz Ansari Syllabus for South Asian American Communities'.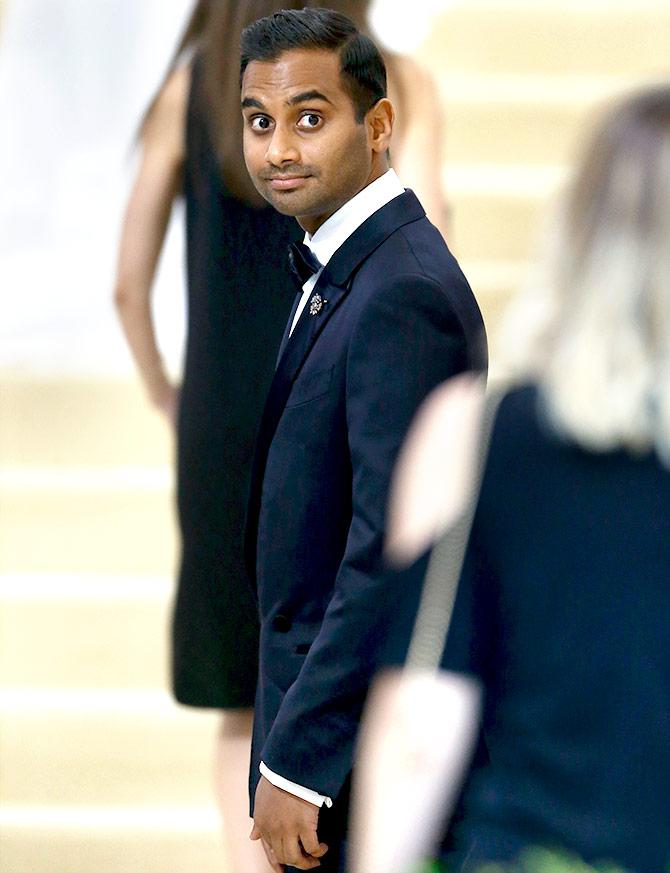 Photograph: John Lamparski/Getty Images
Just days after Aziz Ansari became the first Asian male to win the Best Actor in a Comedy or Musical at the 2018 Golden Globes -- which saw Hollywood turn up in black to support the #MeToo movement -- a story emerged accusing the actor-comedian of sexual misconduct.
The allegation was met with a wide range of reactions, especially from the South Asian community. While many felt that the allegations had opened a preciously untouched can of worms in the #MeToo narrative, many others felt this was not what the #MeToo movement was about at all.
The story was especially sensitive for South Asians, who considered Ansari an icon for his path-breaking work in comedy and on television with Master of None.
As the optics of his professional achievements continue to blur with his personal behaviour, a group of South Asian American advocates who work on issues related to racial, immigrant and gender justice have put together 'The Aziz Ansari Syllabus for South Asian American Communities'.
'You may already have a particular viewpoint on the story recounted by Grace about Ansari, or you may have questions and concerns about what you are reading and hearing,' the team behind the guide says. 'We put together this guide to spark greater awareness among South Asians in particular about the range of issues that have arisen in the aftermath of the story about Aziz Ansari.'
The guide was developed by Nadiah Mohajir and Sameera Qureshi at HEART Women & Girls, Darakshan Raja of Justice for Muslims Coalition, Qudsia Raja of National Domestic Violence Hotline, Aparna Bhattacharyya of Raksha, INC, and Deepa Iyer of Race Forward.
The guide, which was shared with Rediff.com, addresses the oft-repeated concern of 'Why is this woman taking aim at Aziz Ansari? As one of few brown men that Americans know, I worry about his reputation -- and how brown men will be perceived.'
The team of experts says, 'The onus of Aziz's problematic and abusive behavior is his own personal responsibility. We cannot place the onus of protecting the community's image on victims of sexual assault and gender-based violence.
'Additionally, let's move away from the notion that we have to protect people in our communities, especially if they are in positions of prominence in industries that are not diverse.
'It is dangerous to believe that South Asians can and should represent our communities' needs and interests, although we should hold people accountable to high standards especially if they highlight their ethnic affiliation and community connections.
'While it is important to advocate for greater representation in every sector, we don't need to blindly advocate for individuals who "make it" in non-diverse sectors just because they are from the same ethnic background or faith as we are.
"Also, the notion that brown men like Ansari need protection is hypocritical unless we see the same sort of concern for brown men who are not wealthy, privileged, or famous as he is."
The guide also tackles arguments like 'It seems like Grace had the agency to leave but she didn't exercise it'; 'It seems that Grace consented to the encounter given her own actions'; 'If we believe Grace was sexually assaulted, then all of us are victims of sexual assault; and 'This is not what the #MeToo movement is about at all.'
The guide then addresses the important question of what South Asian men should actually be doing: 'A lot. Men need to be involved and engaged as participants, not merely as listeners.'
South Asian men can, it says, 'Take steps to fully understand sexual violence and gain a better understanding of a broad variety of issues including gender norms, social constructs of masculinity and sexuality, privilege, power dynamics, consent, and healthy intimacy... [and] use this knowledge to perform an unbiased self-analysis of how you and others intentionally and unintentionally lend support to rape culture (for example, what are some things you believe, say, or do that are actually rooted in demeaning stereotypes about women and girls?)'
It asks them to 'disrupt conversations that objectify and dehumanize women and girls' and 'deconstruct so called "religious and cultural values" and understand how they are informed by patriarchal stereotypes that further perpetuate victim-blaming rape culture.' A key aspect of doing this, the guide notes, is talking with younger men and boys about rape culture, 'especially within student organizations, mentorship and leadership programs, summer camps, and places of worship'.
It urges men to 'be active and engaged allies to women' and 'understand that being a passive bystander is just as detrimental as partaking in victim-blaming'.
The guide also speaks to women, asking them to reflect on their own experiences and histories: 'What felt empowering to you? What made you feel unsafe or uncomfortable? What are the parameters and boundaries that feel right for you in dating, flirting, and sexual activity?'
'Pledge to have honest and open conversations about consent, coercion, and power in your relationships, even if it feels challenging and scary. This is your pledge to center yourself, your body, and your needs,' it says.
It adds, 'Learn about the environment of rape culture, the #MeToo movement, and other topics that have been highlighted via the Ansari story. Talk to your family members about the Ansari story to open up conversations about sex and sexual expression. These issues are still taboo topics in many South Asian families. Use this opportunity to have honest conversations about sexuality, coercion, and the balance of power among people of various genders in your family.'
The guide also notes the importance of getting involved with organizations that support survivors, seeking support for yourself if you have experienced sexual assault and taking a break and disengaging from conversations about sexual violence when it gets too much. 'It's not your individual responsibility as a survivor to change people's perceptions,' the guide points out.
The Aziz Ansari Syllabus for South Asian American Communities also includes resources for additional reading and sharing.