Post your health-related questions for rediffGURU Rebecca Pinto HERE.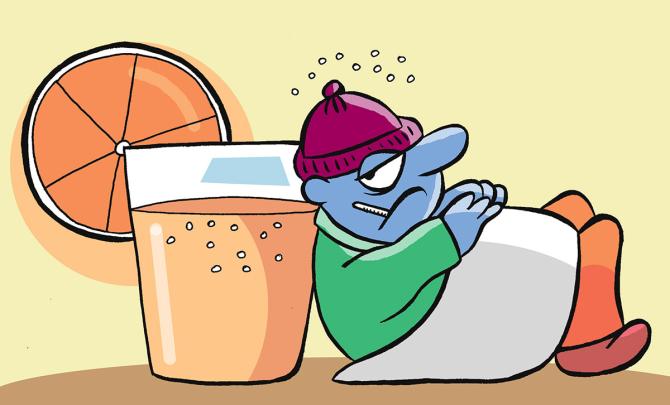 Priyabrataa: For the past 3-4 days, I am feeling stiffness in my back in the early morning while lying on bed. But it becomes ok as the day progresses. What can I do to get relief?
Hi Priyabrataa,
Chances are that the surface you sleep on is causing the pain. Change your place of sleeping for 4-6 days and see the difference and get a comfortable surface to sleep on.
Shrinivas: Hi, I am 39 years old. While walking for more than 5 minutes, cramp and sensation starts on both the legs. When I stop and take rest for 2 minutes, cramp and sensation go away. This is happening for past 3 months. My blood tests are normal. Can you please suggest what needs to be done?
Hi Shrinivas, Please get your vit B12 levels checked and get X-ray of your lumbar spine to understand if you have a degenerative issue at that level that's affecting the nerves in your leg.
It's best to consult an orthopedic.
Rdy: Dear Doctor, I am 67 Years old. My MRI report says as folows Observations Multiple small variable sized discrete and confluent non-enhancing asymmetrical T2 / T2 FLAIR intermediate hyper-intense signals seen involving pons, subcortical and paraventricular white matter of bilateral fronto-parietal lobes and centrum semiovale, suggestive of chronic small vessel disease changes. No evidence of acute infarct, hemorrhage or space occupying mass lesion noted. No abnormal parenchymal or meningeal contrast enhancement seen. The thalami, basal ganglia and internal capsules are normal on both sides. The ventricles and sulci are normal for the age. The pituitary gland, infundibulum and hypothalamus are normal for the age. The posterior fossa shows normal cerebellum. The medulla and mid brain shows normal signals in all the sequences Dolichoectasia of left vertebrobasilar artery noted. Bilateral 5th, 7th, and 8th nerve complex appear normal in size and signal intensity. Bilateral CP angles appear normal. No abnormal vascular loop. Bilateral vestibule, semicircular canals and cochlear appear normal. Visualized temporo-mastoid bones appear normal. Normal flow void is seen in the major dural venous sinuses and arteries. Visualized orbits and contents appear normal. Small non-enhancing T2 hyper-intense and T1 hypo-intense polypoid mucosal thickening of left maxillary sinus, suggestive of mild sinusitis with polyp/retention cyst. MRI BRAIN PLAIN AND CONTRAST.
Impressions
Chronic small vessel disease changes involving pons, subcortical and paraventricular white matter of bilateral fronto-parietal lobes and centrum semiovale.
No abnormal parenchymal or meningeal contrast enhancement.  No significant abnormality of bilateral 5th,7th, and 8th nerve complex and inner ear structures.
Left maxillary mild sinusitis with polyp/retention cyst. Please advice.
Hi Rdy,
While we understand that these are your MRI findings it may or may not symptomatically reflect. A detailed history of your current symptoms will be required to plan out a treatment which can help you. I'd advise you to visit a nearby physiotherapy department with your files so that they can evaluate your condition and check your strength and power and design an appropriate treatment plan for you.
Krish: I am 43 years male. My height is 178 cms and weight is 94 kgs. I am trying to lose weight by around 10 kgs gradually .My diet is predominantly south Indian veg. Pls advice
Hi Krish,
Try and increase your protein and fibre intake in every meal and you will soon see significant results.
Anonymous: Should you stop having citrus fruits when you have cough and cold? What about tangy foods, or even lemon and oranges? What fruits and vegetables to avoid when you have cough and cold?
Hi,
Lemons and oranges are high in vit C which can help you heal faster. Ideally there is no reason to stop citrus fruits unless you are allergic to some of them.
You can ask Rebecca Pinto your health-related questions HERE.
---
Disclaimer: All content and media herein is written and published online for informational purposes only. It is not a substitute for professional medical advice. It should not be relied on as your only source for advice.
Please always seek the guidance of your doctor or a qualified health professional with any questions you may have regarding your health or a medical condition. Do not ever disregard the advice of a medical professional, or delay in seeking it because of something you have read herein.
If you believe you may have a medical or mental health emergency, please call your doctor, go to the nearest hospital, or call emergency services or emergency helplines immediately. If you choose to rely on any information provided herein, you do so solely at your own risk.
Opinions expressed herein cannot necessarily provide advice to fit the exact specifics of the issues of the person requesting advice.