There are certain plans that you can opt for that also cover dental treatments, says rediffGURU Sanjib Jha.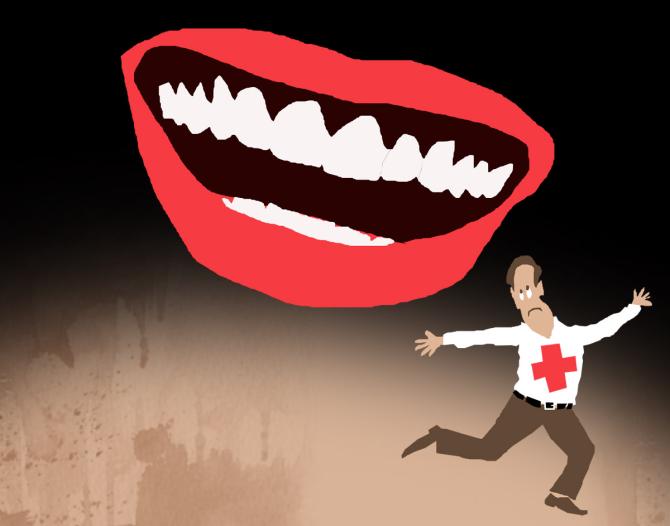 Insurance can be confusing, especially since you end up paying hefty premiums and don't see any benefit until disaster strikes.
And then there is the fine print in each policy which one needs to read and understand carefully.
Do you have questions about life insurance? Medical insurance? Auto insurance? Home insurance?
You could ask rediffGURU Sanjib Jha.
Jha is the CEO of Coverfox Insurance. His expertise includes life, health and auto insurance.
Ask rediffGURU Sanjib Jha your questions HERE.
Phani: Sir, I am 65 years old. Visiting USA for 6 months to be with my son.
I am a cardiac patient. Would like to know about health insurance policy during my stay at USA which covers procedures like angioplasty/ heart surgery and premium if any.
Health insurance plans bought in India are designed to cover the insured for their health expenses within the country itself.
Hence, if you are travelling to the USA, we would recommend that you purchase a travel policy accordingly to cover any medical emergencies.
Kamal: My LIC policy premiums will be completed in 2024. Should I again go with LIC policies or just term insurance?
Hi Kamal, it depends on the features that your LIC policy provides.
Term insurance is a pure risk cover plan which protects your loved ones financially in case of a premature death.
Anonymous: Hello Sir, None of the health insurance providers are offering health insurance cover to my spouse who is a breast cancer survivor. I have tried with 4 providers and they have all rejected it.
She had the final surgery on dec 2018 and regular checks shows that she is normal. Wanted to check if there is any way out here?
I could not take an insurance before as we were outside India and I had a local insurance on that country, now I am back in India and I dont have a cover.
Need your advise here.
Hi, hope your wife is doing well.
The reason insurers are rejecting your application for a health insurance plan for your wife is because her past medical history is making her profile a high-risk profile.
Usually, health insurers can offer plans but at a very high premium. This is the reason that health insurance is best to be purchased at an early age.
You can try companies with specific cancer plans and legacy insurers.
Swati: Hi Sanjib, is there any particular reason why are dental treatments not covered under any insurance?
I have my personal Health Insurance and a company GMC, but in both the policies, dental procedures like Root canal etc are not covered. Whereas the fact is that dental procedures are one of the most expensive treatments in the medical world. And such treatments are not cosmetic treatments but mandatory if you have a cavity or if you want to save your teeth.
Hi Swati.
Dental treatments are considered as cosmetic treatments and hence are not included in health insurance.
However, there are certain plans that you can opt for that also cover dental treatments.
The premiums here may vary compared to non-dental coverage health insurance policies.
Sharad: Hi, I had invested in LIC policy and paid premium for 2 years. Unfortunately, after that I stopped paying premium, and policy status is showing as lapsed now.
Can I get my money paid for premium back? What is the process? Policy was for period of 15 years.
Hi Sharad.
Unfortunately when you stop paying your premiums, the policy lapses.
If your policy has lapsed owing to non-payment of premiums on time, the terms and conditions of the policy contract are null and void until you reinstate it.
A lapsed coverage must be reinstated by paying the accumulated premiums with interest and providing the necessary health information.
You will have to pay the premiums of the years missed and then the policy will get revived.
Ask rediffGURU Sanjib Jha your questions HERE.
---
Please Note: The questions and answers in this advisory are published to help the individual asking the question as well the large number of readers who read the same.
While we value our readers' requests for privacy and avoid using their actual names along with the question whenever a request is made, we regret that no question will be answered personally on e-mail.
All content and media herein is written and published online for informational purposes only. It is not a substitute for professional advice. It should not be relied on as your only source for advice.
Opinions expressed herein cannot necessarily provide advice to fit the exact specifics of the issues of the person requesting advice.