'Please suggest a fund where I can invest Rs 2 lakhs.'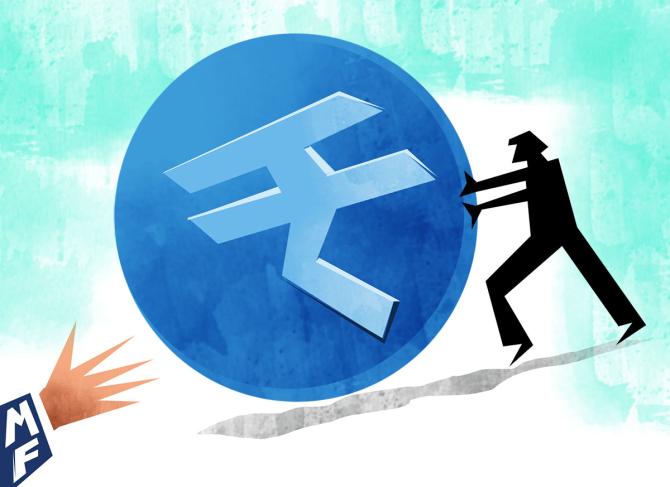 Omkeshwar Singh, head, Rank MF, (external link) a mutual fund investment platform, answers your queries:
---
Harshada Naik: Hope you and your family are doing well.
My mom is a retired government employee and she would like to start investing in mutual funds.
Could you please suggest some?
Omkeshwar Singh: It would be better if the investments can be done in hybrid funds instead of pure equity since the investor is retired.
You can consider Tata Balanced Advantage Fund (Growth) and ICICI Prudential Balanced Fund (Growth).
Jayanti Chakraborty: I am a new investor want to invest in Mirae Asset Short Term Fund -- D/P-G Rs 2,00,000, ICICI Pru Short Term Fund -- D/P- G Rs 2,00,000 and Canara Robeco Short Duration Fund -- D/P-G Rs 4,50,000 can be treated as the source fund.
After one year of investment, I want to do STP to Mirae Asset Hybrid Equity Fund-D/P-G, ICICI Pru Balanced Advantage Fund-D/P-G and Canara Robeco Equity Hybrid Fund-D/P-G as the target fund.
Duration one year after investment to continue one year would be right?
I am a housewife and my age is 57 and the tenure of SIP would be 7 to 10 years.
I am waiting to hear from you.
Omkeshwar Singh: Yes please to your first three statements.
On SIP, Rs 5,000 per month to Tata Digital India Fund -- D/P-G and Motilal Oswal Nasdaq 100 FOF -- D/P-G.
Rajesh Kumar: I need your advice on my below investment for 7-10 years horizon.
Please suggest if any changes required.
Omkeshwar Singh: Please continue 1, 2, 3, 4, and 6 and instead of No 5, you can consider Axis ESG Equity Fund (Growth) or DSP Focus Fund (Growth).
Sonal Hirbhagat: I am 38 years old and very new to mutual funds with less knowledge about it.
Please suggest few mutual funds where I can invest a total Rs 6,000 per month in different schemes for 3-5 years.
Should I opt for online or offline mode as a beginner?
Will it benefit me for income tax?
Omkeshwar Singh: Offline/Online has no impact on taxes. You can consider Axis ESG Equity Fund (Growth), Parag Parikh Flexi Cap Fund (Growth), SBI Magnum Global Fund (Growth) and DSP Quant Fund (Growth).
Abdul Rawoof Syed: I am going to complete 36 years on July 9.
I started investing in mutual funds from this month only.
All direct except 3, ie regular.
The direct funds are:
The regular funds are:
My aim is to close a loan of Rs 36 lakhs in next five years.
Are these funds good to continue or do I need to change or add anything?
Is it good to close the loan as early as possible?
Please advise instead of Nippon India Small Cap, can I go for Axis Small Cap. If yes, I will stop SIP in Nippon and I will start Axis Small.
Omkeshwar Singh: No need to add any new funds. Please continue with the existing ones,
Yes, you can shift from Nippon to Axis.
George Prema Ranjan: Have read your questions and answers section and I like the same.
Till now, have not invested in MF except Rs 1 lakh in Edelweiss share market.
Am planning to move my FD to MF.
Kindly request you to suggest some funds where I can start a SIP and invest upto Rs 2 lakhs in lumpsum.
Age: 48 years
Total amount to invest per month: Rs 25,000.
Planning for invest upto: 58 years (10 years).
Request you to suggest the best option of mutual fund for SIP of Rs 25,000 per month and one time lump sum of Rs 2,00,000.
Omkeshwar Singh: You can consider Axis ESG Equity Fund (Growth), DSP Focus Fund (Growth), ICICI Prudential US Bluechip Equity Fund (Growth), Parag Parikh Flexi Cap Fund (Growth), SBI Magnum Globad Fund (Growth) and DSP Quant Fund (Growth).
---
If you want Mr Singh's advice on your mutual fund investments, please mail your questions to getahead@rediff.co.in with the subject line, 'Ask MF Guru', along with your name, and he will offer his unbiased views.
Disclaimer: This article is meant for information purposes only. This article and information do not constitute a distribution, an endorsement, an investment advice, an offer to buy or sell or the solicitation of an offer to buy or sell any securities/schemes or any other financial products/investment products mentioned in this QnA or an attempt to influence the opinion or behaviour of the investors/recipients.
Any use of the information/any investment and investment related decisions of the investors/recipients are at their sole discretion and risk. Any advice herein is made on a general basis and does not take into account the specific investment objectives of the specific person or group of persons. Opinions expressed herein are subject to change without notice.
Feature Presentation: Ashish Narsale/Rediff.com