HR Guru Mayank Rautela offers practical advice.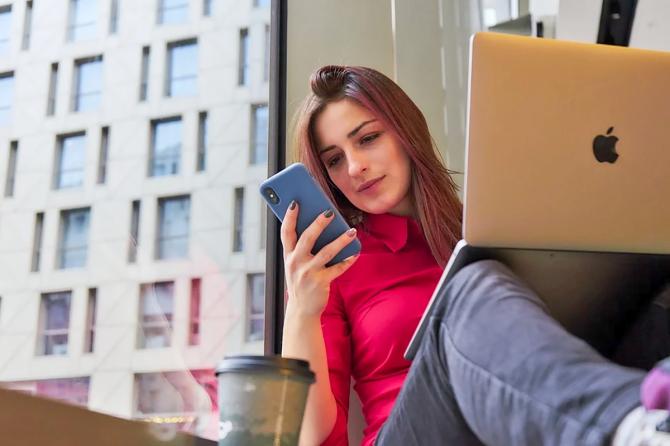 Dear reader, are you just starting out in your career and want to know the right steps you need to take?
Not sure how to prepare for your first interview? Or your first online interview?
Struggling with office politics? Or with working from home?
Have a bad boss? Or a colleague who is undermining you?
Nobody seems to listen to you at meetings?
Have you hit a dead-end at work and see no way out?
Please send in your concerns to our HR guru Mayank Rautela at getahead@rediff.co.in. (Subject: Mayank, can you help?).
Dear Mr Mayank,
First of all, I would like to keep my question anonymous.
I have relocated to India in the past month after spending around 20 years in the Middle East.
I worked as a HR manager in an MNC for the past many years but had to leave due to difficulties in the market situation after the pandemic. Additionally, my entire experience is in the Middle East.
I have been applying for related jobs in HR here but to no avail.
I have completed my MBA on a part-time basis from an Indian university while I was working in the Middle East.
I have certification from HRCI for SPHRi and have additionally completed HRBP training from AON.
Do you think my lack of Indian experience and lack of a full-time MBA will be a hurdle for getting a good offer from companies?
I don't think that would be a major hurdle.
You have done some very relevant courses/certifications that will help you perform well in your role.
Also, geography does not play a 'make or break' role in getting a job, especially in HR.
The cultural dimensions in the Middle East are similar to India.
I would say remain positive and connected. Look at companies that have operations both in India and the Middle East and target them in order to get a job faster.
Dear Sir,
I have 15 years of work experience in accounts and finance.
Earlier, I used to work in the travel and tourism industry. Due to COVID-19 I lost my job.
Right now, I am searching for a job and have applied in Naukri, Monster, Timesjobs and other job portals. Till now, I have not received any calls.
Some organisations would say that you only worked in the travel and tourism industry, They don't think I can fit there.
What should I do? How can I approach organisations for a job?
They're telling me the market is low and we can't give the desired salary.
If I approach with a low salary expectation, then it will be a loss for me.
Please help me with this.
Thanks,
Prashanth
Hi Prashanth.
The pandemic has had its impact in many industries.
However, accounts is a function that is not restricted to any industry.
If you have the right experience and qualifications, you can apply to virtually any organisation.
Also, don't focus too heavily on salary at this point; getting a good role in a good company should be your top priority.
The good news is that tourism as an industry is opening up again.
Dear Sir,
I would like my question to be anonymous.
If your company is allowing you to work from home and your home is in a different city and you are called for meetings, can one ask for travel expenses? I am asking this because my home town is far away from my office and I cannot afford air travel.
Travelling by road or train means I need to take a day off each way.
How do I approach this problem?
Thank you.
WFH brings many issues along with it; travel to work for meetings is one of them.
Clearly, it will depend on the policy of your company.
If your company does not have a policy that covers out station travel while WFH, then you need to make a special request to the senior management. I am sure they will accommodate you.
Else, depending on the frequency of the meetings, you will have to look at accommodation in the city where your office is based.
Dear Sir,
I will soon be in a position where I will have to interview potential candidates for my department.
I have never interviewed anyone for a job before.
What should I keep in mind and how will I know the person in front of me is a good candidate and a good fit for my department?
Looking forward to your reply. Please don't reveal my name.
Interviewing is a skill that you develop on the job.
Since you are starting to take interviews, it will be a good idea to do short term online training or in-person training for the same.
You can also approach your HR team or immediate supervisor to be your coach in this aspect.
Dear Sir,
If the owner of my company is saying a wrong opinion, should I quarrel with him or should I keep silent?
Thanks,
Kushal
Hi Kushal.
Getting into a heated argument with anyone, especially the owner of your company, will not result in a positive impact.
It is best to be polite and set up a one-on-one meeting him.
You can also take guidance from your immediate manager.
---
Mayank Rautela is the chief human resources officer at Care Hospitals.
He is a management graduate from the Symbiosis Institute of Management Studies and holds a master's degree in labour laws from Pune University.
He has over two decades of experience in the field of general management, strategic human resources, global mergers and integrations and change management.
He has held various leadership positions across marquee companies, including the Piramal Group, the Tata Group and multinational healthcare organisations like CR Bard and Becton & Dickinson.
Please send in your workplace concerns to Mayank Rautela at getahead@rediff.co.in. (Subject: Mayank, can you help?), along with your name, age, where you work (eg, Mumbai, Lucknow, Agartala) and job profile. Do let us know if you wish to keep your question anonymous.
Please Note: This is not a recruitment service. This column is an advisory.