Age-related arthritis can't be completely prevented, but Aashish Chaudhry provides insights into how the condition can be effectively managed.
Illustration: Dominic Xavier/Rediff.com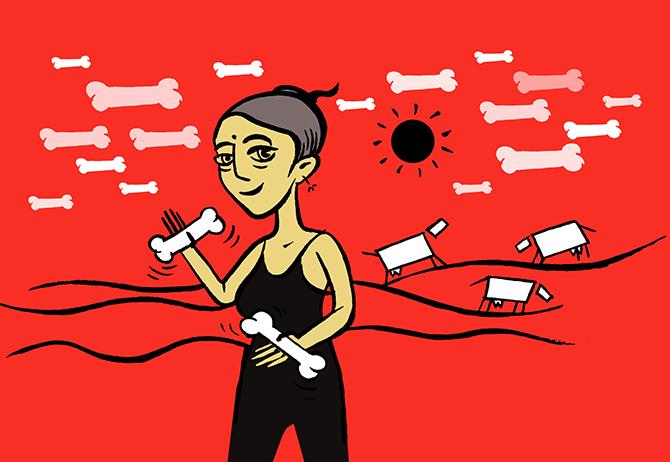 Statistically, there are more than 10 million cases of arthritis reported in India every year, and innumerable others that aren't.
Clinically, speaking arthritis is more commonly seen in women, since they have a tendency to gain weight, especially Indian women, which in turn stresses the joints leading to the condition. Erratic intake of calcium is another precipitating factor.
Osteoarthritis is the most common form of arthritis, which causes pain, inflammation and reduced motion in the joints. It typically affects the hands, knees, hips and the spine. The condition withers the cartilage, the slippery tissue that covers the ends of bone in a joint. When a person loses cartilage, the bones rub together, this can permanently damage the joint.
Rheumatoid arthritis on the other hand is an autoimmune disease, which affects the entire body since there is an abnormal response of the immune system. In rheumatoid arthritis, the body's immune system attacks its own tissues, including joints and internal organs in some cases. Rheumatoid Arthritis is more incapacitating than osteoarthritis.
The pain associated with arthritis depends on the stage, the symptoms are directly proportional to the stage.
The early arthritis patients respond better as opposed to patients with an advanced condition, who have constant pain in joints throughout the day. The most commonplace joint to be affected is the knee, though there are also arthritis cases of shoulder, hip and other smaller joints.
Early signs shall help more so with inflammatory arthritis, for instance Rheumatoid arthritis. Patients may complain of early morning stiffness, and if someone has this disorder the stiffness should last 30 to 40 minutes.
It is suggested that if a patient goes through morning stiffness, and swelling in small joints, they should consult an Orthopedic Surgeon or a Rheumatologist at the earliest, since this condition if unchecked can be extremely detrimental for the joints. People in India normally resort to self-medication for alleviating pains. They allow the condition to go undiagnosed for years, and consult a clinician only when hands and feet get deformed and the pain becomes unbearable.
There is very little awareness concerning arthritis; therefore, it is imperative that people know more about it and how dreadful it can be. If left unattended, its most devastating side effect being that it can leave people incapacitated for life.
Ways to prevent and treat arthritis
Age-related arthritis (osteoarthritis) cannot be completely prevented, but if a person follows simple precautions that include exercise, sunlight exposure, consumption of dairy products, and Vitamin D consumption, the condition can be effectively managed.
Bad stance, squatting and crossed leg sitting should be avoided. All this lowers the chances of early arthritis.
Balanced diet is advised with right amounts of carbohydrates, proteins and minerals.
There is the option of treating with local knee injection in between stages, but if the condition is terrible, then surgery is the only way out.