From starting with two sewing machines in her bedroom, Anita Dongre is all set to launch two stores in America.
Rediff.com's Archana Masih meets the designer for the working woman and the bride.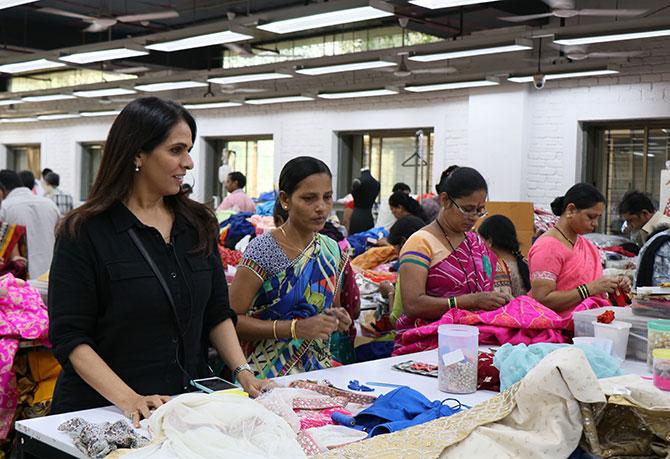 GLOBAL DESI: Inside the House of Anita Dongre with the acclaimed designer.
The fashion house has four brands -- AND, Global Desi, Anita Dongre (Bridal) including PinkCity jadau jewellery, and Grassroot.
The design house has 700 points of sale with more than 185 exclusive brand stores.
Photograph: Rajesh Karkera/Rediff.com

When a leading fashion designer set to launch in New York and Los Angeles this year is sitting across the table, there are certain things that one cannot but ask:
A must-have in a woman's closet?
A pair of great fitting trousers in any color, and comfortable shoes
Must-have traditional wear?
A beautiful sari or dupatta or kurta.
Must-have piece of jewelry?
A jadau piece or silver jewelry like jhumkas.
A trend that is going to become big?
Relaxed dressing. Ath-leisure. The disappearance of logos.
A fashion no-no?
Being covered from head to toe in brands. You wear the garment, the garment doesn't wear you!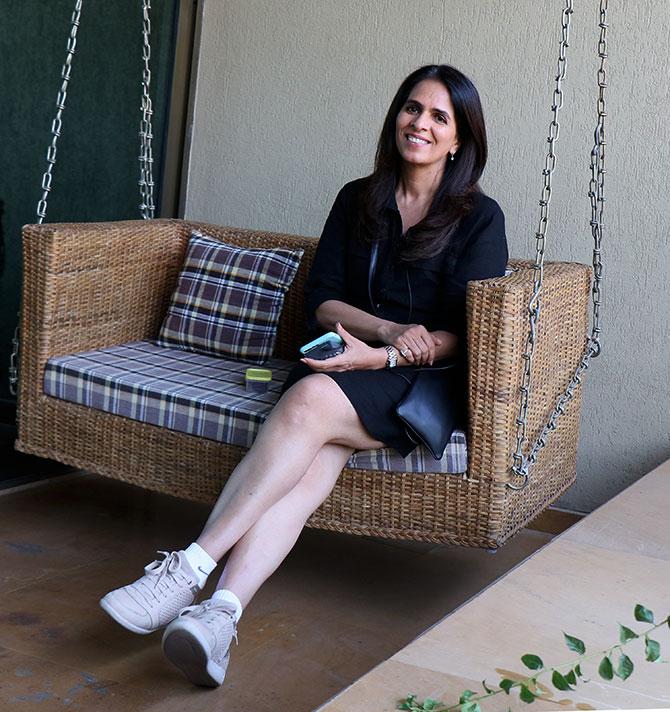 ATH-LEISURE: Anita Dongre finds swings therapeutic.
She also likes to have meetings on the bridges that serve as breakout areas in the House of Dongre and work without air-conditioning in her office, which has a big balcony with a view of the hills.
Photograph: Rajesh Karkera/Rediff.com

Anita Dongre -- one of India's most successful and exciting designers -- has draped some gorgeous women (including Kate Middleton) but dons a simple style of her own.
In a black linen dress and sneakers, she is sitting on the ground floor of her design hub in Navi Mumbai, on the outskirts of Mumbai.
Natural light bathes the room as she thumbs through her phone to retrieve a photo her college mates sent the other day.
"That's the first garment I ever created; that's me on the left wearing it," she says, pointing to her younger self, wearing a one-shouldered jump suit.
"I designed, cut, stitched and modelled it for my annual show in design college. Those days we could not afford models, so we used to wear our clothes and walk the ramp."
There were 32 girls who graduated with a degree in fashion from the SNDT University in Mumbai along with Dongre. She was the only one who went on to make a career in design.
"The others became homemakers. What lovely talent gone to waste," she says with an apologetic smile.
Dongre, 53, is firmly anchored in her 10,000 square foot, environmentally compliant building, which serves as the headquarters of The House of Anita Dongre Limited.
The fashion house has four brands -- AND (Western prêt), Global Desi (bohemian chic), Anita Dongre (Bridal) including PinkCity jadau jewellery and Grassroot (handloom contemporary Western wear).
According to the company profile, the design house has 700 points of sale with more than 185 exclusive brand stores in 84 Indian cities and in Mauritius.
Dongre is all set to launch Anita Dongre bridal studios, intended as a destination location, in New York in March, followed by Los Angeles.
"I don't want to open my store in the high street because my client is very niche. It will be very convenient if a bride came into the store and got everything instead of taking a 24 hour trip to India," says Dongre, who sources bridal fabric from Varanasi and has two embroidery factories in Jaipur.
A core team of five to six young designers per label create 250 designs for each brand per season; a fashion season spans three months.
Dongre approves every design and has even called back clothes from stores if there was something she didn't like after spotting it on the shop floor.
Dongre proudly wears only her creations and buys them from the stores. "I try them on as any customer would and pay at the counter. None of the staff get any kind of discount. This is a professionally run company."
THE LONG ROAD: Anita Dongre and her journey from two sewing machines in her bedroom to international ramps and stores.
Video: Rajesh Karkera/Rediff.com

Dongre encountered success almost from her first venture and has built her empire on dogged hard work.
Fresh out of design college, she began with a collection of 15 to 20 simple dresses and approached a local boutique owner in her home suburb of Bandra.
"I had this burning desire to make clothes and wanted someone to wear them. I made simple poplin dresses, which no one else was doing at that time. My sister and I went to a shop owner who agreed to put them on the rack and within a week we were sold out! That's how I suppose you start business," she says.
From working on two sewing machines in her bedroom -- a point she mentioned in her speech at the India Conference at the Harvard Business School in February 2016 -- she moved to a garage, then to a small workshop in the vast working class hub of Dharavi.
By then orders had started coming from other shops in Mumbai and Delhi.
She had already tasted success, but perhaps wouldn't have started her own store had she not encountered rejection.
"The stores wanted garments with heavy embroidery. They didn't care for the clean, simple clothes I made. That drove me to start my own store. I am grateful for that rejection."
More than a decade later, in 1999, Dongre opened her first AND store in Mumbai's first mall, Crossroads.
It was a small store, but she made it a point to go to the shop floor every day. "It was fun. It was great to see consumer experience. I once met a woman who'd bought a bandh gala jacket 18 years ago from that store and still wears it today."
Dongre says her clothes have also brought her tremendous emotional response from women.
"I have realised that when women buy clothes it is connected to an important stage in their life. I have met people who've told me, 'I bought a jacket for my first interview from you or when I got engaged I came with my fiancé to your store, or for my marriage I wore you' -- it is all very thrilling."
"Fashion is emotional. You are with the people who buy your garments during a very important phase of their life. I feel special when people say your dress is my lucky dress or that he proposed to me when I was in this dress. You hear such beautiful stories."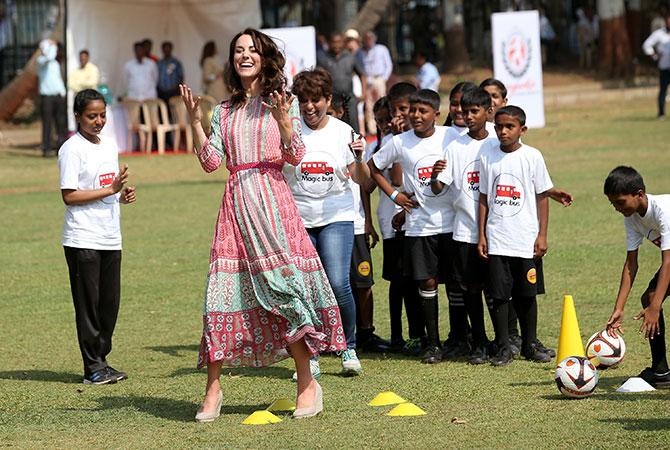 WHO'S THAT GIRL? Kate Middleton's Mumbai outing in an Anita Dongre dress during her visit to India in April 2016 crashed the designer's Web site.
The design continues to be a hot seller, but Dongre has decided to stop producing more of it.
Photograph: Chris Jackson/Getty Images
Another beautiful story, which raised the bar for Dongre, was when the Duchess of Cambridge wore a dress from her collection during a visit to India in April 2016.
The tunic dress with Jaipur motifs became such a rage that Dongre's Web site crashed.
soon after Kate wore it during an outing in Mumbai.
It also led to her making it to Google's list of top searches of 2016. The design continues to be a hot seller, but Dongre has decided to stop producing more of it.
"It helps when famous people wear your clothes because they are seen as role models. You get eyeballs because they are photographed so much, your designs get noticed, people write in and we get more orders. It's a win-win, but ultimately your business has to be your product, your design, your store experience and involvement with the consumer."
She also feels that although the world's biggest fashion houses outsourced fabric from India for a long time, Indian fashion has a long way to go before making a global mark.
"India has to prove itself in creating brands that sell globally. It can be in any segment -- luxury, premium luxury or affordable luxury. We need a great product, great quality, good management, vision and desire to go global."
HOME OF DESIGN: Anita Dongre's fashion venture operates out of a sprawling premises in Rabale, Navi Mumbai. Video: Rajesh Karkera/Rediff.com

About two years ago, Dongre moved her fashion venture to Rabale in Navi Mumbai.
The sprawling facility is clearly something she is proud of. On a walk through, climbing staircases and in-house bridges that link the three buildings, she points out features like the flow of natural light and air into the workspace.
Swings can be spotted on different floors; there is one in her office as well.
"I find swings very therapeutic and like to have meetings with my team on the bridges which serve as breakout areas outside. I work without air-conditioning in my office because I have a big balcony," she says, sitting on a swing with a view of the hills at the edge of the city.
Of the 2,500+ workforce, more than 700 work on the premises. The company has seven buses from different parts of the city for transport; while a canteen on the ground floor provides breakfast, lunch and an evening snack.
The visitor's lounge has sofas upholstered with Indian fabric while the lampshades are made of classic Indian textiles.
"This is all left over fabric from our clothes," she says.
A mantle on the side is liberally covered with trophies won over the years.
On the lawn outside, 'Beware of Dog' signs alert visitors to the seven strays adopted by her brother Mukesh Sawlani, the head of finance.
Her sister Meena Sehra, who she describes as the "people's person", heads human resources, while son Yash has recently come on board after getting a business degree in Boston.
Giving a sense of how the siblings fare at working together, she says, "We have our own skill sets that don't clash, but complement each other. What we share is a higher good that -- most and above -- the company matters. For us, the company is a living, breathing person."
Her siblings sit on the third floor with the finance and HR teams, and it is the one place she is hardly ever spotted in, she confesses with a laugh.
"The fun is here with the design teams, tailors, fabric, merchandise section... This is my work, my home -- I am screaming, shouting, pushing, raving, ranting -- I do all that here," she grins.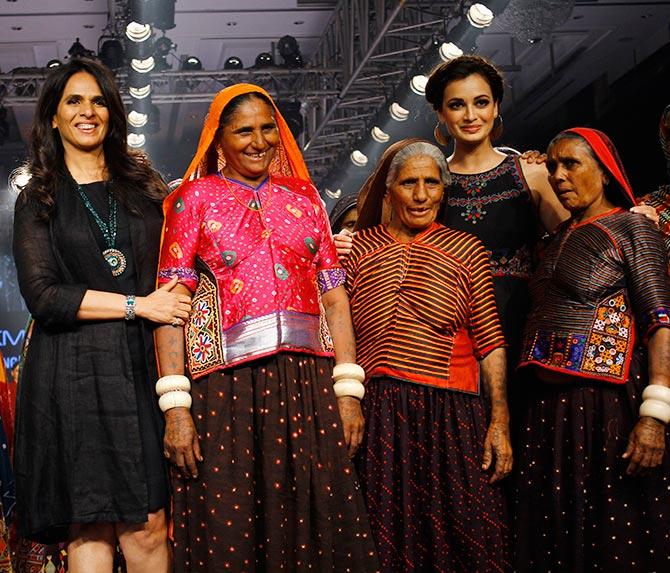 GRASSROOTS: Anita Dongre, left, and actress Dia Mirza, second from right, with craftswomen who are masters of Gujarat's Ahir embroidery at a Lakme Fashion Week
in 2015. Dongre hopes to do design development at the grassroots. Photograph: Hitesh Harisinghani/Rediff.com
At the end of November 2016, Dongre traveled to India's northeast to meet weavers in an initiative by the government to encourage local craft. She intends to do a design development with craftsmen and go on to work with them.
The design house also works in the village of Charoti on the outskirts of Mumbai by providing tailoring opportunities to women in association with Bharatiya Janata Party MP Poonam Mahajan.
"My team went there with 35 sewing machines and taught the women to stitch. I am proud of that and want to do more such projects," she says.
In August, Textile Minister Smriti Irani met Dongre to discuss ways to promote handloom.
The government, Dongre feels, is doing a good job in bringing the craftperson and designer closer and many young designers increasingly want to work with local craft in villages.
"We can undo a lot. A lot of amazing women like Sally Holkar, Reema ben, Ela ben of the Self Employed Women's Association of India are doing path-breaking work," says Dongre, who sources fabric from Sally Holkar, a champion of women weavers in Madhya Pradesh for decades.
"We are losing language, recipes, crafts, the old and simple way of living. There has to be growth, but not at the cost of a simpler, more intelligent or environmentally balanced way of living," says Dongre, who wakes up at 5 every morning and does an hour of yoga.
She has also converted the terrace of the office building into a vegetable patch.
In February, Dongre will move out of Bandra -- where she grew up -- to Vashi in the satellite city of Navi Mumbai, bringing her closer to the office.
"I spent nine months of the year in Bandra and three in Jaipur with my grandparents and that has really shaped me as a person and designer."
The new home is ready, but there hasn't been time to move in.
She gets into work at 9 am, leaves by 6.30, 7 pm and works six days a week.
Work is afoot for the Lakme Fashion Week where her show will be the finale.
"I don't have any other life, but this," she laughs, "I practically work all the time. That's what I do."