When Santosh Muruganantham quit his job in the US to return to India, he knew he wanted to become an entrepreneur.
The co-owner of Kolapasi, a successful chain of takeaway-only outlets based in Chennai, reveals how he did it.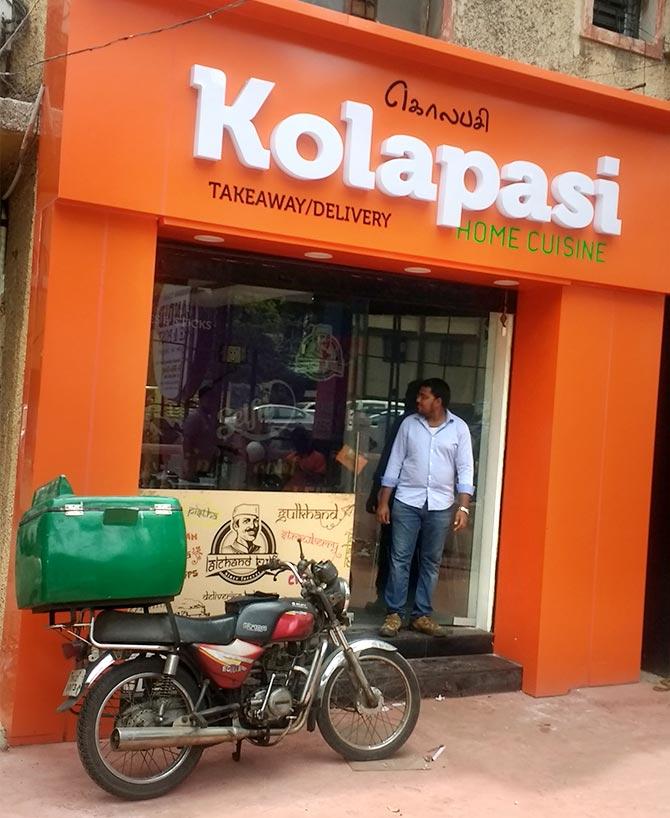 IMAGE: Kolapasi started out with one centralised kitchen and an outlet at Nelson Manickam road. Today, it has seven outlets. Photograph: A Ganesh Nadar/Rediff.com
I did my B Tech in Chennai and my Masters in the United States.
In 2010, after I had worked in the US for a few years, I returned to India and launched a garment business, with a retail outlet in Hyderabad.
Scaling it up, however, was a challenge due to financial constraints so I decided to explore other business opportunities.
I used to discuss my thoughts with my friends, Aditya Raju and Padmanabhan Murugan, who were also looking at becoming entrepreneurs.
Padmanabhan and I have been classmates since Class 3. Aditya was my wife's classmate in engineering college.
The food industry looked particularly exciting to us, especially since it was so polarised.
If high-end, pricey restaurants populated one end of the spectrum, the other was dotted with inexpensive, low-end eateries.
The in-between option was missing.
Middle class families may visit a restaurant on the weekend, but they depend on home-cooked meals during the week.
Cooking, though, is a challenging, time-consuming task, especially when both partners work.
Our research revealed that women spend 80 to 100 hours a month on cooking, purchasing provisions, cleaning, chopping and the actual cooking.
If we could provide home-like cuisine at a reasonable price, we could give back 50 hours a month to the lady of the house.
We were clear we did not want to be classified as a restaurant, which is a highly competitive business space.
That's how Kolapasi was born four years ago.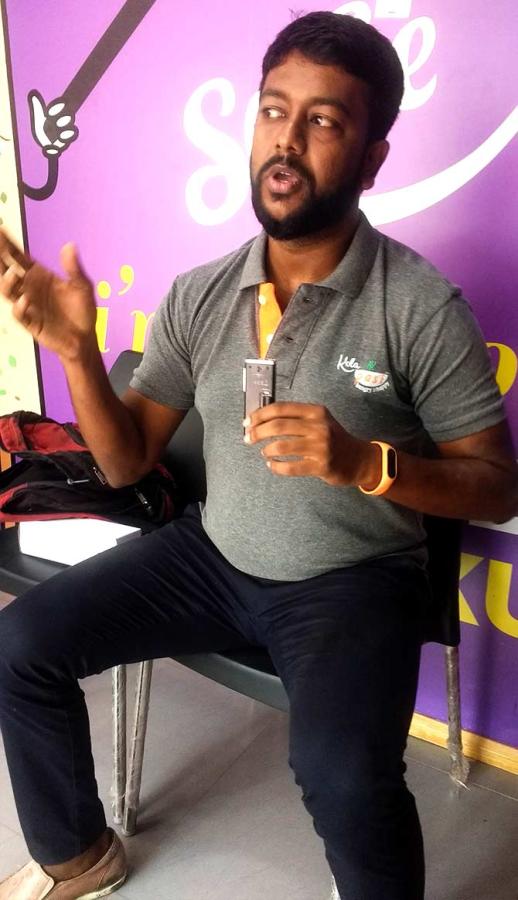 IMAGE: 'The food industry looked particularly exciting to us, especially since it was so polarised,' says Santosh. Photograph: A Ganesh Nadar/Rediff.com
Why Kolapasi, you might wonder. Well, we wanted a brand name that would resonate with people.
Kolapasi means 'extremely hungry'.
It was also the time Dhanush's Kolaveri Di had driven the nation crazy.
So, we zeroed in on Kolapasi.
We don't use mono gluten, artificial colours or vanaspati; we want to cook the way a housewife does.
My mother is a very good cook. In the first six months after we started, she helped me set up and standardise the kitchen.
The fact that we did not know too much about the business worked to our advantage.
You don't have to use the same tricks used by the rest of the industry. Instead of reinventing the wheel, we invented a different wheel.
We started out with one centralised kitchen and an outlet at Nelson Manickam road. It took us more than a year before we could launch the second one. Now, we have seven outlets.
We started getting a decent amount of orders but soon realised our biggest drawback -- we didn't know how to run a business.
In the first six months, two cooks vanished; my mother, Aditya and I had to take over.
We decided we'd move away from a chef-dependent model to a process-dependent one. Each dish now had a formula.
It took us 18 months to iron out the kinks.
Today, anyone with a basic knowledge of cooking can work in our kitchen, which has been designed to handle 15 outlets. All you need to know is how to season the dishes.
The food comes from the kitchen to the outlet, where the last stage of the cooking is done. It is then packed and dispatched.
Our prices are reasonable. You can enjoy a vegetarian meal for Rs 100 and a non-vegetarian one for Rs 150. We only serve lunch and dinner.
More than the kitchen, though, we struggled with delivery.
Sometimes, we would get 20 orders in 30 minutes; sometimes, we'd be sitting idle.
It was a waste of time and money, so we decided to go hybrid.
Now, we have our own delivery service but when we cannot cope with the orders, our partners take over.
I have delivered nearly 1,500 orders myself because I wanted to interact with our customers and get their feedback.
Initially, for example, they found our food was very spicy, so we toned it down.
We also found out what they expected from the kind of service we provided.
We broke even in the second year and our turnover has increased eightfold in four years.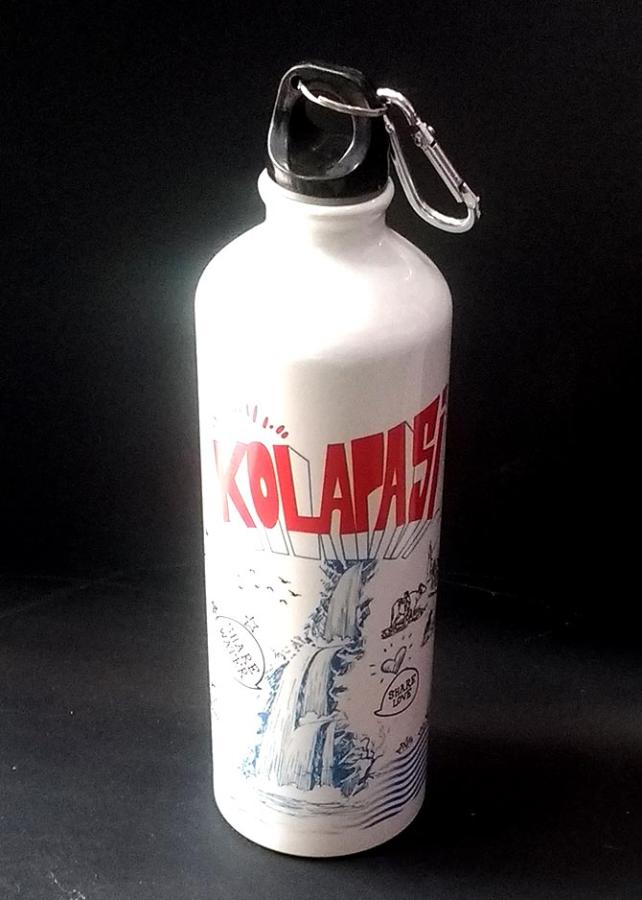 IMAGE: You can refill your bottle of water at any Kolapasi outlet for free. Photograph: A Ganesh Nadar/Rediff.com
Our initial capital for the kitchen and one outlet was Rs 30 lakhs (Rs 3 million).
Each outlet has five employees and the kitchen is powered by 15 workers.
At the moment, we have 50 people working for us.
We don't sell carbonated drinks because I don't drink them. Why would I sell something that I avoid?
We will never sell water. We have a special bottle that costs Rs 300 and you can refill it at any of our outlets for free.
You can also come in with your own bottle and fill it at our outlet.
Our next product is a potalam.
The food will be wrapped in banana leaf and the packet inside which it is packed will be made of palm leaf.
While I have always worked at Kolapasi full-time, Aditya has only quit his job three months ago.
The three of us are no longer involved in the day-to-day running of the business.
Now that we have a successful brand, we are thinking of a Subway model, where we put up four to five tables at each outlet for people who want to dine there.
We are also looking at expanding both nationally and internationally.
We might go the franchisee route or do it ourselves by applying for venture capital.
Santosh's start-up tips
Anyone entering this industry needs to get at least a year's experience before starting out on their own.
You have to realise that there are multiple processes involved. These include:
1. Purchasing raw material.
2. Production -- in our case, cooking the food.
3. Distribution
4. Branding
5. Quality control.
You have to know every aspect of the business before launching out on your own and you have to find out if you are capable of doing it.
Make no mistake, this is an excruciating business.
There is no single secret formula for success.
Santosh Muruganantham spoke to Rediff.com's A Ganesh Nadar.