Her great grandfather started the Malayala Manorama, one of India's largest circulated newspapers.
Her grandfather started MRF Tyres.
Her father started Funskool.
So, it came as no surprise when Aditi Mammen Gupta started her own company, Instar Foods.
The first in a new series of young entrepreneurs: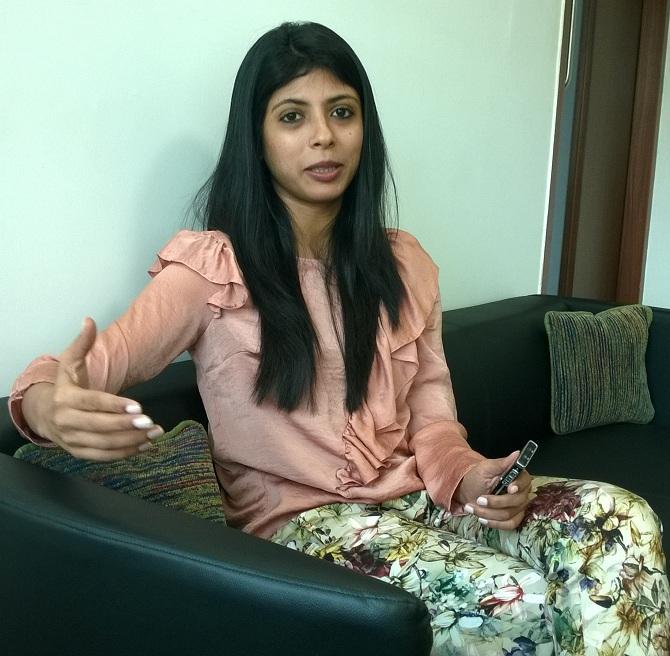 IMAGE: Aditi Mammen Gupta has headquartered her company in Chennai, the city she calls home.
Photograph: A Ganesh Nadar/Rediff.com
I did my graduation from Sophia College in Mumbai (Economics and Psychology) before earning an MSc in Human Resource Management from the University of Birmingham.
I worked for a year with ITC in their HR department as a trainee. I liked it at first, but later realised that I did not want anything to do with HR.
I then worked with my family company, Funskool, for two years.
After that, I got married, but I was keen on doing something on my own.
I knew I wanted to do something on my own, but I did not know what my path was.
An organic path
I loved cooking. I cook dinner at home every day.
I read a lot about cooking. I am obsessed with cooking.
I exercise regularly, so it doesn't show my love of food.
I had no background in food, (so when the idea of Posh Nosh struck) I had to pretty much start from scratch.
It took me a year-and-a half from the idea to getting it started.
I had to learn about ingredients, emulsifiers, stabilisers.
I learnt from a relative who is a food consultant.
I was lucky to find someone who loves food as much as me.
We finally started two-and-a-half years ago.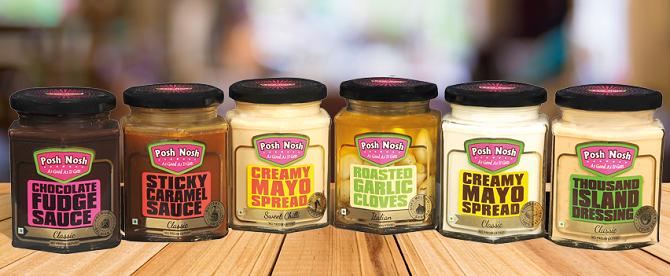 IMAGE: The first six Posh Nosh products.
Aditi regularly puts up one-minute videos on Facebook on how her product can be used in more ways than just as a spread.
"You can use mayonnaise to make devilled eggs," she says.
Photograph: Kind courtesy @poshnoshfoods/Facebook
What we do
What we do is a science.
When you want to prepare something and you want it to have a long shelf life, you have to do a lot of experiments.
There is a lot of trial and error.
First, you have to make a product you are proud of, and then you have to find a way to preserve it.
If there is a dirty environment and there are bacteria in your product, you have to put preservatives for a long shelf life.
If you keep the environment sterile and there is no chance of any bacteria in your product, you don't need preservatives.
We do not use any preservatives. How we do that? That's a trade secret (laughs).
The whole process has to be methodical and clean.
My place is a laboratory. I don't call it a kitchen.
We do not allow visitors into our factory.
I started off looking for a chocolate fudge sauce. We have more eight products now [marketed under the Posh Nosh brand].
We have a sticky caramel sauce, different types of mayonnaise spreads, and a salad dressing.
We have a special product that is a wholly roasted garlic spread; it looks like whole cloves of garlic, but it's actually a spread.
This year, we have launched a chilli garlic sauce, which has crispy burnt garlic in it.
A pasta sauce and a pesto are coming soon.
Each sauce has something different from what you would generally find.
In our chocolate fudge we use Belgian cocoa, which no one else uses.
We use the best ingredients, and that's the way you come out with a good product.
Our USP is no preservatives added.
And we are 100 per cent vegetarian; it took me a year to come up with a mayonnaise recipe without egg yolk. All the recipes are my own.
Our products go through machines, but we don't have a fully mechanised plant.
All my factory workers are women, and I am going to stick to that because I am into women's empowerment.
My employees range from 30 year olds to 45 year olds. Their children are at an age where the mothers can go to work.
They are an experienced lot. They suggest ways to improve the process, and I implement it if it is good.
I encourage them to think of ways to improve the process at all times.
I have trained my staff quite well, so now I can concentrate on marketing.
Nothing called overnight success
When I started I was 27; now I am 31.
I will not say we are an overnight success. How much ever you read of such things it does not happen like that.
This is my first business idea. It's progressing well, but it's a long slow process.
I was fortunate that I could fund it myself; I am still funding it.
When you go for retail sales, every time you list a new product with a chain you have to pay them a listing fee.
Also, you have to run after them for payment, as we give the product on credit.
I have so far put in about Rs 35 lakh (Rs 3.5 million).
I did not realise when I started, that marketing would take most of my time.
I am doing it myself because I want people to know that there is someone who cares about the brand behind it all.
Most of the products are manufactured by big companies and nobody knows what is going into the product and from where it is coming.
If I don't get the best ingredients, then I don't manufacture it.
I never compromise on quality.
My products are more expensive than other Indian products, but less expensive than an imported one.
At present, we sell 2,000 bottles a month.
I am rigid about adding no preservatives and keeping it vegetarian, but I am ready to experiment with products and process.
I market in Chennai, Bengaluru, a few stores in Kerala, one store in Pune, 3 stores in Coimbatore and one store in Ooty.
We will be launching in Hyderabad in a big way. We want to first cover the south and then we will enter the Mumbai market.
Aditi Mammen Gupta's start-up tips
If I had to weigh the process of a start up, I would give 10 per cent weightage to the idea.
Everyone has ideas. It's the research, manufacturing and marketing that will need 30 per cent each.
When you research your own idea and learn how to do it, that is a skill no one can take from you. It is very important.
My advice to start ups is that they have to realise that their idea is only 10 per cent and the real hard work lies in research, manufacturing and marketing in equal proportions.
As told to A Ganesh Nadar/Rediff.com