'I don't like the way people treat the physically challenged in our country. People look at us either with sympathy or ignorance.'
'I do all the chores normal people do. When people say, 'Oh wow, you can cook?' I am offended.'
'I want people to accept us for who we really are. If I secure a top rank, I want society to acknowledge and respect my hard work and not say 'You must have had a good writer.'
Visually impaired Payal Taori, who Mumbai University's MA topper this year, gets candid in a conversation with Divya Nair/Rediff.com.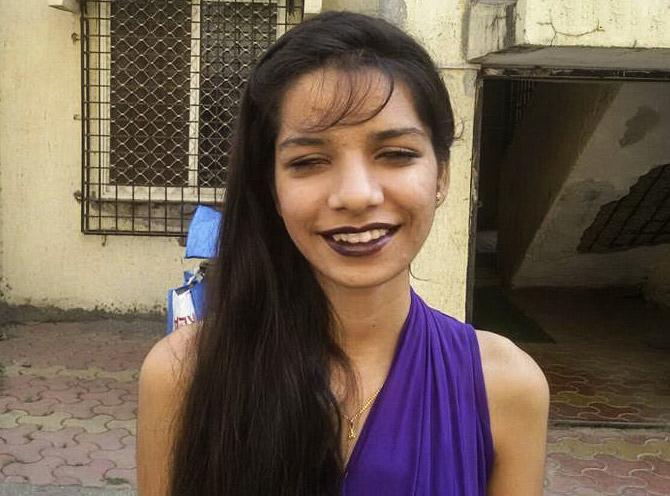 Topper Payal Taori secured 78 per cent in her MA finals.
She'd also topped her class in Std X.
Photograph: Kind courtesy Payal Taori/Facebook
Payal Taori, a student of history, topped Mumbai University's MA course this year.
She secured an overall 78 per cent. But Taori, 24, is no ordinary scholar.
She is a national level swimmer, and is currently pursuing Bachelors in Education course from St Xavier's College, Mumbai.
The scholar from Deoli, Wardha, is also perhaps the first visually challenged student to have topped the Mumbai University MA course yet.
In a telephonic conversation with Divya Nair/Rediff.com, the topper talks about her dreams, her secret recipe for success and her unending list of interests and achievements.
Tell us about your childhood.
I was born in a small village called Deoli in Wardha.
I was born blind so my father left my mother. I think he was worried that I would become a burden for him.
Years later, my current father, who is a businessman, married my mother. It was an arranged marriage.
My stepfather is the best thing that happened to me; after my mother. He took good care of my mother, and is very fond of me.
How and where did you study?
My stepfather put me in a hostel in Amravati.
I studied at Dr Narendra Bhiwapurkar Blind School in Amravati between class 1 and 7.
After that, I joined Yeshwant Girls High School in Wardha district from where I completed class 10. I scored 84 per cent and topped the school.
This helped me secure Dhirubai Ambani Scholarship, which helped me continue my studies.
For class 11, I joined the Vidarbha Institute of Science and Humanities in Amravati and secured 74 per cent in class 12.
Through my friends, I found out that there are good colleges in Mumbai. I applied for the Bachelor of Arts at Wilson College in Mumbai and got through.
I got 84 per cent in BA and decided to pursue post graduation from Mumbai University. I secured 78 per cent and topped the MA course.
How did you manage your studies?
When I was young, I was dependent on people. I could not go to the library or read on my own. I had to ask people to help me read and share notes.
With time and technology, I became more independent.
I am thankful to a lot of people who helped me in my initial days.
Now I download the PDFs of the books I need. I then use a screen reader and make my own notes on my computer.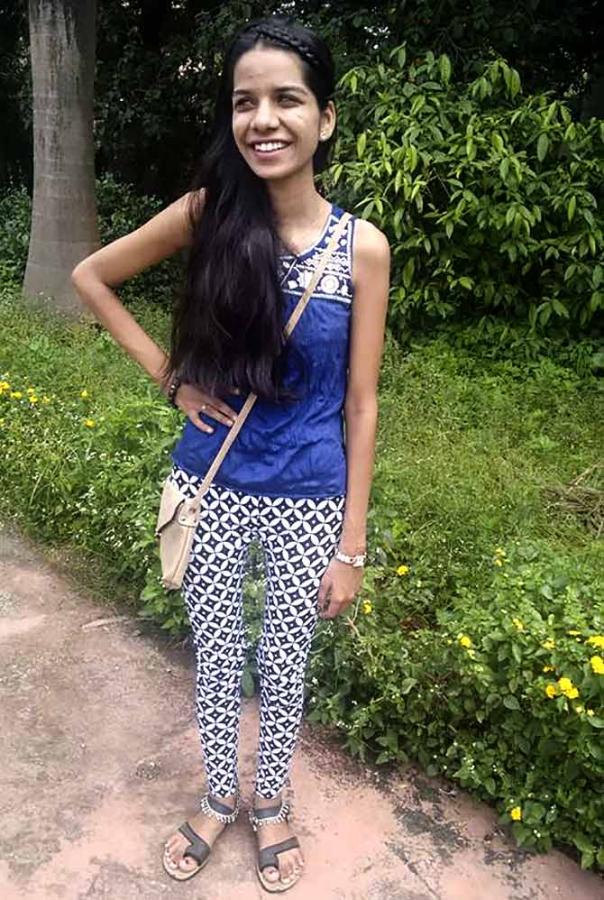 Payal is fond of swimming, writing poems and is always up for debates.
She also likes to dress up, try new hairstyles and try her hand at modelling.
What difficulties did you face while growing up?
The worst part about being physically challenged in India is the baggage you grow up with. No matter how hard we try and succeed with our talent, people look at us with the bechara/bechari attitude.
For example, if I tell someone, 'will you join me to the washroom', what I really mean is 'give me company.'
I'm sure every girl likes some company; they share jokes, keep secrets, etc. But if I tell someone to accompany me, they think am asking for help because I am blind.
Trust me, it is really hard to explain.
I talk to people, because I like to listen to their stories, not because I want anything in return. But people mistake me. They don't accept me as one among them.
That's why I don't have too many friends; I am not part of any girls' group.
At the most, they will talk to me for a while just so I don't feel bad. Most of them don't willingly involve me in their regular conversations.
Earlier, I used to vent out and share my feelings; now I don't. People don't really care.
Why do you think that people don't care?
Our society develops these stereotypes.
In films, a blind person is shown as someone who struggles in his/her daily life.
Newspapers, I feel, report very little about the achievements of the specially-abled. Even if they do, the focus is on their handicap.
You'll see so many reports about murders, kidnapping and cheating, but very little coverage and credit is given to the hard work of the specially abled.
I don't like the way people treat the physically challenged in our country. People look at us either with sympathy or out of ignorance.
I do all the chores normal people do. It is just that I am blind by birth, which is not anyone's fault.
When people say, 'Oh wow, you can cook?' I am offended.
I want people to accept us for who we really are. If I secure a top rank, I want people to acknowledge and respect my hard work and not say: 'You must have had a good writer'; 'You must have got some concession because you are blind.'
That's how mean some people are.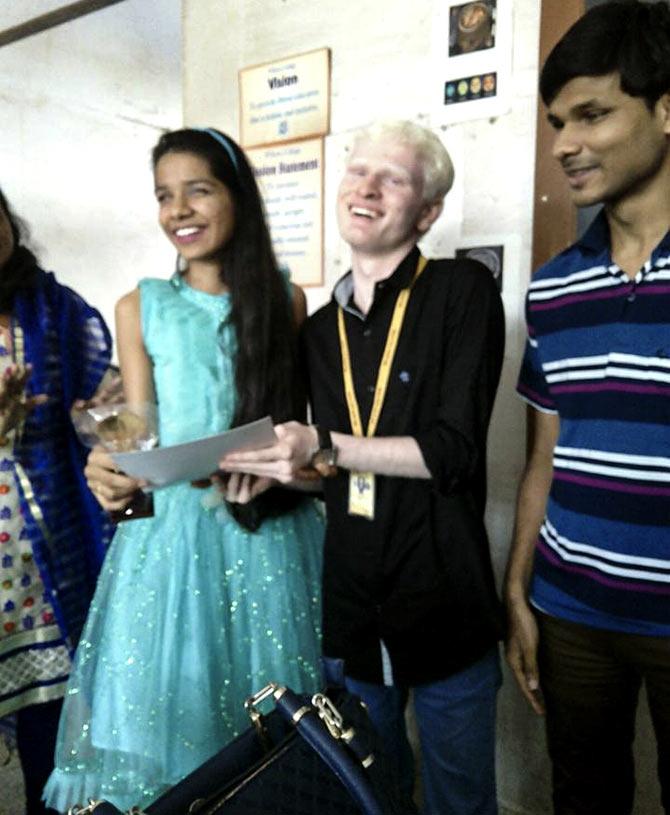 Payal was felicitated at Wilson College's history department.
Who encourages you?
My parents are my greatest pillars of strength. I share my thoughts with them.
When I was in class 8, I was put up in a hostel in Pune. I did not have a good experience there. I found the people in Pune to be very rude and dominating.
I am a Marwari and my Marathi isn't very good. I was often ridiculed for my Marathi. This affected my confidence.
When I came home and shared the experience with my mother, she told me, 'Don't worry. If you are not comfortable, we'll not send you back.'
Many people might immediately conclude that my parents pamper me. Maybe they do; but at the same time, they are very understanding. Their belief in me has helped me fight the fear of failure.
They realise my dreams and will never force me to do something I am not comfortable with.
Do you disagree with your parents?
Who doesn't? (laughs)
Now that I am good at studies, my mother often asks me to appear for the UPSC (Union Public Service Commission) and banking entrance examinations. They feel that if I get a government job, it will be easier to find a boy for me.
I get very angry when my parents discuss marriage like this.
So what if I am blind? Don't I have aspirations about my life and future husband?
Even if I were to crack the exam and secure a government job, what if I don't like the job tomorrow?
If the boy marries me because I have a government job, won't he abandon me when I quit (the job)?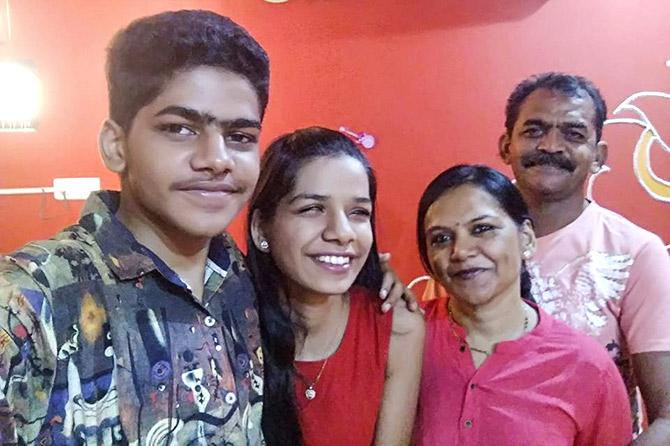 Payal believes her family is her strength.
Her parents -- her father is a businessman and mother, a homemaker -- live in Deoli while Payal stays at a hostel in Kalina, Mumbai.
Payal's younger brother Prathamesh is in class 10.

What are your views on feminism?
I am not a feminist. I believe in equality.
I don't like it when girls take advantage of their gender.
Today, times have changed. There are equal opportunities for all. So, it is not fair that girls complain about lack of jobs or education.
What is your dream?
I want to become a teacher. I feel that it's the best job in the world.
I believe that behind every successful leader there is a teacher who has shaped his/her values. A teacher awakens and inspires a generation of leaders who will rule the world tomorrow.
I want to be a good teacher like that.
Does anyone inspire you?
It will be unfair to say that one person inspires me. I think I am my own inspiration.
I don't read a lot of success stories because I feel that each success is independent of his/her struggles and hard work.
If a topper says I studied 12 hours a day, I cannot follow him/her and expect the same results.
Each one is born with different capabilities. You have to realise your own strengths and weaknesses. You have to learn from your mistakes and set your personal goals. Only then you can inspire yourself and succeed in life.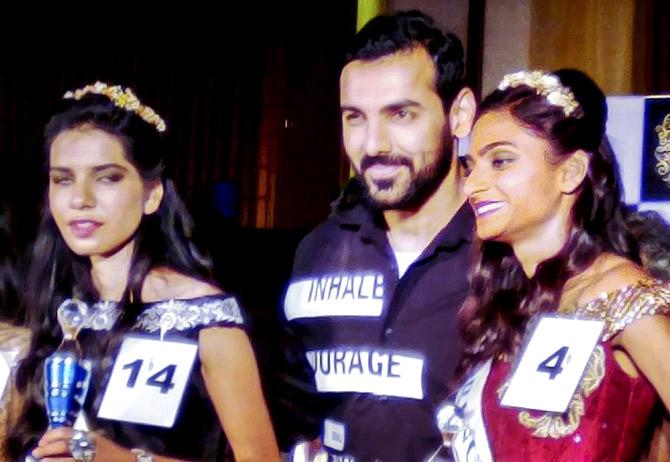 Payal (left) with actor John Abraham after she won Miss Beautiful Smile at Princess India 2017 held in Mumbai.
What are your interests?
I like to write poems and participate in debates.
I also like to swim.
In 2006, I was selected at the national level for swimming and qualified for the China Paralympics to be held in 2008, but I couldn't go because I did not have the funds.
In 2012, I was part of a 19-member team that went to South Africa on a student exchange programme. We had to share our thoughts on the relevance of Gandhism in today's era. I was the youngest participant from India; the rest were pursuing MBA.
In March this year, I also participated in Princess India, a talent hunt for the specially-abled. I won the title 'Miss Beautiful Smile'.
What's your success mantra?
I am not ambitious. I am goal oriented.
I don't like to plan too much. I take one thing at a time and give it my 100 per cent.
When I am speaking to you, I want to give you 100 per cent attention. After this interview, I have to cook; so I will focus only on that.
I believe in taking one goal at a time and finishing it. Maybe that has helped me succeed.