Kerala-based engineer and football fanatic Vikas Plakkot realised that the game of football teaches you more about life than what you can learn in a classroom.
He started an organisation that would help low income group kids imbibe those skills at a nominal fee.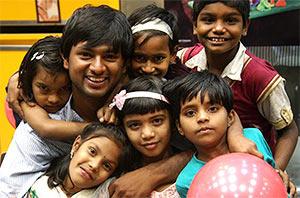 In a country where only three out of four children go on to finish high school, and only 44 per cent of primary schools have a playground, Vikas Plakkot (pictured left) wanted to see a change.
Meet Vikas Plakkot, founder of Just For Kicks (JFK), an organisation with a simple motto -- Everyone plays.
JFK is an organisation born from the idea of using the game of football as a medium to develop life skills for students in low-income schools in India.
The change-maker
Vikas Plakkot calls himself a pseudo-engineer.
When asked why, he confesses that like most Indians, he got caught in the web of figuring out what to do after getting the all-famous degree.
Frustrated with writing all the exams he could, Plakkot realised that what he actually wanted was to understand and change the way people perceive the education system.
"I did not want everyone else to be in the same state as I was in. But I didn't know how to do that -- it's not an easy task to change the mind-set of everyone in the country."
And so he started the journey towards this purpose.
An opportunity that he thought would be fitting was a fellowship at Teach for India in Pune where he taught grades two and three in a low-income public school.
The community he worked in was a small but extremely violent one, which opened his eyes to the pitiful situation of the children from these regions.
There was disharmony in the classroom with children refusing to speak to others of a different religion or caste.
"Personally it was a great struggle for me to bring the class together."
Plakkot decided to take the experience of a classroom beyond the four walls and started experimenting with different ideas.
He converted one of his classes into a sport class and started playing football with the kids.
What happened then was magical.
Over time, the children started engaging with each other and with him as a teacher.
Plakkot had built a class where suddenly everyone loved being together, and with him.
He realised that sports was that one ingredient that could bring these kids together and give them a platform to express themselves.
"This is when the idea for Just For Kicks actually began," he says.
Football all the way
Plakkot hails from Kerala, "a place where an international cricket match that has Sachin Tendulkar can attract about 54000 people, but a game with the Indian football team has 1.8 lakh people watching it," he adds.
He confesses that his whole family watches football, including his mother and grandmother.
A football fanatic, Plakkot firmly believed that football taught him many things that a school book never could, and so he was confident with the idea that football could help bring a change in the children.
Along with two of his colleagues, he formed a scalable model by conducting football training sessions after school hours, and that's how JFK was born.
Each session had three parts – first, discussing the skill that they were going to learn by watching videos and writing notes.
Second, some rigorous training and practise games to hone the skill.
And third, a self-reflection and analysis debrief with the coach.
They even introduced co-learning sessions where the children would lead and they would step back, thus naturally letting the kids come together.
What Vikas noticed was a tremendous increase in the kids' social skills -- "They started learning how to respect their opponents by raising a hand and saying sorry if they fowled -- it's a small gesture but goes a long way."
The JFK model JFK started intervening with schools directly by meeting principals, and offering them a package with a coach and a curriculum based mostly on life-skills.
Their aim was to use the game of football to re-vitalise the relationship among children, teachers and parents in low-income public and private schools.
"If we really want to make a change, it's crucial for parents and teachers to be on board and realise the importance of sports on a child's life."
Another important aspect that Vikas stressed upon was to not make the system free.
"We charge a nominal fee of Rs 20 per child per month. If it's free, children won't value it enough and there's no accountability. This way, we break even and we're self-sufficient."
JFK wanted to take this one step further and hence started an underprivileged school league that runs for two-and-a-half months -- one of its kind in India.
This way, low-income public schools have an opportunity to compete with each other, and further with other top schools to increase exposure.
Scouts watch the kids play during the leagues, and national winners get to travel across the country.
The league forms a platform for interaction, engagement and new talent.
When asked about the girl-to-boy ration, Plakkot explains that he was at first hesitant to start training girls in football since he had no experience in that field.
"But now in our fourth year, JFK has 440 girls out of 1000 in the programme."
This clearly epitomises their motto -- Everyone can play.
It's evident that Just for Kicks has had a deep influence on the children who are involved in it.
He recounts the story of a young boy who turned up ready for a game just an hour after he lost his father.
On being asked why, the boy answered that while he didn't know whether to feel happy or sad about his father since he was a drunkard, he knew for a fact that being on the field with Vikas made him extremely happy.
Another boy from JFK now runs his own football league in his community, thus paving ways for new opportunities in employment.
Plakkot hopes that some of the kids take football as a career in the future.
Outreach so far and exciting prospects
What started off as an idea is now a full-blown programme in Pune, Mumbai and Hyderabad in just four years.
JFK is currently in 100 schools nationwide, changing lives of 1000 children so far, and they're growing.
Another commendable achievement is their current partnership with Huracán Football Club.
Huracan FC is a Uruguayan football club founded in 1954 with affiliations worldwide.
JFK handles Huracan FC India, thus opening possibilities for young Indian children to travel overseas and experience the football culture internationally.
Plakkot aims to start working with non-English-speaking public schools to widen their outreach, as well as partner with more external football clubs.
The main aim of Just for Kicks is to build a youth football system by breaking all socio-economic barriers till Indian football is in a better state.
The journey has been rocky, but Plakkot's drive and passion to teach and make a difference is what counts.
As a parting message, he urges the public to think twice before volunteering or teaching children in such spheres.
"We owe the children something, and time is the greatest resource we can give. If you want to volunteer, it's important to give your 100 per cent."
Photo Courtesy: YourStory.com