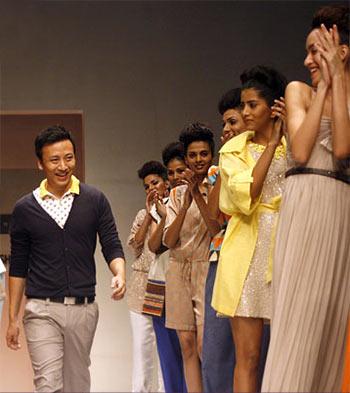 "For any designer, success is not only about being appreciated for your work. It is also about having good sales and repeat customers."
In the fourth part of this series on North East Indian fashion designers and their struggles to attain success and visibility, Atsu Sekhose defines his success mantra as "repeat customers + good sales."
At the same time, this young designer from Nagaland does not want to lose sight of his hidden goal: to promote the traditional weaves of his home state.
His biggest barrier was the fact that most people did not believe Western outfits could look chic and glamorous in traditional fabrics.
He tells Tista Sengupta/Rediff.com how he broke that myth.
Take a look at our earlier features in this interesting series:
How it all began
The people in the North East are very fashion-forward. When I was young, I used to watch music videos to follow fashion trends.
Gradually, my interest in fashion grew and I pursued a design course from NIFT, New Delhi, in 1998.
At fashion school, I realised I needed to work with someone who was well-known in this field before I started my label.
My designs for a college show were noticed by ace couturier Tarun Tahiliani, who offered me a job as an intern. I had a job even before I graduated :)
Working with Tarun was like a dream come true. Even though I had to work as per his sense of style, I never lost my fashion sensibilities. He allowed me to be myself.
During my internship, I learnt the tricks of the trade. I also got in touch with a lot of clients and this helped me tremendously when I started my label in 2007.
Passion for tradition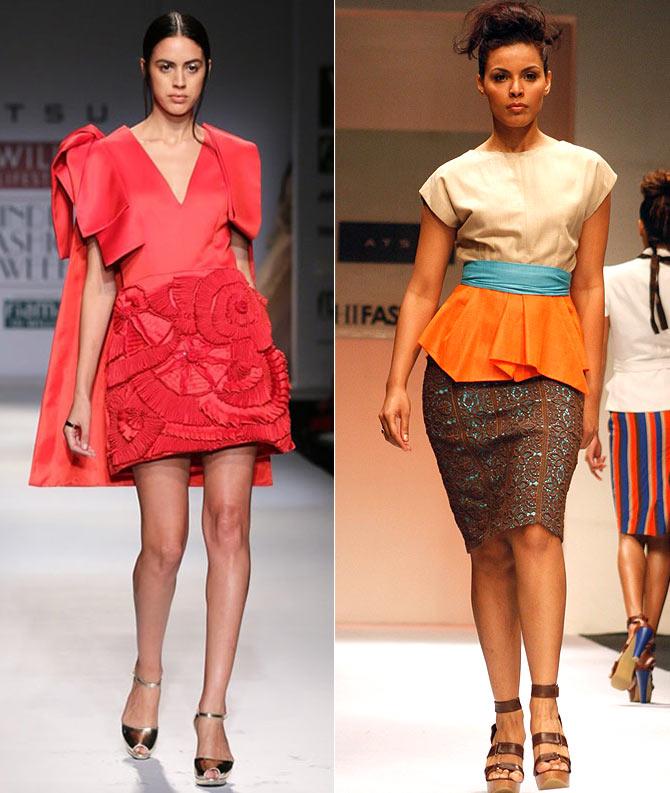 My sole aim was to highlight the diverse ethnic crafts from my hometown and the neighbouring states.
I wanted to showcase our rich culture through chic, modern and wearable outfits for women.
The challenges
Before I opened my unit, I set up a small workshop in Nagaland. The weavers I hired were unaware of new techniques and styles. The dearth of proper training schools prevents weavers from learning new methods. I taught them to make western cuts and patterns.
Even today, there is lack of skilled labour. It is very important for the government to establish technical schools to encourage weavers to develop new designs.
The pressure of designing out-of-the-box ensembles and sustaining one's label were two major issues. Although my designs received a good response, I needed to market it properly to grow my business.
To break even was tough. With so many designers mushrooming every season, the competition is cut-throat.
My products were unique, but my clients wanted outfits designed as per their taste. During the initial days, some customers would ask me to knock off designs of famous designers. For any creative person, this can be frustrating. People need to value designers and their work.
Most people found it difficult to believe that western outfits can look chic and glamorous in a traditional fabric like silk. Educating your customers is important.
So, whenever a customer called me, I gave them a brief on my design aesthetics, collection and how the outfits are handmade by weavers in the north-east, before discussing about the outfit I would design for them.
In just few months, I saw my clients coming back to me every time they needed an outfit for a special occasion.
What needs to be done
The textile industry should organise more workshops across the country and abroad. This will help us in promoting our rich culture and fabric.
It will also help budding designers to enter the industry.
Achievements
It was tough because I didn't have much financial backup.
For any designer, success is not only about being appreciated for your work. It is also about having good sales and repeat customers.
My first step in this direction was when I showcased my collection at fashion shows. Even though sponsors only invest in the established labels, I worked hard for two years to arrange funds.
I launched my label, ATSU, in 2009 at the Lakme Fashion Week. Everyone welcomed me with open arms and loved my creations.
Coming soon
A menswear line... and then, a children's clothing line, ATSU Kids.
Point Of Sale
http://www.perniaspopupshop.com/designers/atsu
Price Range
Rs 5000 – Rs 5,00,000
Take a look at our earlier features in this interesting series:
Image: Atsu Sekhose taking a bow
Photograph: Harshvardhan Sharma