Mumbai-born Shyamoli Sanghi is India's newest teen popstar.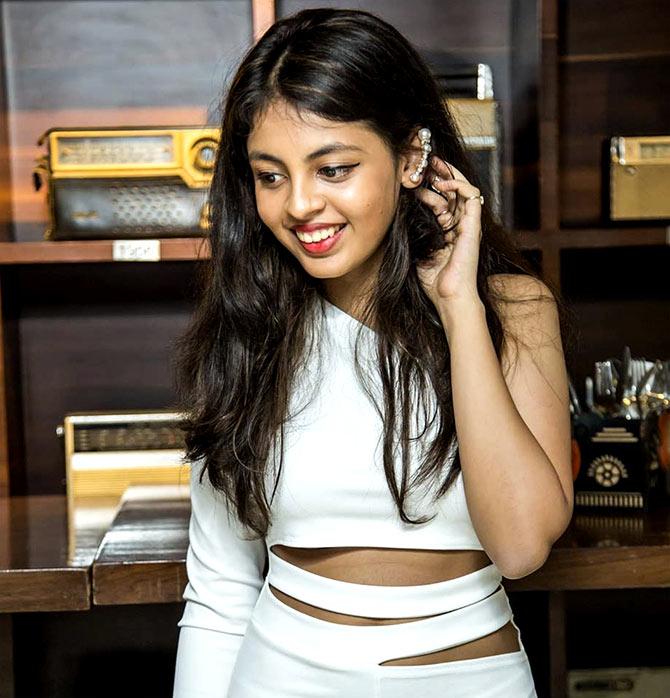 To call her the Indian Hannah Montana may do some justice to her burgeoning celebritydom. But it does not even begin to illustrate her academic prowess.
At 19, Shyamoli Sanghi, India's newest teenage popstar brings a lot more to the table than your average overnight viral sensation.
The Hindustani classical singer from Mumbai is an Ivy League double major, studying math and philosophy at Stanford University.
She also moonlights as one half of the duo of high school sweethearts that netizens have come to ship in Tu Na Aaya or the kindred spirit who seemingly loses her path but instead, finds herself in Dorr, her second single.
While her singing and swaggering debut has amassed over 13 million views on YouTube in a month, her second attempt has clocked over five million in its first week.
The latter, in fact, alludes to the eternal conflict she experienced and continues to grapple with, between her love for music and passion for academics.
But the connection she felt to both Tu Naa Aaya and Dorr -- be it with the free-flowing lyrics or the contemporary and captivating melody -- already indicated that she was meant to be in that place, at that point in her life, doing just that.
For Shyamoli, the feeling of success and fulfilment predates the blitz of views and adulation.
"I knew that this was the kind of song I would listen to and that I had put my best foot forward," she narrates.
"I had a natural inclination towards music from a young age," she tells us.
Her musical training started with Hindustani classical music at the age of six under Shampa Pakrashi.
Apart from completing a Visharadh Dwitiya examination in Hindustani classical vocal from Gandharva Mahavidyalaya, she has finished Grade 5 in piano from the prestigious Royal College of Music, UK.
In fact, Shyamoli can also play the tabla and harmonium.
After her first semester at Stanford, she took a six-month break to explore the music industry in India. However, as she belonged to a family that took academics very seriously, her degree never slid to the backburner, Shyamoli made sure of it.
"My family has always been supportive of my decisions. They understood my passion for music and singing and encouraged me to follow my dreams," she says.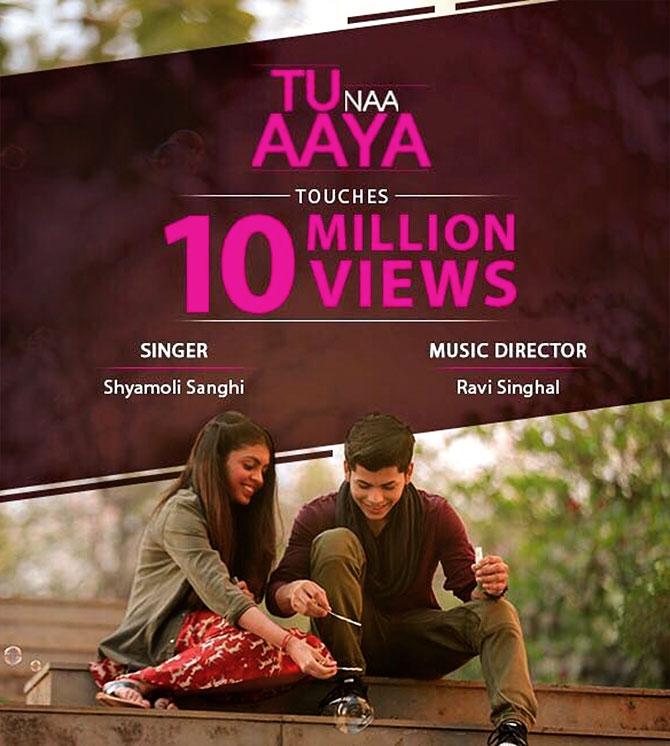 When she met Ravi Singhal, the music composer of the song, she says she "instantly clicked" with him. "Our ideas about music are the same and so is our thought process about composing original scores. After working together and deliberating for some time and deciding on a song that was appropriate for my age, we came up with the first single Tu Na Aaya," she recounts.
Zee Music gave this song a listen, took to it immediately, and the rest, as they say, is history. They decided to release it on their platform, which was a tremendous breakthrough – which, obviously, came with its own pressures.
"The process of recording a single and that too, with a famed music director like Ravi Singhal was unnerving and overwhelming at the same time.
"I needed some training with facing the camera and my acting skills. However, the entire crew made me feel extremely comfortable. I think what helped me the most was the fact that I have been singing from a young age and that this was my original composition.
"I am also trying to come out of my shell, be expressive, emote more, and feel all the songs more. I am quite young to be able to experience the depth of emotions and while recording, this was a big struggle," she recounts.
Her inherent talent, perseverance coupled with their reach helped the song garner over 11 million views in the first month of its release. After the success of Tu Na Aaya, she was ready to team up with Ravi Singhal do it all over again, for another solo number called Dorr.
This song happened to surpass the records set by the first, and amassed five million odd views in the first week of its release.
"I connected with Dorr a little more because it was a song about the journey to self-discovery," she says, adding, "I hope that the song's simple, yet catchy tune will resonate with everyone."
She says that this virality was absolutely unorchestrated.
"We did not really have an explicit marketing strategy. These days, a good song needs to be backed by a good video to reach the maximum number of people. So, our main strategy was to treat it like a film song so that it could garner more reach," she says.
Even as she has chosen to debut in stealth mode and release singles to sense the pulse of the industry, Shyamoli's end game is to be a playback singer.
"The first step I took was to gain exposure to recording and learn my lessons for future playback singing opportunities. Thus, I don't feel that it is a risk, but actually a stepping stone to becoming a playback singer," she reveals.
She has now lent her voice to three TV serials, two of Balaji Telefilms productions -- Kalash and Ajeeb Dastan Hai.
"For Ajeeb Dastan Hai, I sang the sad version, and for the remaining two I sang the title tracks," she says.
Apart from this, she has a few more singles lined up with Zee Music.
"I have been a big admirer of Sufi music so the next one is going to be in this genre. It will be very different from the first two, with a storyline, and will be directed by the same team that did Dorr," she reveals.
Shyamoli is currently pursuing an undergraduate course in mathematics and philosophy at Stanford University.
"Considering that they are both vast subjects, I am left with no free time between studies and music. I am extremely passionate about music and enjoy being intellectually stimulated as well. The greatest struggle for me, at first, was to decide what I wanted to do, and then, to find a balance. Right since the time I was in school, I have been dividing my time between my studies and music. However, I try to prioritise which makes things manageable," she says.
"For anyone who wishes to make a career in this field or any other, I would only say that it is important to prioritise and manage time efficiently. Take your family and near ones into confidence and work hard."