After being turned down by 113 investors, Nidhi Agarwal, founder of Kaaryah received an aye from Ratan Tata. This is her story: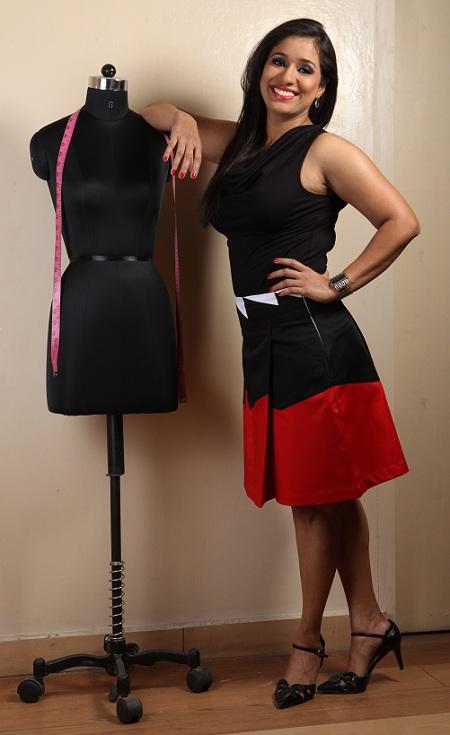 One hundred and thirteen.
That's the number of investor pitches Nidhi Agarwal has made on phone, in-person and through emails over 365 days for her venture Kaaryah.
But she did not give up.
She closed her first round of funding on the 365th day!
She went on to raise her Series A investment from industry stalwarts Ratan Tata and one more industry heavy-weight whose name will be officially announced soon.
Stories like these make entrepreneurship what it is; tough but worth it.
Kaaryah is a brand of western, non-casual wear for Indian women focused on providing the best possible fit with its 18 sizes.
The brand focuses on bridging the gap between western formals and the Indian silhouette.
Idea to start up
"Back in 2010, I was on my way to the airport for a client meeting (she was a strategy consultant at Bain Consulting, and has worked with Honeywell plus KPMG).
"On the way, I spilled coffee on myself and stopped at a mall to replace my shirt with a simple white shirt.
"Even with the most popular brands, everything was either too big on the waist or too small on the bust.
"I wondered if I were the only one or if there were other women who felt similar frustration with fit.
"After surveying 250 women, we figured a whopping 80% identified with the same unmet need as mine," Nidhi recalls.
Running a business without prior experience
"I started working with an export house in Greater Noida and learnt hands-on all the nuances of the business. Having worked in services industry before, I was used to learning quickly, double shifts and long hours.
"I was driven to solve the problem and put in everything I had to make this happen."
What makes Kaaryah different?
"Kaaryah is different in three main ways -- we have 18 different sizes, which accommodate differences in proportions of the Indian woman's body in comparison with the usual six.
"Comfort is a key product feature along with solutions to problem areas like gaping buttons on shirts etc.
"Also, we introduce 150 new designs every month. This is made possible with our proprietary IT enabled production system, which provides for efficient working capital turns.
"We work on just in time model," shares Nidhi.
Nidhi is chasing an ambition to become the largest brand of western formal wear.
It will require considerable investments.
She has got into a brand strategy consulting partnership with Flipkart SBG (brand consulting arm of Flipkart).
She is also concentrating on sourcing and supply to leverage adjacencies as part of her scale up.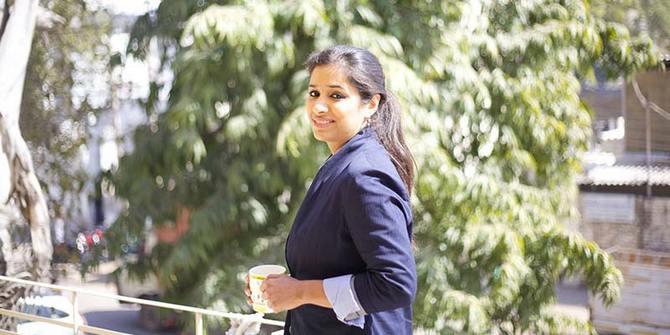 Challenges and the fun of dealing with them
"I started Kaaryah for the sense of challenge and the achievement thereof.
"I'm the last port of call for my organisation and by virtue of that I get the highest risk decisions and toughest problems to deal with.
"Challenges have been immense even on a daily basis.
"One of the hardest things has been obtaining funding.
"It's taken 365 days and 113 presentations on phone, in person and/ or email to finally close it on the 365th day."
Marching ahead with a smile and not giving up was not easy, but that is exactly what Nidhi did with greater fervour with every rejection.
Nidhi adds, "Small things come in the way of running your business.
"Most of the time, people assume that you (as a woman) are not running the business or not the final one in charge.
"I remember once in our Gurgaon factory, a courier guy had come to deliver a fridge, he refused to give it to me. He kept on insisting, "boss ko bulao, sirf boss se baat karoonga," and only after the watchman came and told him that I am the owner, did he relent.
An MBA from Kellogg School of Management, honored with the Dean's Service Award there, a certified Chartered Accountant by education, Nidhi has learnt patience and persistence are the key things that matter to make things work.
"I had never wasted a minute in life before and have always worked hard.
"And especially being in the services industry, I was used to things happening double time.
"Entrepreneurship has taught me a lot, I had to make compromises with money and learn to work under constraints.
"And I am happy for those learning; it has evolved me as a person," she says.