Raju Yadav, who once sold tea in Mumbai, has turned his life around, discovers Abhishek Mande-Bhot/Rediff.com.
Photographs and video: Hitesh Harisinghani/Rediff.com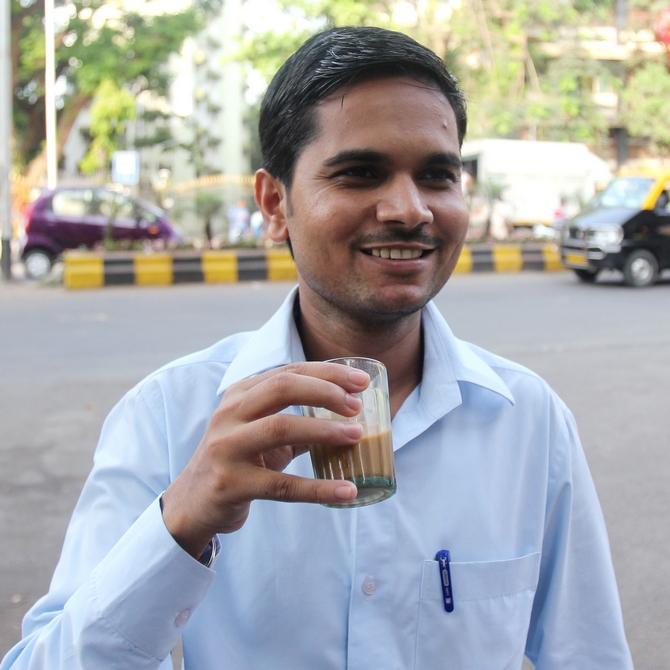 When he arrived in Mumbai for the first time in August 2001, Raju Yadav was overwhelmed by the number of people around him.
He had taken the Howrah Mail from his village called Chope in Jharkhand to Mumbai's Chhatrapati Shivaji Terminus station with his uncle in the hope of making money to help his ailing parents.
Before that, the largest town he'd been to was Hazaribagh in Jharkhand with his family "to buy clothes".
But Raju Yadav wasn't here as a tourist. There were other things on his mind: "My parents were in the hospital; we had no money. I was wondering what I could do to make some and send it back to the village," he says.
Yadav is being interviewed in the offices of Shaadi.com where he now works as a web developer.
When he arrived in Mumbai all those years ago at "13 or 14", he had never seen a computer. He had only just completed his Class VI examinations, put his belongings in a suitcase and come to Mumbai.
By all means, Raju Yadav has come a long way.
On March 31 this year, Yadav became something of a celebrity when his boss tweeted this:
Since then, Raju Yadav has narrated his story several times to strangers who come trouping to his office armed with cameras and Dictaphones.
He does so one more time:
"My parents are farmers," he says. "They own a small piece of land on which we cultivate rice and wheat. We don't make a lot of money but we get by."
But when they fell ill -- he doesn't reveal the nature of their illness -- Yadav realised how horribly ill-equipped his family was to deal with uncertainties of life.
So, acting on the advice of one of the elders in the family, he set out to Mumbai to make money.
"I stayed at my uncle's home in Worli that night. The next morning, he sent me to Chira Bazar (in south Mumbai) to work at a tea stall that one of his friends ran."
He was paid Rs 2,000 and his lodging and food was taken care of.
The days were long -- he started work as early as 5am -- but Yadav didn't seem to mind. It wasn't as if he had much choice.
One of the offices he served cups of tea to belonged to a website called Sagaai.com; a gentleman working there decided to offer him a job.
The pay was marginally higher; the hours less cruel.
Yet, Yadav didn't agree immediately.
"I wanted to think about it," he laughs.
He was offered the job in the morning; he agreed to the offer only by the end of the working day.
Sagaai.com eventually became Shaadi.com and, from its humble offices, has moved to a multi-storey property in south Mumbai.
The business has expanded and the People Group, of which it is a part, has fingers in a lot of pies. Anupam Mittal, who owns the group, is also an investor in Ola Cabs among several other start-ups.
Raju Yadav is one of his most loyal employees.
"I was hired as a peon so my job was to clean the office, serve people chai (tea), perform odd jobs," he says.
The new job had better work hours and this meant he could finally go back to school.
"I realised if I wanted to make a better living, I had to educate myself," he says. "So I tried to complete my Class 10 exams in Maharashtra."
"But I was told I couldn't apply here because I wasn't from the state. So I went back to Jharkhand and applied there.
"I came back to Mumbai with the study material and began preparing. I failed in the first attempt but in the second attempt (in March 2007) I cleared with 61 per cent marks," he says with glee.
"In 2013, I cleared my Class 12 examinations with 47 per cent marks. That gave me the confidence to study further. Now, I am in the first year of BCom.
"I wanted to graduate in computer application but I was told that I would find it difficult to clear."
Yadav cannot recount how and when he was drawn to the complex world of web programming except that he just was.
But he does remember the first code he created: "It was some text with colours; it was a very basic code," he laughs.
Yadav doesn't have a formal education in web development. He is self taught. Sure his colleagues helped him and the organisation supported him by providing infrastructure but Yadav worked a full shift before spending a few hours in front of the computer, working out what those letters and digits meant.
Yadav isn't very proficient in English but it is evident there's a burning desire in him to learn.
Even though he politely requests to speak before the camera in Hindi, a language he is most comfortable with, he insists on conducting the entire interview in English ("How will I learn, if I don't speak!?" he asks).
"At first it was really difficult to understand what was written. My English is not very good so the first few months were really difficult.
"Then, with some help from my colleagues, I began to pick up," he says.
Yadav is genuinely interested in the things around him. His colleagues recollect him watching news channels and holding discussions on current affair topics.
"He wasn't as interested in the movie channels as he was in the news," one of them says.
Even as we made small talk with one of his colleagues, while our photographer took his pictures, Yadav had an intense look on his face. It was as if he was trying to assimilate every single word that was being spoken.
"I don't enjoy watching movies or television," he says. "During weekends, when my roommates would go out to watch films or sit at home and watch television, I would prefer to study."
Not much has changed since then.
When I ask him his weekend plans -- he is now married and has a child -- he says he'll most likely spend a good part of the weekend studying.
He is counting on his wife to complete her education too. "She has cleared Class 12 and she wants to be a teacher. I hope she is able to do that."
The promotion at his workplace means he can do what he loves full time rather than having to work the whole day and then spend a few more hours after everyone else has gone home.
It will also, he hopes, give him some more time to pursue his education.
"The first thing I learnt when I came to Mumbai is if you want to get somewhere in life, you have to educate yourself," he says, "There is no alternative to that."