Names like Carrie Underwood, Shania Twain, Mariah Carey, The Backstreet Boys, The Chainsmokers and Coldplay swear by him.
A showman in his own right -- like his Bollywood namesake -- this director is creating magic on the Oscars stage for the second year running.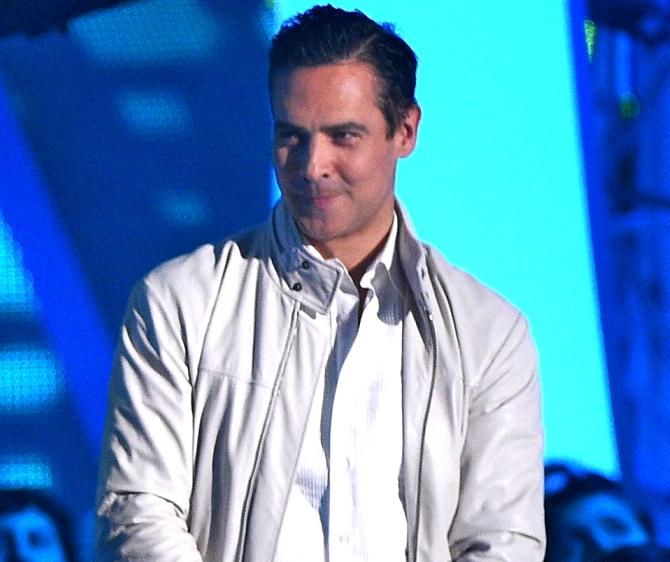 Raj Kapoor is often asked about his Bollywood namesake and says he is flattered by the association.
Photograph: Larry Busacca/Getty Images.
For most Indians the name Raj Kapoor only means one thing.
But say the name in Hollywood these days and it will bring to mind another showman.
Hollywood's Raj Kapoor is the man behind Raj Kapoor Productions, a Los Angeles-based 'full service creative agency and production company', which has created shows for big names like Carrie Underwood, Backstreet Boys, Mariah Carey, Coldplay, Shania Twain, and The Chainsmokers.
He has also worked on projects with Michael Jackson, Eminem, Usher, Rihanna, Nikki Minaj, David Guetta, Mary J Blige, Maroon 5, Katy Perry, Paul McCartney, and Selena Gomez -- to name just a few powerhouses on his client roster.
He has worked on five editions of the Grammy Awards as segment producer, creative consultant and video producer.
And this year, Kapoor returns to the Oscars for the second year running.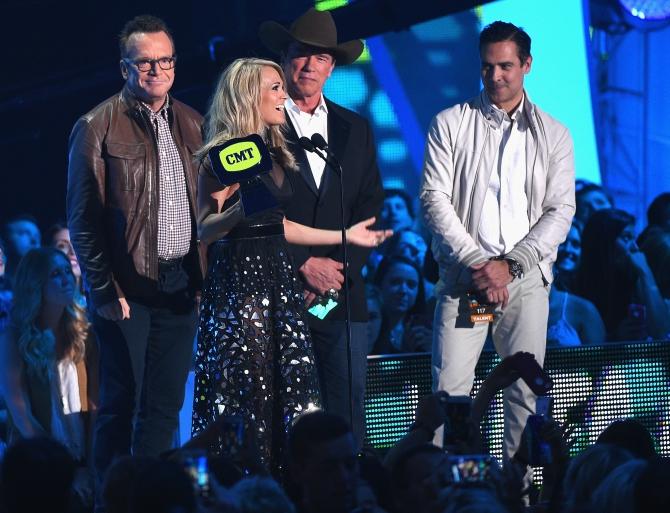 Carrie Underwood accepts the award for Video of the Year from presenters (from left) Tom Arnold, Arnold Schwarzenegger and director Raj Kapoor at the 2015 CMT Music awards in Nashville, Tennessee.
Photograph: Larry Busacca/Getty Images.
Who is Raj Kapoor?
Kapoor is the son of two schoolteachers from New Delhi.
He grew up in Alberta, Canada, and completed his BA in education, English and drama from the University of Alberta.
Kapoor started his career as a dancer and choreographer, and moved to show production when he got a break on TV hits like American Idol and Dancing with the Stars.
He now lives and works in Los Angeles, where his company Raj Kapoor Productions is based.
But in showbiz, he cannot escape the legacy of his Bollywood namesake, especially when he travels east to countries like Russia and Afghanistan.
'I've watched his [actor Raj Kapoor's] movies and it's nice to be associated with his name,' he told The Hindu.
In an interview with the Las Vegas Review-Journal he added, 'I get asked that a lot now! Even as a little kid, but now a lot more often in being in entertainment. Yes, we have the same name, but we're not related! I'm flattered to have the same name as him.'
Musician John Legend (center) performs at the 89th Annual Academy Awards in 2017.
This and other music productions at the event were mounted by Raj Kapoor Productions.
Photograph: Kevin Winter/Getty Images.
What does Raj Kapoor Productions do?
According to the company's LinkedIn bio, it offers 'creative concepts, complete event production, and innovative video design'.
The bio adds, 'Our clients consist of international companies from a variety of business sectors -- music, fashion, automotive, consumer products, and entertainment. Utilizing the latest technology and visuals, we design spectacular and beautiful three-dimensional theatrical experiences that celebrate the power of unforgettable entertainment.'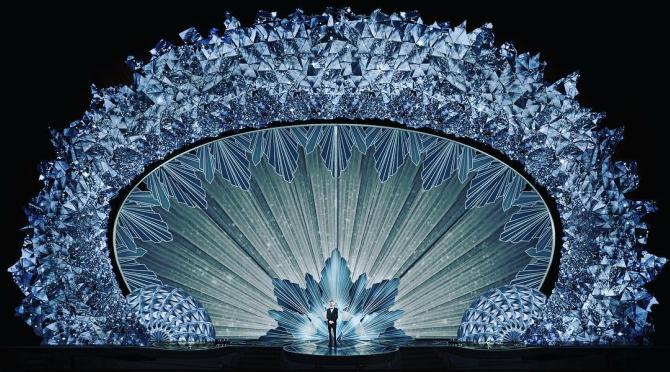 The Oscars set for 2018.
Photograph: @derekmclane/Instagram.
Raj Kapoor at the Oscars
Explaining his role at the Oscars, Kapoor told the Las Vegas Review-Journal, 'The screens and music productions, those were my responsibility and work. The screens are anything to do with images and video support for the big, scenic elements and productions.'
At last year's Oscars, this meant he was responsible for Justin Timberlake's opening with his Oscar-nominated Can't Stop the Feeling, John Legend's medley from La La Land as well as the other performance moments.
Production designer Derek McLane, who designed the sets for the 90th Oscars (and the five Oscars before that), explained Kapoor's role in his set design in a conversation with Architectural Digest.
McLane designed a set with 45 million Swarovski crystals for the Oscars this year, and many elements of his grand stage will be repeated on giant LED screen behind the stage.
AD wrote, 'With digital projections, McLane notes, "you can kind of trick the eye into seeing something that you can't just build on the stage." He worked on these digital elements with screens producer Raj Kapoor, who riffed on McLane's sketches to create a cohesive look.'
McLane added, 'You wouldn't be able to do a set just virtually because the cameras are constantly moving. The TV audience can sense the three-dimensionality of objects. Hopefully, if we do our job well, you won't really be able to tell the difference between virtual and built!'