They have mastered the art of winning. And sometimes they give us a peek into how they do it.
In this series, we bring you your weekly shot of wisdom from super achievers.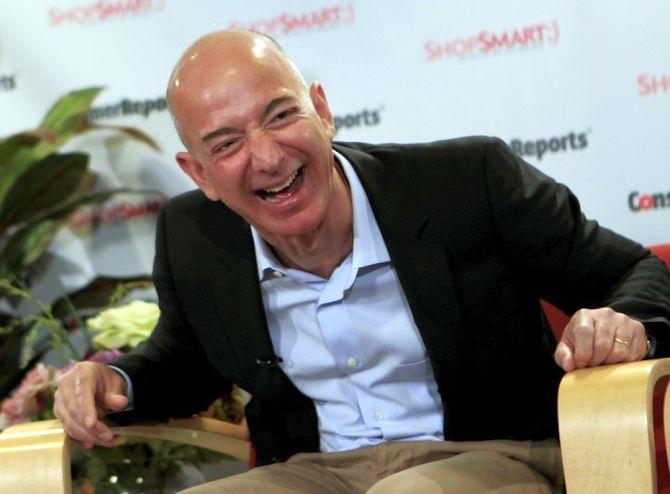 Photograph: Mike Segar/Reuters
The net worth of Amazon CEO Jeff Bezos reached $105.1 billion this week according to Bloomberg's billionaire tracker -- $104.4 billion according to the Forbes tracker -- pushing him past Bill Gates to become the richest man in the world.
CNN reported, 'The majority of that net worth comes from the 78.9 million shares of Amazon stock he owns. Shares of Amazon climbed 1.4 per cent Monday, adding about $1.4 billion to his net worth. Shares of Amazon are up nearly 7 per cent so far in this year after rising 56 per cent in 2017.'
Bloomberg added, 'The latest jump has pushed Bezos's fortune definitively above the high reached by Microsoft Corp's Bill Gates in 1999. The Amazon founder passed Gates in October with a net worth of $93.8 billion and his fortune crossed $100 billion for the first time a month later when the holiday shopping season kicked off on Black Friday.'
Must see: How Jeff Bezos, the world's richest man, lives!
Bezos, whose other holdings include the Washington Post and private space travel business Blue Origin, has credited his success to a framework he found and which made his decisions 'incredibly easy'
He spoke about it in the book Algorithms to Live By: The Computer Science of Human Decisions, '[It] was what I called -- which only a nerd would call -- a "regret minimization framework".
'So, I wanted to project myself forward to age 80 and say, "Okay, now I'm looking back on my life. I want to have minimized the number of regrets I have."
'I knew that when I was 80 I was not going to regret having tried this. I was not going to regret trying to participate in this thing called the Internet that I thought was going to be a really big deal.
'I knew that if I failed I wouldn't regret that, but I knew the one thing I might regret is not ever having tried. I knew that that would haunt me every day, and so, when I thought about it that way it was an incredibly easy decision.'
Even with his immense success, Bezos still swears by the regret minimisation framework.
It was evident from his heartfelt Instagram post about Nobel laureate Kazuo Ishiguro's Remains of the Day: '[It] has long been my favorite novel. It teaches the pain of regret for a course not taken so well that you will think you lived it.'
Earlier in the series
The secret of Oprah Winfrey's success