They have mastered the art of winning. And sometimes they give us a peek into how they do it.
In this series, we bring you your weekly shot of wisdom from super achievers.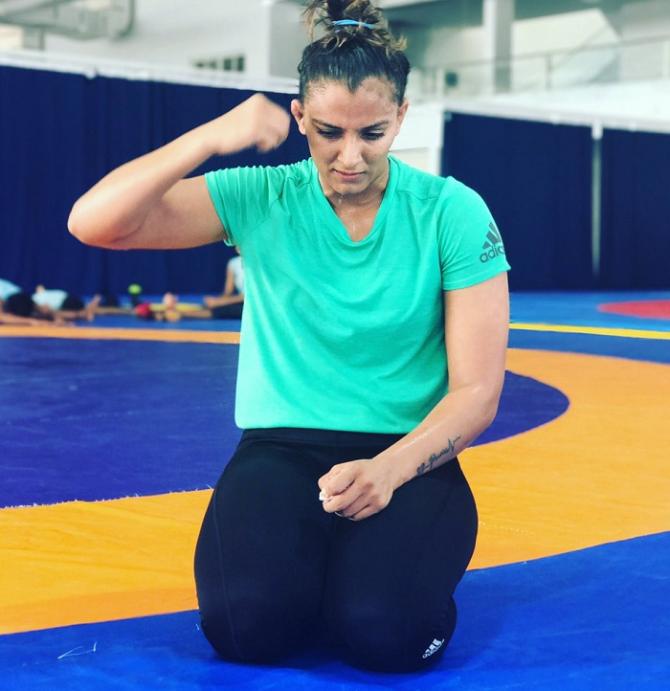 Photograph: @geeta_phogat/Twitter.com
Wrestler Geeta Phogat, immortalised in last year's superhit Dangal, was in a philosophical mood yesterday.
She posted this intense photograph across her social media platforms with the caption: 'Paseene ki syaahi se jo likhte hain apne iradon ko unke muqaddar ke panne kabhi korey nahin hua karte.'
In essence it means, 'Those that seed their ambitions with their sweat (hard work) are never left holding an incomplete destiny.'
Geeta Phogat, who won India's first ever gold medal in wrestling at the Commonwealth Games in 2010, and is also the first Indian female wrestler to have qualified for the Olympics, went through a rough spot earlier this year when there was uncertainty about her fitness to take part in the Pro Wrestling League.
The Wrestling Federation of India, the Press Trust of India had then reported, was seeking a replacement for her.
But the eldest Phogat girl bounced back and participated.
She has since been seen on Fear Factor: Khatron ke Khiladi (Season 8) from which she was eliminated on September 3.
In case you missed it: Dangal's real-life hanikarak bapu: Mahavir Singh Phogat