Pankhuri Gidwani took a year's break to focus on the pageant, but scored brilliantly in her CBSE Class 12 exams this year.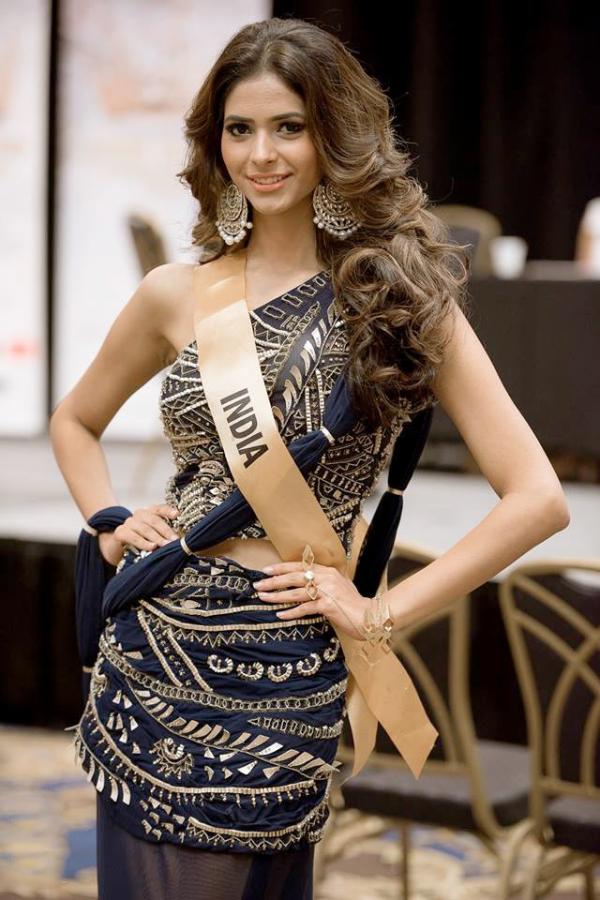 IMAGE: Pankhuri won Miss Grand India 2016. She represented India for the international pageant in October 2016.
All photographs: Kind courtesy Pankhuri Gidwani

Pankhuri Gidwani was only a toddler when Priyanka Chopra won Miss World in 2000.
Seventeen years later she has a lot in common with Chopra. She's never met her, but considers the actor her inspiration.
"Both of us are from small towns -- she's from Bareilly, I am from Lucknow. We were both 18 when we won Miss India.
"At 18, we are the youngest to represent India in an international pageant. We also share an alma mater (La Martiniere Girls' College in Lucknow)," says Pankhuri Gidwani who represented India at Miss Grand International in Las Vegas in 2016.
In March 2016, Pankhuri, who appeared for two examinations for her CBSE Class 12 exams, took a decision that would change her life forever. She dropped out to participate in Miss India, which she recalls as "one of the best opportunities" of her life.
A year later, in 2017, the Miss Grand India winner appeared for her Class 12 board examination. With an overall score of 97.25 per cent, this future humanities student stood second in her college, La Martiniere Girls' College in Lucknow, in the CBSE results announced May 28.
Pankhuri's father works as a journalist with DNA in Mumbai. Her mother Anita is a homemaker based in Lucknow. She has an elder brother Kushan, who is studying law at Amity Law School, Noida.
In a interview conducted over the phone she tells Rediff.com's Divya Nair that juggling priorities is key.
You quit your board examinations for a beauty pageant. Was the decision difficult for you?

Last year, I had appeared for my literature and language papers. I had cleared the Lucknow auditions for Miss India. There was a gap of 10 days for the next paper. So I thought of auditioning for Miss India in Mumbai.
When I got selected in the top 21, I called up my parents from Mumbai. I wasn't sure if I should go ahead or return to Lucknow and appear for my exams.
I still remember how my mother encouraged me, "Every year, thousands of students appear for the board exams, but only a few get selected for Miss India."
I also consulted my teachers and principal at my college. They supported my decision and said I could come back and appear next year.
Their collective support made the decision easier for me.
Were you expecting to score 97.25 per cent this year?
I had given my 100 per cent and was expecting over 95 per cent. But I did not expect to stand second in my college.
How did your parents react?
They were very happy. My father said…isme bhi jaan laga dee tune (you put your heart in this as well).
IMAGE: Pankhuri looks lovely in a bikini in one of the rounds of the pageant.

How did you balance your time?
Between March and November 2016, I focused on the pageant. I was busy attending personality development and grooming sessions on how to walk, talk and present myself.
After I came back from Miss Grand International, I knew my priority was to complete my Class 12.
Between December 2016 and February 2017, I moved back to Lucknow (from Mumbai) to concentrate on the board exam.
I said no to all modeling assignments and photoshoots. I did attend a few campuses to judge some shows. But that was only after I knew I was on track with my studies.
Did you take any coaching?
I did not have to. My teachers were very cooperative. If I had any queries, I visited my history teacher Ms Khan at her home for help and she'd oblige.
Besides, I shared my study time with my cousin who was also appearing for her board examination, so we did not feel any stress.
What was your study mantra?
For success in any field, planning and determination is important. I had a plan and I followed that.
I wouldn't study the whole day. I divided my time and gave equal importance to all subjects and took adequate breaks.
I feel the quality of time you put in your studies, combined with focus, is what matters.
How did you deal with exam pressure?
The first thing students do in a board exam is hit the panic button.
Then parents add to the panic by putting additional pressure.
In my case, I treated the board examination like any other exam. I had three months to prepare and since the exam got delayed, I got additional time. My parents were also pretty chilled out and did not add any burden.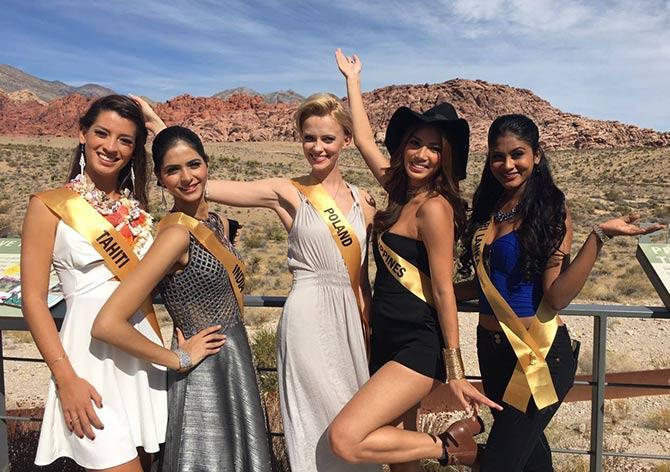 IMAGE: Pankhuri spends time with fellow contestants at Miss Grand International, Las Vegas.

What did you learn from Miss Grand International?
I think it was the best decision of my life (to participate in the pageant). At the finale in Las Vegas, there were 84 of us -- the best ones from each country.
It was a privilege to represent India and showcase our talent on the world stage. I got to learn so much from the other girls.
Each one had a different experience and story to share -- about their life, country and culture. It was a great platform to exchange ideas and information.
What is the greatest compliment you heard about India when you were there?
Some of the contestants were fascinated by the peacocks in India; they said they were beautiful.
Most of them had good things to say about the Taj Mahal -- they had seen it or wanted to visit it at least once in their lifetime.
Do you think Indian society is prejudiced towards models, beauty pageant holders?
Not all. But there are some who felt that I shouldn't have quit my board examination for the pageant. That I should have prioritised the former.
Some also feel that models are just beautiful, apply make up and don't have any brains. I feel that is so wrong.
There are so many talented girls out there in the industry who have succeeded in academics and have chosen the field (modelling) because of their passion.
There are a lot of intelligent girls in the modelling industry.
IMAGE: Pankhuri with her mother Anita after winning Miss Grand India 2016.

How important is academics for a model? Would you advise quitting studies for modelling?
Academics is always important. In my case, I took a break because I had the opportunity to prioritise.
I wasn't entirely giving up one for the other. I always feel that when opportunity knocks, you have to grab it with both hands. I did just that.
Knowledge has never harmed anyone. It will always help if and when you decide to have an alternate career.
Did you always want to be a model?
I wanted to be an actor.
I was 16 when I got into modelling through Blue Bird fashion agency, Lucknow.
I walked for (fashion label) Kimaya, (designer) Ritu Kumar.
I had to wait for two years, till I turned 18 so I could participate in Miss India. I love to dance, sing and act. I always wanted to be a part of the glamour industry.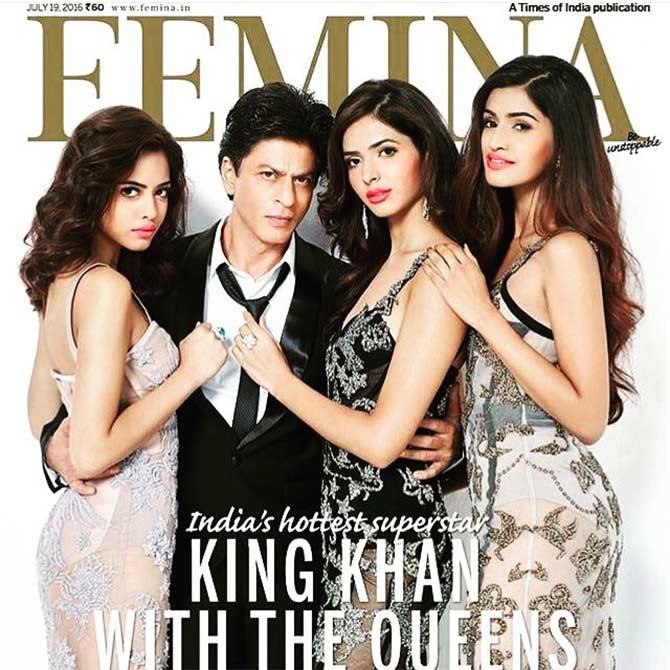 IMAGE: (LtoR) Femina Miss India World Priyadarshini Chatterjee with Shah Rukh Khan, Pankhuri Gidwani and Femina Miss India first runner-up Sushruthi Krishna.
Photograph: Kind courtesy Femina

Coming from a town the size of Lucknow, how easy was it to adjust to the fame and glamour?
Right from my school days, I have been very active in debates and extra curricular activities. So I was never nervous.
In the last few months, I have met a lot of B-town celebs.
I remember working with Shah Rukh Khan for a photo shoot with Femina magazine. Like any other girl, I had this fan girl moment -- oh my god, I am working with Shah Rukh Khan.
It took me some time to get calm and composed. To understand that all this was normal. Now, I deal it with quite professionally.

What's next for you?
I would like to pursue bachelor in mass media in Mumbai. I hope to get into St Xavier's, Mithibai or Jai Hind. Alternately, I'll also be working, looking for good modeling assignments.
How do you unwind?
Whenever I am stressed, I just plug in some music and start dancing like crazy. Dance and music are my greatest stress busters.
Your message to our readers?
Don't think of anything as impossible. Your grit and determination will decide whether you will succeed or not. Have a positive attitude in life -- I can do it, I will do it.
The power of your thought is very important.