If there was ever a moment to embrace diversity in fashion, it is now says aspiring model Amrita Ganesh.
Dusky,svelte and beautiful, Amrita Ganesh made the judges at the Lakme Fashion Week Summer/Resort 2018 model auditions fall in love with her.
She owned the ramp and if you were to watch her do the catwalk, you'd agree that she has the personality of a supermodel.
Blessed with a dusky complexion, the 19-year-old will be one of the four fresh faces making their debut at LFW.
Here she talks to Anita Aikara/Rediff.com about the challenges a dusky new face experiences in the industry, why she is not prepared to give up her studies as yet and making the cut at the LFW auditions.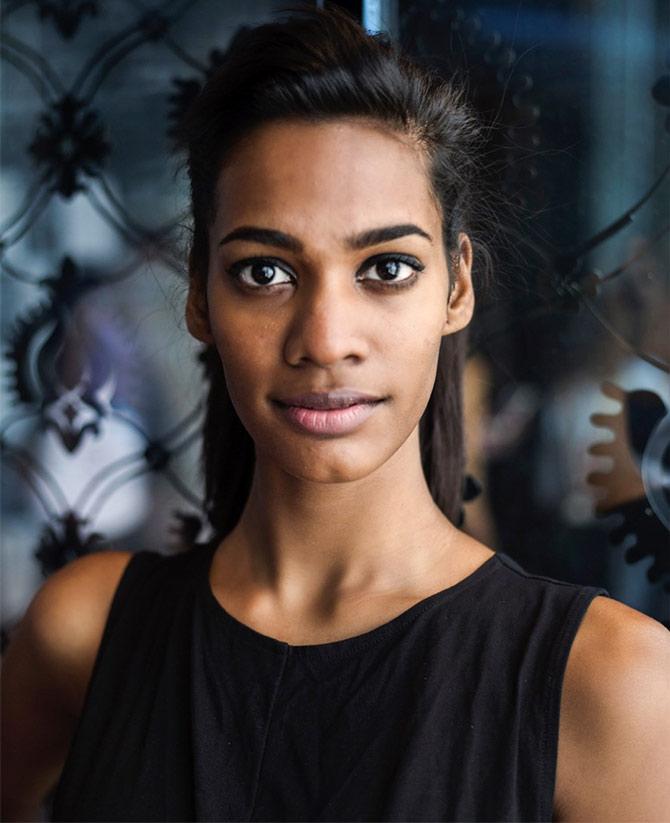 Blessed with a dusky complexion, Amrita walked the ramp for the first time at the age of 16.


Photograph: Kind courtesy Lakme Fashion Week/Instagram
The first time she decided to become a model, she was 17.
"I have been trying since 17. But everyone wants fair girls," reveals Amrita Ganesh, an aspiring model from Mumbai.
Two years later, she landed the opportunity to walk the Lakme Fashion Week ramp.
Amrita was among the four winners chosen among 107 participants to walk the LFW ramp.
Video by Afsar Dayatar/Rediff.com.
However, the 19-year-old, who has been modelling for the last three years, encountered some real issues in the industry before she got her big break.
Despite being extremely confident of her dusky complexion, Amrita struggled to find people to accept her skin tone initially.
So she changed her approach instead of quitting.
"When I am called for a test shoot, I give it my best shot and I'd pose.
"Maybe my confidence wins them over," she adds.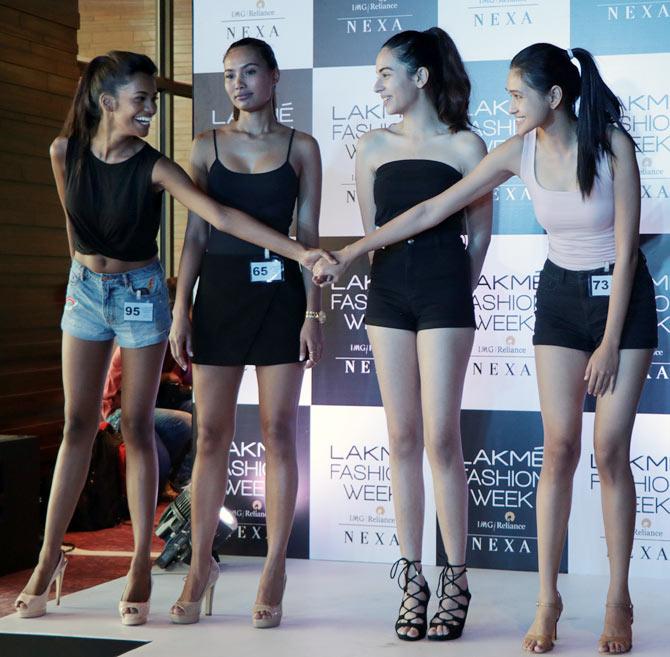 Amrita Ganesh shares the stage with the other finalists Parul Shah, Muskaan Bisaria and Aradhana Buragohain.
Photograph: Hitesh Harisinghani/Rediff.com
The LFW auditions were not a cakewalk for Amrita, who was very nervous sharing the stage with the other aspiring models.
"I was nervous when I was on the ramp. But then I told myself, be who you are and just rock the show," she says talking of the auditions.
While she is passionate about modelling, Amrita insists that if it weren't for her mother's push she wouldn't have made it this far.
"My mother is a big fan of me as a model.
"She is a French tutor and has travelled to Paris. It is her dream to see me walk at international fashion weeks."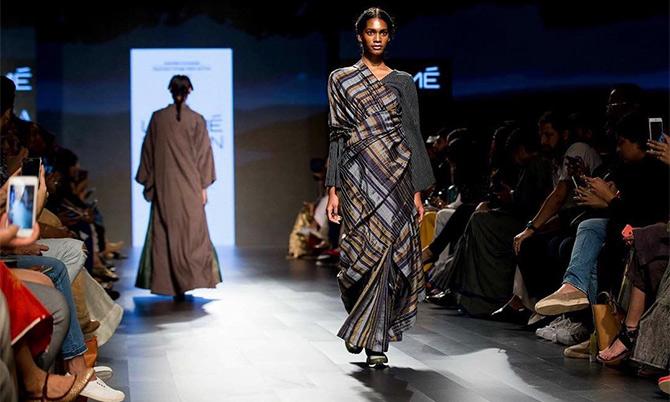 Amrita on the LFW ramp.
Photograph: Kind courtesy Amrita Ganesh/Instagram
Amrita is pretty confident that she can make the cut as an international model thanks to her dusky skin.
"Abroad they take dusky skin (models)," she says. "I feel that (her dusky skin) makes me special.
A student of Business Administration, Amrita is in her final year.
"I'm doing my graduation through a correspondence course," she says adding that it is very important for her to complete her graduation.
"I took the decision to complete my studies through correspondence because it is easier that way."