The Forbes 30 Under 30 list is even harder to get into than Stanford or Harvard University, says Monali Sarkar.
Meet the desis who made the cut this year.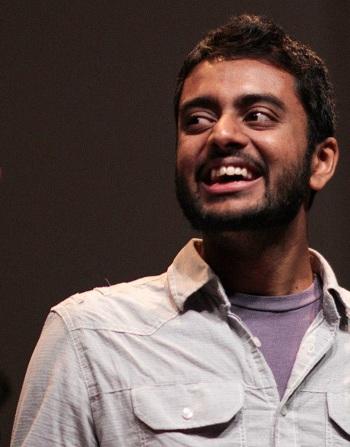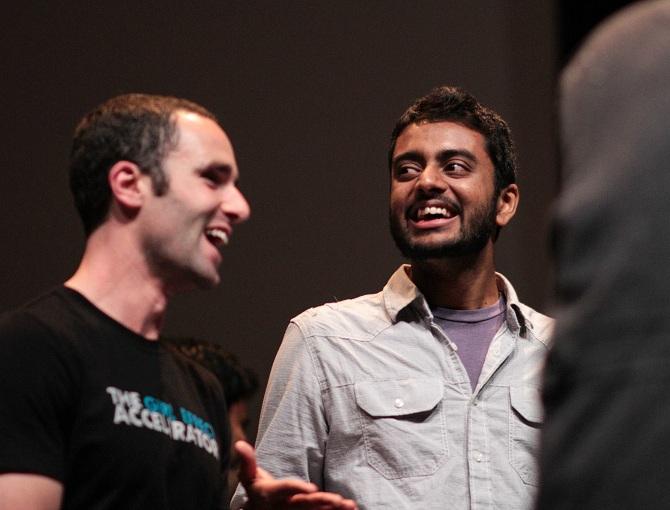 IMAGE: Teju Ravilochan, centre. Photograph: Kind courtesy Unreasonable Institute/Facebook.com
'Falling in love with a problem, learning all about it, experimenting aggressively, being a learner' -- that's Teju Ravilochan's key to success.
Ravilochan, 29, who founded the Unreasonable Institute, is the only Indian origin super achiever who made it as a 'Featured Honoree' in the 2017 Forbes 30 Under 30 list.
In its sixth year, the Forbes list is made up of 600 young achievers -- across 20 categories -- who are 'challenging the conventional wisdom and rewriting the rules for the next generation of entrepreneurs, entertainers, educators and more. They are passionate and formidable bunch, and for good reason. Their goal is nothing short of breaking the status quo and transforming the world.'
The nominees for Forbes 30 Under 30 list are researched by top reporters and the winners are chosen by A-listers in their respective fields and 30 Under 30 alumni and the list has a <4% acceptance rate -- 'even harder to get into than Stanford (4.8%) or Harvard (5.2%),' according to the magazine.
Ravilochan was chosen as the 'Featured Honoree' in the Social Entrepreneur category.
'Fresh out of college and without ever founding a company himself, Ravilochan built an accelerator for social entrepreneurs tackling the world's unsolved problems ranging from poverty to clean water access,' Forbes wrote.
The company draws its name from a George Bernard Shaw quote that claims, 'All progress depends on the unreasonable man.'
For the Unreasonable Institute, the magazine noted, 'that means finding entrepreneurs who are willing to tackle complex problems at scale, even if on paper they're unqualified.'
'To make up for their inexperience,' it added, 'Ravilochan and his cofounders created a massive network of mentors like pioneering social entrepreneur Paul Polak and Tom Chi, the CPO of Google X Tom Chi and capital partners including the Bill and Melinda Gates Foundation. To date, the institute has graduated 148 startups who have raised over $155 million.'
'Often when you are under 30 you hopefully have the recognition that you don't know a lot and I think that's a tremendous asset,' Ravilochan told Forbes. 'We admitted that we did not know what it took to solve these problems. We were our own customers.'
This year's lists includes close to 50 South Asians, mostly of Indian origin. But only one of them works in India.
Aditya Agarwalla, 23, who was ranked among the 'Social Entrepreneurs,' is a Princeton University dropout who co-founded the Kisan Network.
'Backed by the Thiel Fellowship and Y Combinator, Kisan Network is an online marketplace for small-scale farmers in India,' Forbes noted about the New Delhi-based achiever.
'A smartphone acts as a middleman, facilitating sales between the farmers and institutional buyers lowering costs on the buyers' end and securing better deals for the farmers. In less than a year, more than 1 million pounds of crops have been moved through this platform.'
Meet the other desis -- making it to 13 of the 20 categories -- on the list.
Category: Art & Style
IMAGE: Arun Gupta, 28. Photograph: Kind courtesy Arun Gupta/Instagram
Arun Gupta is the co-founder of Grailed, which is 'a curated, peer-to-peer marketplace for high-end second hand menswear and streetwear.'
The Yale University alum has earlier designed, manufactured and sold WakeMate, a sleep accessory.
---
Category: Consumer Technology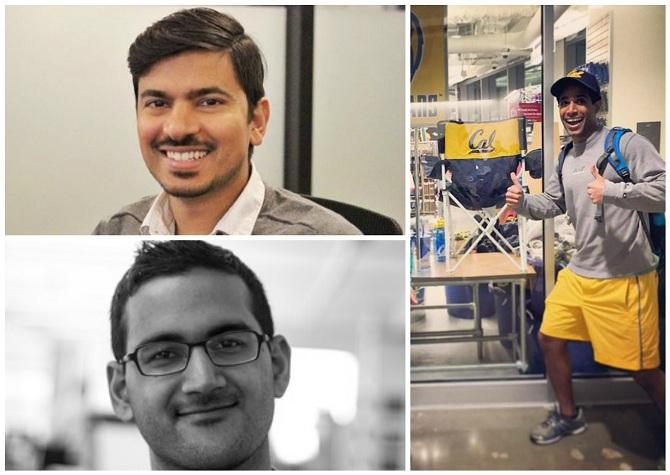 IMAGE: Clockwise from top, Ajay Yadav, 29; Nikil Viswanathan, 29; Saswat Panda, 28.. Photographs: Kind courtesy Linkedin and Facebook
Ajay Yadav is the founder of Roomi. The New York-based start-up app, which has raised $7 million to date, 'lets users find the right roommate to live with, chat with each other, search for listings, apply for an apartment and pay rent.'
Nikil Viswanathan co-founded the Down To Lunch app with a fellow Stanford graduate.
DTL allows users to connect with friends for a meal and became so popular on college campuses that it briefly topped the social networking app spot on the Apple app store in April.
Saswat Panda co-founded Live Like VR, which uses virtual reality to cash in on the desire fans sitting at home have to feel like they are at a game. The company has raised $5 million, including from NFL.
---
Category: Education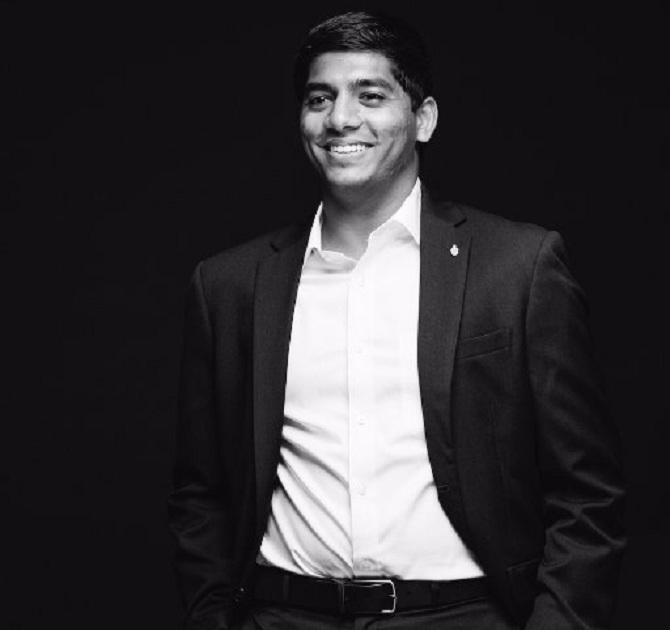 IMAGE: Prahasith Veluvolu, 21. Photograph: Kind courtesy Prahasith Veluvolu/Linkedin
Prahasith Veluvolu co-founded Mimir, which 'is part of the new breed of AI grading and teacher-to-student feedback.'
Forbes notes, 'Its three cofounders are the youngest members of Y Combinator's 2015 cohort, and were inspired by their experiences at Purdue University. Veluvolu's platform is especially for computer science courses... 70 colleges are using it, including Case Western, Johns Hopkins and University of Michigan.'
---
Category: Energy
IMAGE: Clockwise from right, Nishant Garg, 29, and Jimit Shah, 28; Ravi Kurani, 29; Amrit Robbins, 27; and Maanasa Mendu, 14. Photographs: Kind courtesty Facebook, Linkedin, Discovery.com
Nishant Garg and Jimit Shah's Flow Labs, Forbes says, 'has devised a small wireless-enabled sensor that attaches to water pipes and measures the amount of water flowing through them -- ideal for homes and businesses looking for ways to save water and save money.'
Ravi Kurani is the co-founder of Sutro, which has 'built a sensor-connected app that monitors the health of your swimming pool, notifies you if maintenence is required and orders pool supplies.' This helps save chemicals, water and energy.
Amrit Robbins co-founded Axiom Exergy, which sells a system that enables supermarkets -- which use a lot of power to keep foods cold -- 'to store up cold at night when power is cheaper.'
Mendu, who was named America's Top Young Scientist in the annual Discovery Education 3M Young Scientist Challenge in 2016, 'created a piezoelectric leaf device that harvests energy from sun, wind and rain' after she saw the challenges of energy scarcity on a visit to India.
The Ohio-based high school freshman is the youngest entrant in this year's list.
---
Category: Finance
IMAGE: Clockwise from top, Akshay Goyal, 28; Dhruv Maheshwari, 28; Niraj Shah, 29; Raja Bobbili, 29; and Anish Abuwala, 29. Photographs: Kind courtesy Linkedin
The 'Finance Category' has a high concentration of Indian Americans.
It includes Anish Abuwala, a portfolio manager at Caxton Associates; Raja Bobbili, an analyst at Abrams Capital; Akshay Goyal, the youngest vice-president in the history of Starwood Capital when he was promoted at age 26; Dhruv Maheshwari, a research analyst at Point72 Asset management and part of the new macro multi strategy team at billionaire Steve Cohen's quantitative trading arm; and Niraj Shah,a senior associate at private equity firm RedBird Capital.
---
Category: Food & Drink
IMAGE: Ian Purkayastha, 24. Photograph: Kind courtesy Ian Purkayastha/Twitter.com
Ian Purkayastha owes his career to a truffled ravioli dish he ate at age 15. It thrust him into the world of gourmet food items like truffle and caviar.
'He ditched college and founded Regalis Foods in 2012; today, the company does millions of dollars in revenue and supplies many Michelin-endorsed restaurants in NYC,' Forbes said.
---
Category: Healthcare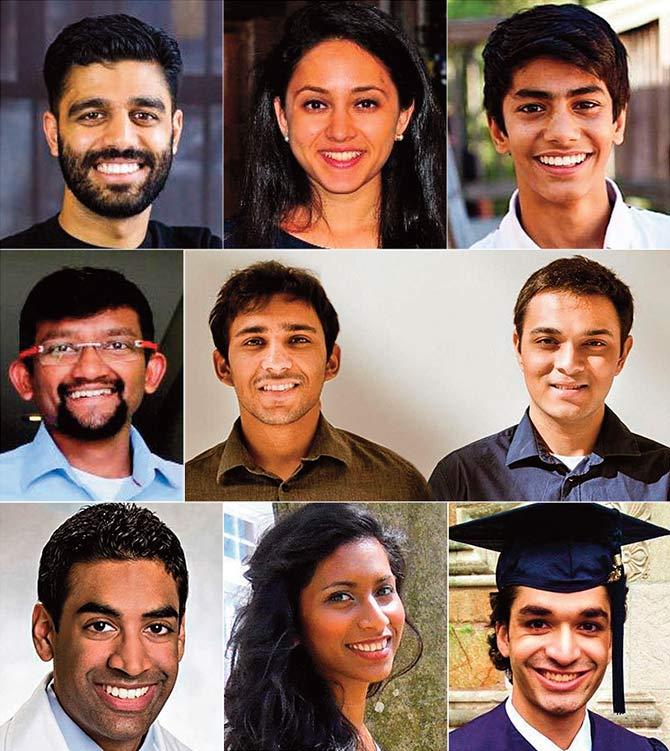 IMAGE: Top row from left, Ashwin Pushpala, 28; Prarthna Desai, 27; Rohan Suri, 17.
Middle row from left, Vivek Kopparthi, 27; Archit Bhise, 25, Vinayak Ramesh, 26.
Bottom row from left, Shaun Patel, 28; Srilakshmi Raj, 29; Sudhakar Nuti, 25.
With the track record of the South Asian Diaspora in the field of medicine, it is not surprising that the healthcare category has the highest concentration of them.
8 of the 30 in this category have roots in the subcontinent.
Vivek Kopparthi co-founded NeoLight, 'which has developed a phototherapy device that is portable for use at home for jaundice… (and is) working on a second tool to treat infant hypothermia.'
Ashwin Pushpala's company Sano combines personalised health with a Fitbit approach. Forbes notes, 'It has raised $18.75 million to develop a wearable sensor that, instead of counting steps, assesses things like blood sugar so users can see the impact of dietary changes on individual bodies.'
Shaun Patel, who is the orthopedic surgery chief resident at the Harvard Medical School, is also the force behind OrthoNinja, which aims to create a mobile app that allows doctors to consult each other and streamline communication.
As co-founders of Wellframe, Archit Bhise and Vinayak Ramesh also work on the mobile app platform. They sell insurance companies an app that helps patients manage complex sets of conditions and have already raised $10 million.
Srilakshmi Raj, a postdoctoral fellow at Cornell University, and Sudhakar Nuti, an MD candidate at Yale University take a more academic approach.
While Raj works as a population geneticist focused on 'how evolutionary adaptations have elevated or lowered different groups' susceptibility to chronic disease,' Nuti studies variations in the quality of health care in the United States.
Prarthna Desai took a slightly different path. Forbes writes, 'She left her Harvard graduate school programme to use drones to get medication to people in the developing world. In her operations role at the healthcare company Zipline, she is leading efforts to integrate the medicine- delivery-by-drone service with the healthcare system in Rwanda.'
This category also includes Rohan Suri, one of the 30 youngest on this year's list.
The teenager developed an improved -- and cheaper -- concussion test after his brother suffered a misdiagnosed concussion and founded Averia Health Solutions to take his work forward.
---
Category: Marketing & Advertising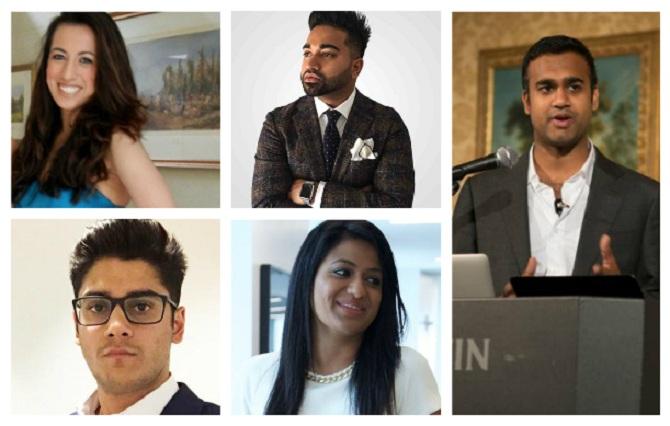 IMAGE: Clockwise from top, Salone Kapur, 28; Daniel George, 25; Aniq Rahman, 29; Manasi Jayakumar, 29; Shaun Sheikh, 25. Photograph: Kind courtesy Linkedin
Another category with a high concentration of South Asians, this includes Manasi Jayakumar, who heads Y&R's global innovation initiatives across more than 190 offices; Salone Kapur, one of the founding members at Google Fiber; Aniq Rahman,a Cornell dropout who is president of the SaaS analytics and intelligence company Moat and a partner at Vast Ventures; Daniel George, whose company Limitless Creative Co creates disruptive events like The State of The Union Social at The White House and the opening of the first-ever Jordan Store in Chicago; and Shaun Sheikh,a co-founder of the digital marketing agency Jump 450.
---
Category: Manufacturing and industry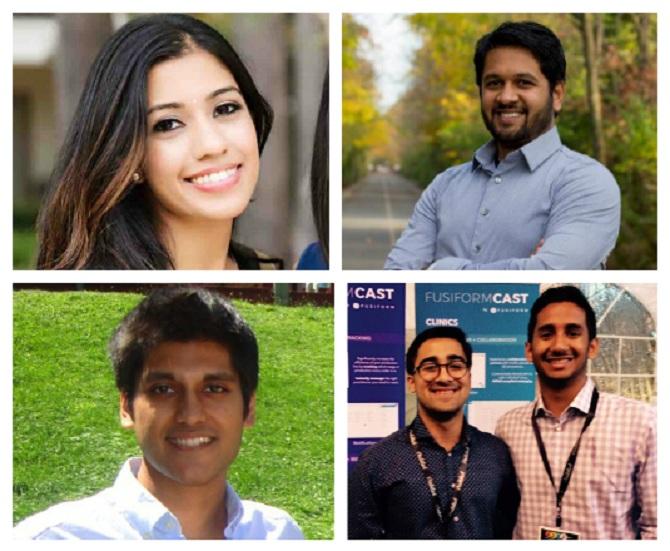 IMAGE: Clockwise from top, Neha Gupta, 28; Anurag Garg, 29; Alex Mathews, 22 with Param Shah, 21; and Gaurab Chakrabarti, 28. Photographs: Kind courtesy Linkedin and Twitter
While Neha Gupta in her business operations role at DAQRI played a role in the sale of Beats by Dre to Apple, Gaurab Chakrabarti has co-founded Solugen, which developed a sustainable process to create hydrogen peroxide from plants.
Anurag Garg is cofounder and CEO of Dattus, an industrial Internet of things company which 'transforms old manufacturing facilities into smarter factories.'
Shah and Mathews are cofounders of Fusiform, 'which is building an infrastructure for custom fabrication for orthopedic devices rather than cast a patient with plaster.'
---
Category: Law and policy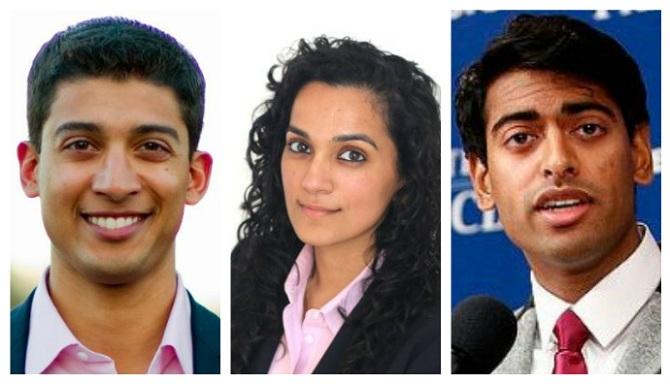 IMAGE: From left, Varun Sivaram, 27; Sonya Passi, 28; and Steven Olikara, 26. Photographs: Kind courtesy Linkedin
Varun Sivaram is acting director, Energy Security and Climate Change, at the Council on Foreign Relations, while Steven Olikarais is the founder and president of Millenial Action Project, 'a post-partisan leadership organisation that organises bipartisan caucuses in statehouses and Congress.'
Sonya Passi founded the Family Violence Appellate Project in her second year at law school to provide free appellate legal services to domestic violence survivors.
FVAP laid the foundation for FreeFrom, a national organization that works to 'reduce the economic barriers to domestic violence justice.'
---
Category: Science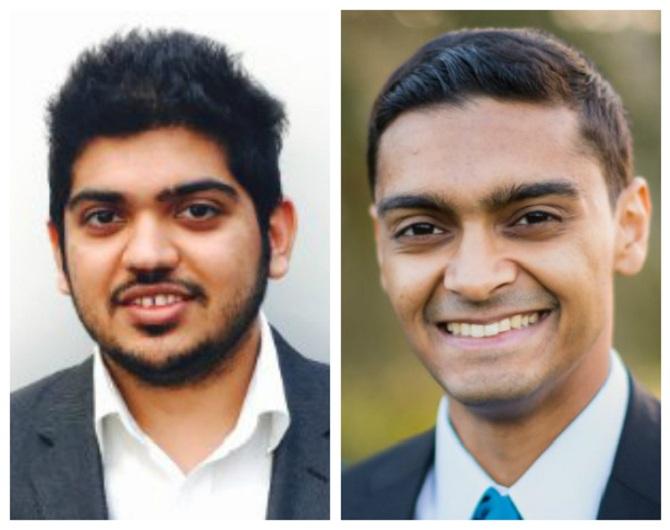 IMAGE: Karan Jani, 28; and Arun Sharma, 26. Photographs: Kind courtesy Linkedin.com
As a PhD candidate at the Georgia Institute of technology, Karan Jani is involved 'in the gravitational wave experiment at LIGO Lab and part of the team that detected the first gravitational waves.'
Arun Sharma has worked as an investigator for a grant funded by the Centre for the Advancement of Science in Space.
His research project, 'Effects of Microgravity on Stem Cell-Derived Heart Cells from Diverse Patient Populations,' Forbes pointed out, 'was shot up into space aboard the SpaceX Dragon and received by the International Space Station.'
As a post doctoral fellow at the Harvard Medical School, Sharma is now focussed on cardiovascular biology.
---
Category: Sports
IMAGE: Right, Akshay Khanna, 29. Photograph: Kind courtesy Lara Toscani Weems/Twitter.com
As vice-president of strategy for the football team Philadelphia 76ers, Khanna has led the acquisition and merger of two eSports teams.
Forbes noted that he also manages the team's entrepreneur innovation lab... and (has) negotiated an estimated $25 million jersey sponsorship deal with StubHub.
---
Category: Venture Capital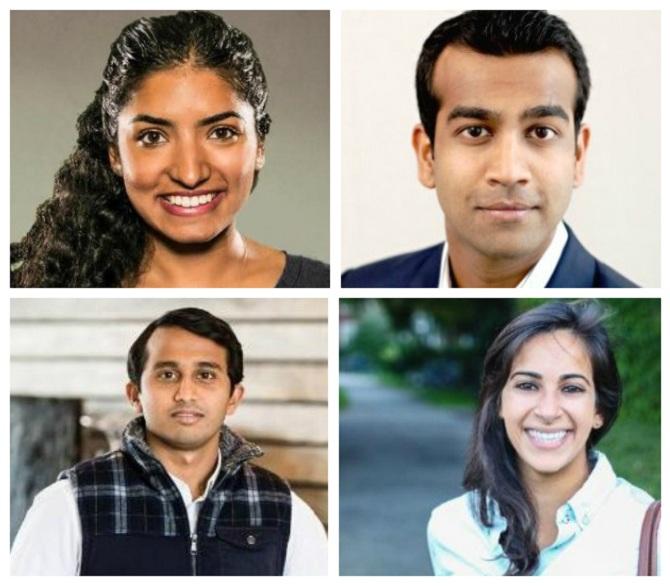 IMAGE: Clockwise from top, Anarghya Vardhana, 28; Nimay Mehta, 28; Nimi Katragadda, 28; Mohammad Islam, 27. Photographs: Kind courtesy Linkedin.com
Anarghya Vardhana, as a senior associate at Maveron; Nimay Mehta, as a partner at Lead Edge Capital; Nimi Katragadda,as a principal at BoxGroup and Mohammad Islam, as a senior associate at DFJ are making waves in the world of venture capitalists.