'Watching Amit Shah's speech on YouTube energised me, and I got back with renewed vigour to calculating how many months I can survive without a job,' says Sumit Bhattacharya.
Illustration Uttam Ghosh/Rediff.com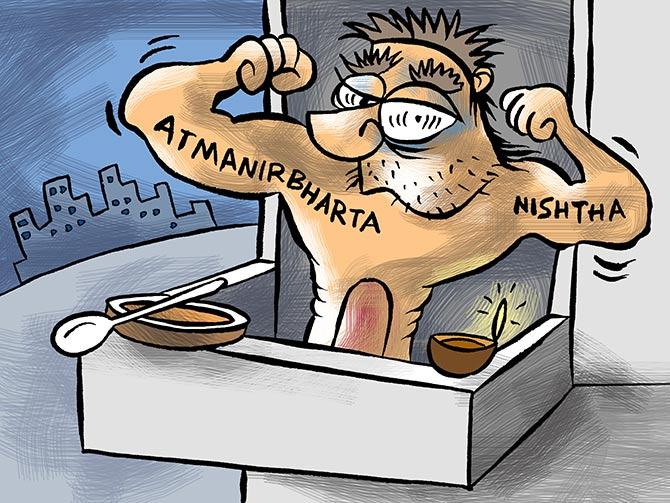 After Prime Minister Narendra Damodardas Modi's clarion call for atmanirbharta (self-reliance), Home Minister Amit Anilchandra Shah has given Bharat a new buzzword: Nishtha (commitment).
The news piqued my interest, given that I have already become atmanirbhar by being laid off from a famously anti-establishment newspaper during the lockdown. Oops, sorry, I resigned voluntarily.
Anyway, so I watched the clip on YouTube.
Addressing the BJP's 'virtual rally' for Odisha, Shah declared that India was doing very well in comparison to the world in combatting the novel coronavirus.
Sorry, I got the chronology wrong. He came to the coronavirus after reeling off the achievements of the Modi government from farm to toilet. A country surging ahead.
'Jab hamare yaha corona pahuncha Modiji ne ajeeb prakar ki ladhai ladhi hai (when corona reached here Modiji fought a unique battle), Shah said.
Disasters and disease had struck earlier as well and governments had fought against them, Shah declared, but Modi had involved the common man of the country to fight along with the government.
The result, he said emphatically, was that we are fighting this fight very well in comparison to the world.
The Janata Curfew, he said, would have to be written about in letters of gold when the history of the fight against the coronavirus would be chronicled.
For the first time ever in his life Shah said he saw that the police did not even have to do anything, 130 crore Indians stayed home.
'Usske baad, diya jalana, ghanti bajana, yoddhao ka sanmaan karna... (after that, lighting lamps, ringing bells, honouring warriors...)'
Interstate workers did face problems, Shah conceded, and he had seen that too. Everyone including the prime minister, he added, was saddened by their plight, 'magar unki takleef ki zyada unki suraksha thhi (but they were more safe than hassled).'
He did say: 'Sab sarkaro ne achcha kaam kiya (all governments did good work).'
He also said that 'uss samay (at that time)' it was not conducive for the labourers to go home.
Oh, and he said the states had paid for the labourers' train fare and given them money, citing Odisha giving Rs 2,000 each.
He said it was due to the combined work of the states, which had plied buses to the stations, and the Centre that 1.15 crore workers had returned safely to their homes.
Then came his nishtha masterstroke.
'Aur aaj kuchh vakradrashta log hain, jo vipaksh ke log hain, woh sawal uthate hain toh main unko poochna chahta hu ki bhaiya, hamari toh kahi chug bhi hui hogi, magar nishtha hamari barobar thii. Hamari galti hoi hogi, hum kahin kam padh gaye honge, kuchh nahi kar paye honge, magar aapne kya kiya?
(Now there are some blabbermouths, who are of the Opposition, they are raising questions. I want to ask them, maybe we made some mistakes, came up short, but our commitment was full. What have you done?)'
Presumably, his barb was aimed at the Opposition, but I felt like kicking myself in the butt for not saying that to my now-former boss when he laid me off. Oops. Sorry. When I resigned.
Shah said the government was aware of the pain of the millions of interstate workers and camps were set up across the country for them. And he pointed out, to applause edited in, that the government had declared a package of Rs 1.7 lakh crore.
Watching his speech on YouTube energised me, and I got back with renewed vigour to calculating how many months I can survive without a job.
Till I got a call from a friend, a musician, who evidently did not know about India's shining achievements.
"What happens when the money in the account runs out?" he asked me.
Be atmanirbhar, I told him, and he let off a volley of insults about "you f****ng journalists".
Then I got another call from another close friend. They all know I have become atmanirbhar and seem keen to make more conversation than usual with me, strangely.
This friend is a businessman, and he started ranting about how a company he has a tie-up with in the UK had got 50,000 pounds within days of applying with the government and he could not pay salaries to his employees because business was shut.
But isn't the Indian government also giving loans, I told him.
He let loose about "you f****ng journalists".
"There the loan has to be repaid in six years at 2 per cent interest," he thundered. "Here it is three years on 16 per cent interest on average for my sector. How will I repay a loan in three years?"
"The Indian government thinks you being in business means you are making pots of money. And don't forget the corruption. Get a loan for yourself and then we will talk."
I hung up and opened social media, compulsively, and the screen was flooded with outrage about people in Delhi not being able to find hospitals to take them in, and news about famous politicians being admitted in hospital without a hitch with COVID-19.
I saw graphs of how India's coronavirus count seemed to be enjoying the lockdown more than the interstate labourers, or me.
Snippets of alarm: 'Mumbai corona count crosses Wuhan's'. 'Maharashtra has more COVID-19 cases than China'. 'Delhi virus count will cross 5.5 lakh, says minister'.
And headlines proclaiming 'India's fingers are under Chinese boots'.
F****ng journalists, I told myself, they will soon be extinct what with so many being laid off. Oops. Sorry. Resigning.
And I got back to calculating how many months I can add to my survival if I stop smoking. With nishtha.
Sumit Bhattacharya is a Kolkata-based journalist and musician.
Production: Aslam Hunani/Rediff.com