'Across several colleges and universities, the story is the same.'
'Generous timings for boys, early deadlines for girls,' says Veenu Sandhu.
Illustration: Uttam Ghosh/Rediff.com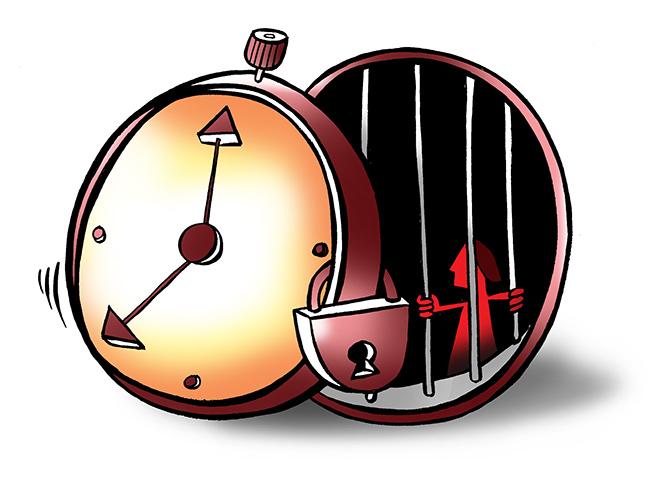 A small news item about Jamia Millia Islamia's women students protesting about their hostel timings took me back to my own hostel days in the first year of college.
That was 27 years ago. A miserable, miserable, year that was.
Solely for one reason: The hostel was a prison. Girls were required to be back by 6.30 pm, after which the gates would be locked and a roll call would follow.
The logic was straightforward -- as straightforward as feudal logic goes.
Out of their homes, away from their parents, the girls were the responsibility of the college.
If back home it was their parents' job to keep them safe, here it was the college's. And the most convenient way to ensure they stayed safe and 'out of trouble' was to lock them in.
My college was in no conflict zone. It was in the heart of India's first planned, and rather dull, city -- Chandigarh, the City Beautiful.
If there was one Indian city that was safe, it was this.
So I simply couldn't wrap my head around this logic. We were all adults, old enough to vote governments into -- or out of -- power, and yet we needed to be herded into this miserable building before sundown for the sake of our safety.
Evening after evening I would sit through the roll call imagining what the world outside was up to.
Would my day scholar friends be wandering in some market?
Would they step out of their homes after dinner for a stroll on the street?
What did the air outside smell like that night?
Restless, unhappy, helpless, trapped -- that's how I felt.
Yes, I had friends in the hostel and we all had lots of fun together, but what we did not have was our freedom.
And then one day, something interesting happened. My roommate noticed that a grill bar on the window in our room was loose.
She tugged at it a few times. A push here, a pull there and, lo and behold, the blessed thing came off.
Skinny as we were, both of us managed to squeeze out of the window.
Then we stood on the grassy patch outside the hostel near our room, laughing.
It was a wonderfully liberating feeling.
Then on, every night we would slip out of the window, take a little walk, chat, laugh or just sit silently on the grass.
We would look at the moon from the outside, get different perspectives of it. And then we would climb back through the window and put the grill bar back in place.
Not once did we think of running away at night. We weren't stupid.
Those nightly jaunts were simply our way of winning our freedom back -- in whatever little manner, for whatever little time.
The next year, I did not return to the hostel. I chose to stay in a paying guest accommodation where I would not be locked in every evening.
It is still beyond me why girls' hostels in colleges and universities feel the need to have curfew timings.
The only thing that seems to have changed since I graduated all those years ago is that the curfew limit has been marginally eased.
At Jamia, the deadline for women hostellers was 8 pm. The students have, after an unrelenting protest, succeeded in getting the university to push it back to 10.30 pm.
It is a small, but precious, victory.
Across several colleges and universities, the story is the same.
Generous timings for boys, early deadlines for girls.
It's a tough fight. Earlier this year, when students of Banaras Hindu University approached the Supreme Court, the country's top court refused to examine the validity of the hostel rules.
The Supreme Court bench said, 'These rules are for the safety of the girls.'
To my mind, they are for reinforcing a patriarchal social order that aims to confine and set limits on girls in the guise that they are intended for their own good.
It is a conspiracy, no less, which is why it is a good thing that the girls are protesting.
I didn't. I made do with that little gap in the window.
And when that gap wasn't enough, I opted out of the hostel.
Why should I have had to do that? Why should any girl have to do that? Why not just pull the bars down?