Nobody likes misery for company, especially on a holiday, says Kishore Singh.
Illustration: Uttam Ghosh/Rediff.com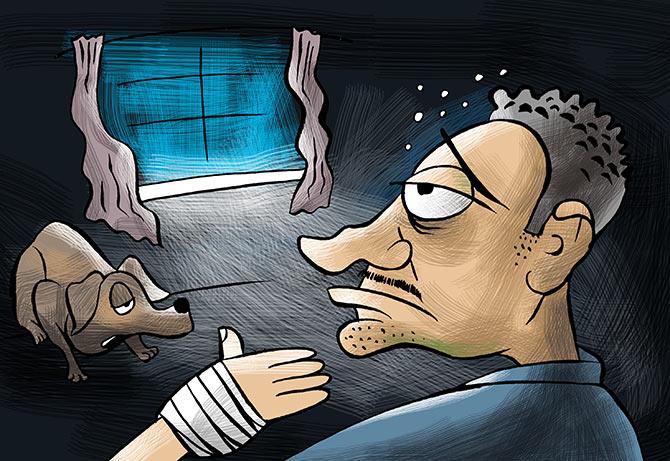 Coaxing the dog to leave the air-conditioned room to come for a walk in the heat wasn't working so I thought to attach a leash to his collar and drag him out for his constitutional.
Increasingly grumpy in old age, the pooch snapped, sinking his canines into the fleshiest part of my palm.
As I attempted to staunch the blood with a pail of iced water and dabbed antiseptics on the wound, the dog continued to slumber on, unmindful of the kerfuffle he had caused.
In the evening, with the hand stinging -- and swelling -- I went to a general practioner for a tetanus shot and dressing.
A painkiller was prescribed.
Two days later, on a family break in the hills, the wound showed no signs of healing, and the pain became increasingly intolerable.
The gathered clan, when it wasn't sarcastic, was mocking.
Didn't I have the sense to take anti-rabies shots?
What was I thinking not asking for antibiotics?
Everyone had a theory and a slew of medicines to prescribe.
Clutching at any possibility of relief, I took whatever cocktail of pills and unguents were offered, replaced bandages, daubed creams, but nothing helped.
While the rest of the group partied, eating and drinking and making merry, I drew increasingly into myself.
Nobody likes misery for company, especially on a holiday, suspecting it might be contagious -- and I was anything if not miserable.
Unable to bear the agony, and banned from the consumption of alcohol, I retired to bed early one evening.
Somewhere in the distance I could hear the family's revels as their libations increased.
Half-dozing, I could barely make out as they dropped in occasionally, in groups or singly, to check on me.
Prodding the palm, one would ask, "Is it paining here?" No.
"Here?" Yes.
"Here?" Yes, yes, yes.
"Here too?" Just go.
A hot cognac was brought to my room -- but not for consumption.
It was pressed into the wound to "draw out the poison" but only ended up throbbing some more.
Eyes closed against the ache, I wafted in and out of troubled sleep, disturbed by these encounters.
"How are you feeling?" Whisky breath over my face -- my son, definitely.
"Are you okay?" Onion fumes and charred meat this time -- my brother, most likely.
"Let him sleep," a symphony of garlic and wine, extremely unpleasant, one of the ladies of the clan.
"He'll be fine, let him be" -- if only! -- someone who had been quaffing gin said.
Despite them, blessed sleep followed.
But morning brought little relief.
Back home, my ordeal was far from over with diagnosis and information flying fast and furiously amidst the temporary bonhomie of the ex-vacationers.
Something had to be done about me.
Done? I was to be marched off to a doctor.
Even though the pet was vaccinated, and it was a week since the bite, I was to be inoculated "just in case".
A prescription for five injections spread over 21 days was shared between the group like a trophy, a moral victory of the majority against the lonely sufferer.
Instead of sympathy, or empathy, what I was getting was one-upmanship.
As I write this, two shots have been administered with three more to go.
Blame it on my hallucinations, but I can't help wondering if I can persuade the dog to oblige my wildest fantasies.