My son and his wife are now spending a holiday in pursuit of chicken, says Kishore Singh.
Illustration: Uttam Ghosh/Rediff.com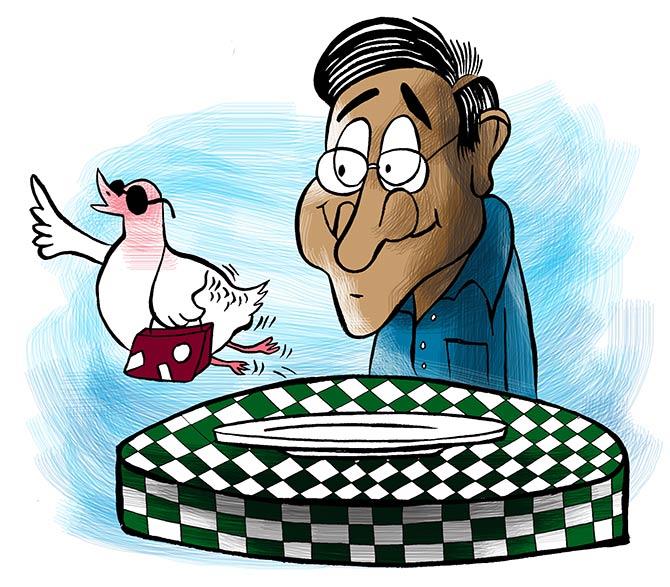 Boarding schools teach you a thing or two about eating everything that's on your plate fast while keeping it away from predatory seniors and dorm bullies.
Growing up in a fauji household meant having to adapt to an equal opportunity palate -- never forgetting your table manners while at it.
Saying no to any food was never an option.
Leftovers -- a 21st century malaise -- isn't something I recall from my childhood, not because there wasn't enough on the table, but because you weren't allowed a smaller portion of bitter karela because you wanted more of the mutton curry.
Our kids, growing up, were a little more indulged, but they grew up with the same creed -- nothing to be wasted, everything to be tasted, minus fuss or tantrums.
Past their teenage years, they steered clear of junk food.
Nor did they demur at carrying packed lunches to work -- even though, sometimes, perversely, the cook would pack lauki with tori.
There were occasional outbursts, but largely the household ate what it was served -- and was thankful for it.
Then my son married.
A list of things his wife does not eat would fill a page of a newspaper, so it might be simpler to list the only thing she does -- which is chicken.
She tries, poor child, but it's no easier for her.
"Watermelon," my acerbic wife informed her, "is not salad."
We eat -- ate -- a lot of salad because -- surprise! -- we liked it.
Like most Indians, our meals are -- were -- primarily vegetarian, though we liked fish and fowl well enough to include it in our dietary plan.
Now, though, it's not enough to have if for every other meal, it must be the only meal.
We were never partial to chicken or paneer, both reminding us of blotting paper with no taste to call its own.
Given peer pressure about avoiding red meat, chicken entered our kitchen but remained at its periphery.
We ate fish, prawns, pork, buffalo, squid, crab, mussels, quail, duck, farm grown partridge, hare -- and in the dim past, venison.
The variety of vegetables was varied, there were pulses to pick from, and all manner of foods we took for granted.
It was an echo of most middle class homes that I am now forced to view through the lens of nostalgia.
Last week, my daughter and I accompanied my son's bride and her young nephew for an afternoon at the mall.
Let me skip over the excessive hours spent in the stores to arrive at our menu for lunch.
We began with starters that included honey chilli chicken and, in deference to my daughter-in-law's preference, salad marked less by greens and more by -- right, chicken.
Having pandered to so much fowl, who would have thought our main course would include a street curry with chicken and -- while I distinctly remember saying the words "lamb", "pork" and "prawns" out loud -- we had udon noodles with chicken, and wouldn't you know it, a late order of chicken dimsums.
My son and his wife are now spending a holiday in pursuit of chicken in Istanbul, giving us a week to spoil ourselves with helpings of broccoli, corn, beet, brinjals, mushrooms, zucchini, bokchoy, cluster-beans, peppers, lettuce.
I'm making the most of it -- for next week, we will be on a detox diet of chicken, again.