'If Romeo and Juliet had done the math, they might have gone their own ways without ending up dead in a family quarrel,' says Kishore Singh.
Illustration: Uttam Ghosh/Rediff.com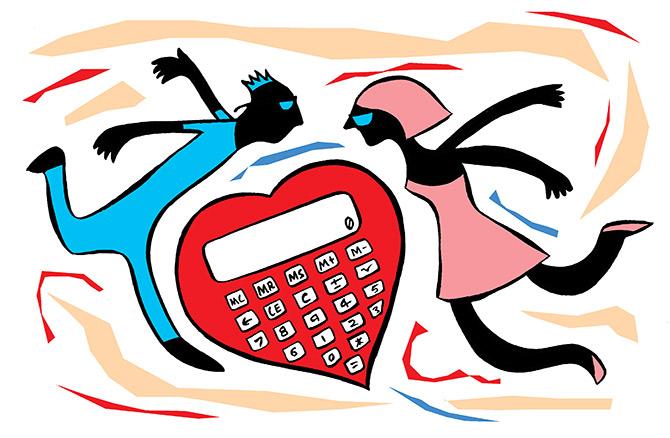 Everyone and the world loves a lover, unless that lover happens to be your own son, in which case he's just a goof-off, an idiot, a spitball, a loafer.
These are among the milder, less offensive terms my wife has used in recent times to describe our son's increasingly erratic ways, which include whispering silly nothings into his phone, his head tucked ostrich-like under his quilt (so we can eavesdrop on him spouting nonsense without him being aware of our presence, till a giggle gives us away), disappearing every evening post-work to spend time with his girlfriend (which means he's home only for a change of clothes, breakfast and a packed office lunch), spending inordinate sums on quiet dinners (in secret places where he hopes not to run into anyone either of them might know), and splurging on gifts that make no sense at all (why do those in love buy such stupid things anyway?).
I can see how torn he is about giving up his freedom to become a co-joined sequence of proper nouns.
It would make life easier if he was to commit to the relationship and move it up a peg, but he's unsure about giving away half his cupboard space for the joys of marital affection.
He's seen friend' girlfriends turn into viragos at the mention of a boy's night out, or Sunday morning bike rides when partners are tolerated in the beginning, before such rides are banned anyway.
For now, singledom seems to be working for him, even though coupledom seems to be edging precariously closer.
Wives -- working wives included -- are expensive to maintain, as he's discovering from his married friends, gasping at how much diamonds cost, and how often they have to be offered over the negotiating table of relationships.
Suddenly, all those holidays and getaways look less attractive when every input cost is multiplied by two.
It's enough to orbit a commitment-phobic man into outer space, from where my son is surveying his life and finding the future less rosy than he would like it.
Will love have its way? I'm not offering bets either way.
One day, he's snapping his ankles in a pirouette as he dances off to meet the source of his affections.
The next, he's doing sums and not liking what it adds up to.
If Romeo and Juliet had done the math, they might have gone their own ways without ending up dead in a family quarrel, but today's lovers are more likely to begin life together with an Excel sheet and a calculator, paring romance down to an equation of profits and losses.
In which case, their life may be a bed of roses after all, but only if they've budgeted for them in the first place.
I'm not holding my breath for now, even though my wife has made it a point of asking our son every time he pops by at home whether she should send her jewellery for polishing, or get measured for new clothes.
She has a file where she's storing numbers for caterers and contacts for florists. "Mom," my son has scolded his mother, "can you stop behaving like you're the one getting married?"
Trouble is, till our son ceases his now-you-see-me, now-you-don't act and gets back to spending more time at home, she won't stop speculating about his status.
Only, my son is worried that if he doesn't pop the question, his mother might -- thus ending his bachelor run.