"Looking back, I saw the great times we had -- the chats, the games and every other little thing that had a habit of mattering hugely to me."
"Life was simple then, without the leaps technology had taken and the smartphones that sat between two people who stay together."
Suchismita Banerjee recounts the wonderful time she shared with her parents as a child.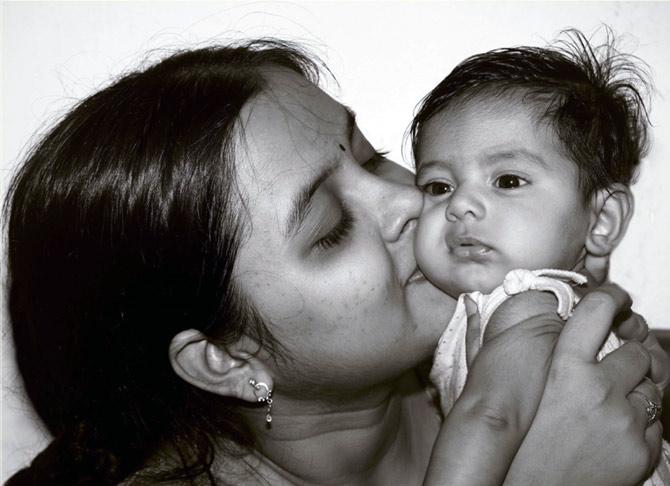 I am a new mother to lovely twins.
Life was already fast and demanding, balancing work and home.
But it has been a totally different story since they were born.
Unable to sit up or talk, they -- in the most loving and demanding manner -- take up my entire 24 hours.
The only time I can steal for myself is when I am with one who has dozed off to a peaceful world of slumber.
It is this quiet moment with myself that gets me thinking.
Last night as my boy slept in my arms, perturbed by some problem neither I could gauge nor could he tell me, he happily chose to let go of his bed and slumped his little body in my arms and drifted off to sleep.
I looked at his tiny face with two beautifully closed eyelids and suddenly remembered W.H Davies' words...
What is this world if full of care
We have no time to stand and stare ....
There was boundless care and yes, right then during my mom duty I did have time to (sit and) stare at his lovely face.
It got me thinking what my parents might have felt when they held me sleeping in their arms.
As the thoughts went deeper, perspectives changed and I remembered my childhood from my point of view.
Through the fine lace of memory I could see different scenes: some hazy and some very clear.
I saw myself running into the arms of my parents, singing in a muffled tone, crying as a tooth went loose, or when I made a mistake how I squirmed about figuring out the proper way of confession.
I realised that this journey through life is just like travelling through time zones.
When I looked back, I could see the past, just as it was happening; just as I had experienced it.
I saw myself holding my parents' hands, but now my hands were the ones that cradled the sleeping child, heavy with responsibility.
Looking back, I saw the great times we had -- the chats, the games and every other 'little' thing that had a habit of mattering 'hugely' to me.
I laughed to see my mother and myself running on the terrace of our home. I was an only child and she was my first friend.
Those wonderful days were filled with simplicity. I enjoyed the frequent power cuts. During such times, we would just sit together.
I was so tiny that there were no textbooks to drive me away. I could still feel, from those warm dark nights, the loving touch of my mother. Her fingers would work through my sweat-wet forehead and eventually through my head. I often had bouts of cough and so I remembered the stifling heat when the fan would be off.
My flimsy dress would be wet and I'd start crying. In the mellow light of the oil lamp I'd wake up to see the worried eyes of my parents, which in a second would become indulging.
Either of them would undress me and my father would hold me close, tight in his arms and sing me to sleep. He has a wonderful voice and I still love to hear his songs.
Weirdly, I yawned a lot every time he sang; I wondered whether successfully putting me off to sleep was such a mammoth task for him as well, as I was facing with my son.
I could also remember the feel as I sat on his lap, my head resting on his chest and he would be stroking my back -- just like I held my son right then.
Would my son also remember the same? I compared, and quickly brushed the thought aside. Sometimes I'd be conscious of a drop of sweat trickling down my back.
I'd be meticulously following the path till midway it would be rubbed off accidentally by my father's palm in one stroke. As I'd go on coughing, my mother would sit there impatiently, worrying a bit too much, like I am prone to doing now.
Often when such power failures took place, especially on moonlit nights we would go out on the terrace. Spreading out a mattress we would sit on it, talk and laugh, or just lie back and watch the dark night sky strewn with a million twinkling stars. Then slowly I'd drift off to sleep.
As I grew up, I secretly hated it when power was restored on such days. I believed, darkness brought us close together physically and light meant the three of us drifting into three different directions to pursue our respective chores.
We have plans to buy one of those children's telescope for my little ones. I smiled thinking how through the ages, we keep on gazing at the stars. It never fails to fascinate.
Stray unimportant incidents kept rushing in to my mind. Things that I am surprised I even remembered.
For instance, I remembered studying the spelling of caterpillar because my mother would ask me the same when she returned. She did and I spelled it right. I was so jubilant that I went round the house dancing the whole evening spelling the word repeatedly to my parents.
Or when I used to watch my father clean our aquarium. As I stood and watched the murky waters being replaced by crystal clear fluid I felt proud, thinking that this man, my father could do just about anything in this world.
Then there was another incident, the day my mother bought me a flowering plant and taught me to call it mine. It was a small flowering plant: the Phlox. I watered it diligently and was so proud the day a tiny bunch of purple and white flowers smiled at me from the little pot. We had a big and beautiful terrace garden that could make anyone proud.
Once I stood on a wire-mesh that was bought to be used as a protection for the plants on the terrace against the birds. As I stood on the rolled wire trying to make it straight, I fell down face forward injuring myself badly.
My parents came rushing and took me to my uncle who had sound knowledge of medicines. He put some white paste on my bruise and it stung like anything. He had later told me that it was toothpaste, which he was applying!
I had lied twice to my parents -- the big ones. I saw my father striking my hand with a ruler and saw my face too. On it was reflected a "how-could-he-do-this-when-he-loved-me-so-much" look overshadowed by a bewildered "why-did-I-commit-this-mistake-anyway" look.
My parents had been wonderful. They had punished me, and slapped me (those were the golden days when parents actually could do such stuff, and children did not mind) but during my hard times had held me close in their arms, kissed my forehead and told me that nothing was wrong with this world.
The last thing I had time for recalling before I was dragged out of the time warp was my father making a mouse out of a white handkerchief and playing with me. It was an simple toy, just as the red ribbon flower my kids are in love with. I have tied to the window and it moves with the wind. Both of them simply adore it.
It was at this juncture of reminiscing that my little one in his blue romper started squirming once again. He opened his eyes and there was no pain in it anymore.
A sheath of sleep had replaced his agony. It took a few seconds for him to realise where he was. Baring his gums, he gave me one of the sweetest lingering smiles. Then he put out his hands and touched my cheek with his tiny fingers. Slowly his hands fell back on his tummy as he went back to sleep again. His lips still curled in a half-smile.
I could remember no more significant incidents after that, which I could write about, though I know countless of them still infest my 'childhood memoirs' if I raked them properly enough...
It is truly surprising how memories are built around small and trivial incidents.
Life was simple then without the leaps technology had taken and the smartphones that sat between two people who stay together.
All we had was each other and our love that kept us together. As my phone blinked in the dark, it reminded me of the glow-worms that blinked in the darkness.
I suddenly desperately prayed that I should be able to bring up my children well, like my parents had successfully done, giving them the best of both worlds: an amalgamation of art and technology.
It was already 3.30 am and tiredness was embracing me all over.
I knew it was time to draw the curtains and go to sleep... after one last look, one last touch and one little kiss on the forehead.
Lead image used for representational purposes only. Image: Asim Chaudhuri/Creative Commons
ALSO SEE: A working mother's letter to her child