We need to bring solid waste management into all school curricula in an organised and cohesive manner, suggests Anjuli Bhargava.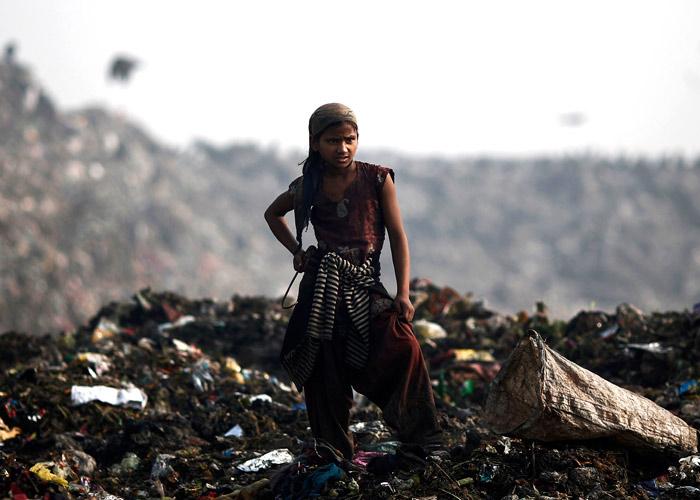 A recent news report in The Times Of India caught my attention the other day: 'Mountains of waste: Hill states treat just 31 per cent of the trash'.
To be quite honest, I was rather taken aback at the number being as high as this.
Do the mountainous regions actually treat 31 per cent of their garbage?
Walk around in any Himalayan town and you would be forgiven for thinking this number (put out by the ministry of environment, forest and climate change) is much lower, if not zero.
But this column is not here to dwell on the problem.
So visible has become the size of India's garbage crisis that almost everyone -- even Lutyens' Delhi -- is now seized of it.
I will put forward a few suggestions that, in my view, can make some dent if we take the bull by its horns today.
At the cost of being repetitive, I'll say this: Building toilets is one part of it, tackling the garbage landfills and heaps is undeniably the other.
Although my expectations from all governments are rather low, I do think this one has done the country one favour by driving home the need to clean up.
Let's take it a step further.
Open defecation must be eliminated but so must the strewn garbage and the use of plastic.
Expand the scope of Swachh Bharat Mission.
Focus on segregating trash and treating it countrywide.
In fact, set one's goals high with solar and wind power generation targets.
To do this, the country must embark on a gargantuan awareness drive.
Can funds from SBM be used to finance such a campaign? Unless a clean-up drive is accompanied by behavioural change from a majority of the population, it won't go far in a country of our size.
This is not Singapore where you can impose heavy penalties and arm-twist citizens to obey.
Neither is it a small and homogenous Rwanda, where the authorities in capital city of Kigali have managed to achieve wonders by instilling a sense of pride in poorly paid municipal workers.
Leaving matters in the Indian state municipal bodies' hands -- as has been the case all these years -- has yielded very little.
The authorities seem neither concerned nor seized of the dangers of landfills, leachate and the outbreak of disease unchecked garbage can lead to.
Above all, we need to bring solid waste management into all school curricula in an organised and cohesive manner.
Explain how, what, where, when and why it is critical for everyone to be zero-waste individuals to children across India's government and private school system.
Just like the impending dangers of climate change and ways of mitigating it have slowly crept into syllabuses, India can try and spawn a future generation of waste warriors by starting from the word go.
Make it part of national curriculum, across state and central boards.
As they have shunned crackers, children will lead the way and induce parents to do the same.
The good news here is we don't have to start from scratch.
In Bengaluru, an organisation has developed Trashonomics, a simply written and illustrated booklet that makes children aware of the basics of SWM. The what, the how and the why of reducing waste footprint.
The book uses a crow -- an intelligent bird that wastes nothing -- to explain simple concepts, guide and prod children to adopt these practices as a way of life as they step into adulthood.
In five chapters, it explains what happens when one mixes waste, burns it or just dumps it, or what one can do to reduce the total quantity generated and how to segregate it.
A chapter contains at-home solutions and illustrates how to handle organic waste at home including composting and dealing with recyclable waste.
The book also touches upon being a responsible consumer and minimising the use of plastic.
At the Corbett Tiger Reserve, the Waste Warriors (an organisation headquartered in Uttarakhand) chapter has taken things head on and is now working with a host of schools and villages to tackle this growing menace.
Films, videos and print material have been developed and is being used to explain why tackling trash is critical for our future survival.
What is your contribution towards making India a cleaner country? TELL US in the message board below.