Issue-based theatre has the capability of playing a transformative role in society -- first through the artists and their families and then, their audience.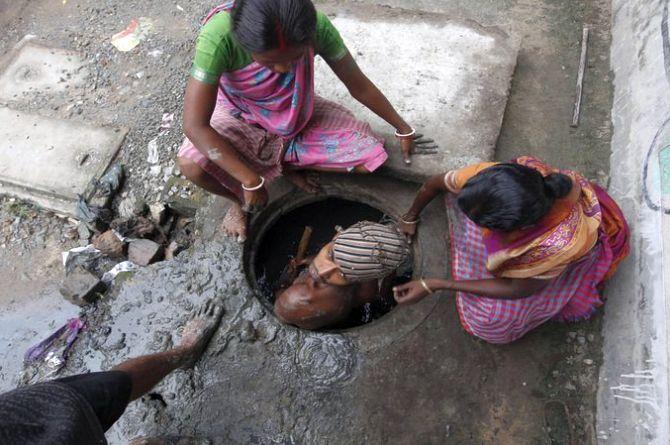 Urfe Aalo, a play by the Whistle Blower Theatre group, forces its audience to confront the harsh reality of manual scavenging -- an occupation which is no less oppressive than bonded labour.
The play is about Nilesh, a Valmiki trying to get out of his caste imposed occupation.
While in school, Nilesh is associated with a theatre group for social awareness and wants to continue acting.
But his father, Dinesh, a manual scavenger himself, asks his son to leave college and start working as a sanitation worker to help feed the family.
Nilesh opposes his father and continues with theatre.
Shortly after, Dinesh suffocates to death while cleaning a gutter.
Nilesh is forced to look for employment but faces rejection due to his caste.
Ultimately, he has no choice but to follow in his father's footsteps.
Sadly, this is not just any tragic story; this is the story of lakhs of Valmiki families who have been bonded to manual scavenging.
The play was performed at IIM-Ahmedabad; all the actors and members of the group are or were students of Ahmedabad's Shree H K Arts College.
The group initially came together to participate in competitions but now perform social issue-based theatre.
Urfe Aalo is inspired by a childhood experience of their director, Maulikraj.
"My friend, Vinod, slapped me when I -- like everyone else -- 'Aalo'," he recalls. "Do you even understand what it means, he asked me. I didn't know."
'Aalo' is a Gujarati slang which means 'one who begs for food'.
This is what Vinod was derogatorily called because he belonged to the manual scavenging community, which goes around asking for food in the community where they clean.
Nilesh, the protagonist, represents Vinod, while Dinesh, the father, is inspired by Dineshbhai, a sanitation sweeper near their college.
Dineshbhai plays flute the beautifully.
Still, his family asked him, 'Why do you play the flute?' They believed it was a waste of time.
He has set aside all his hopes and aspirations and believes that, because he is a Valmiki, he is destined to clean gutters.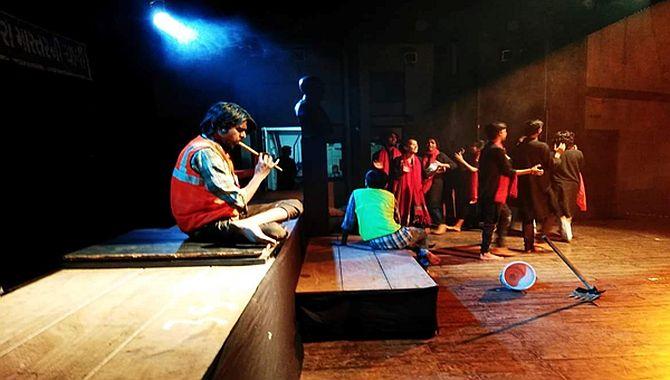 Through such interactions with the Valmiki community, as well as through secondary research, the group conceptualised the play, portraying the dominant themes and designing the set to enable the audience to visualise the life of a manual scavenger and empathise with their cause.
Till date, they have performed Urfe Aalo 35 times in different formats.
The group believes that issue-based theatre has transformed them as human beings.
Most of them had joined college, not knowing what they wanted to do in the future; theatre has given direction to many of their lives.
Some are now pursuing masters in social work. One group member has started a community centre in his chawl. A few have decided to pursue developmental journalism.
Their changed perspectives towards social issues manifest themselves through the instances they share.
Pallavi recalls, "My family kept a different utensil for the sanitation worker (Shardaben).
"After Urfe Aalo, my mom once asked me to give Shardaben water.
"I gave her water in a glass that all of us in the family use.
"When my mother got angry, I asked her, 'How would you feel if someone behaved with you in a similar manner?'"
Another group member, Dipak, says, "I have always seen people sweeping the roads but never thought about who they are.
"By doing this kind of theatre, I saw a change in myself.
"Now I like to talk with people sweeping roads, people belonging to other oppressed communities, and understand their perspective."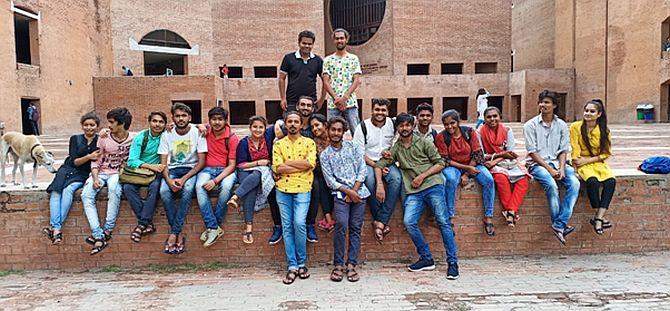 Such issue-based theatre has the capability of playing a transformative role in society -- first through the artists and their families and then, their audience.
The interactions that these artists have with individuals from oppressed societies bring about a change in their attitude and behaviour.
They also bring changes in the lives of people whose stories they tell.
Dineshbhai's family now encourages him to play the flute.
As more and more people get exposed to such Nileshs and Dineshs through theatre or in real life, they are able to empathise with their cause and move in the direction of social change.
Charul Agrawal studies at IIM-A. She aims to spread awareness about critical social issues in order to initiate dialogue and action.