Most people simply don't know how to address someone they engage with professionally.
We women are often at the receiving end of such ignorance -- often from sexist ignoramuses, says Veenu Sandhu.
Illustration: Uttam Ghosh/Rediff.com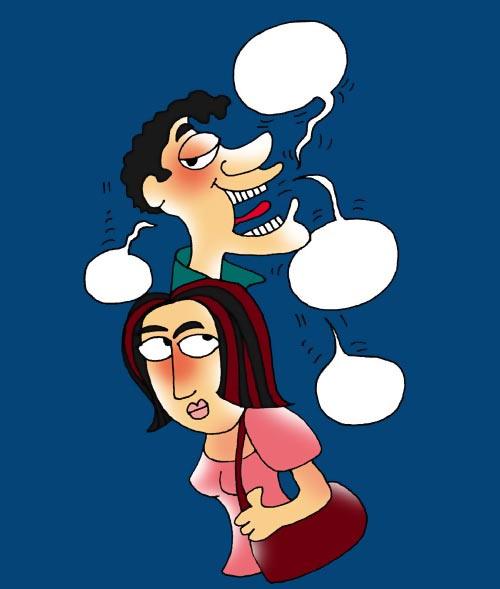 Smriti Irani, the mercurial HRD minister, has taken offence. Again. The object of her ire this time is Bihar's education minister, Ashok Choudhary, who had the audacity of addressing her as 'Dear Smriti Iraniji' in a tweet.
He was questioning her about the new education policy, but Irani chose to focus on another issue. 'Since when have you started addressing women as 'Dear' Ashokji?' she shot back. And, with that, a battle broke out between the two on Twitter. (For a name this innocuous, this little bird somehow brings out the nastiest in us.)
A day later, in a Facebook post signed 'Aunty National,' Irani gave a long-winded explanation of why that 'Dear' was offensive. She spoke of how, at every stage of her life and career -- as a successful TV personality and then as a successful politician -- she, and scores of women, are told to 'zip it' and ignore attempts to humiliate them.
While I think that Irani might have genuinely -- or deliberately -- misread the intention behind an innocuous 'dear', I understand where she is coming from.
Growing up in India, where sexism is culturally ingrained and where seemingly harmless actions and words might not be as innocent as they are guised as, we women walk around with a little red bulb in our heads.
It lights up every time we suspect something might not be as chaste as it appears to be.
But there are those rare moments -- very, very rare -- when it raises a false alarm. This appears to be one such moment.
I remember once interviewing a rather benign gentleman from Irani's Bharatiya Janata Party, who is now a minister. At the end of the interview, he signed off with an, "Okay dearrr." Ping! That little red bulb in my head promptly lit up. What did he mean by that "dearrr"?
Some months later, a colleague had the very same encounter. "Okay Dearrr," he said to her too. We exchanged notes.
After a little investigation, it emerged that that's the way the gentleman addresses everybody, woman or man. Phew! That was a relief, though I wish somebody would tell him that his "dearrr" carries a high possibility of being misconstrued.
This, in fact, is a serious problem with a lot of people. They simply don't seem to know how to address someone they engage with professionally. We women are often at the receiving end of such ignorance -- often from sexist ignoramuses.
Earlier this year, while speaking in New York at the Women in the World Summit presented by renowned journalist and author Tina Brown, PepsiCo CEO Indra Nooyi said she 'hates' being called 'sweetie' or 'honey.' What? Nooyi too? A woman that high up in the professional ladder?
I have had women, often from the world of public relations, addressing me as "Babe," "Honey" and "Darling," which is both unprofessional and presumptuous. At moments like these, I am extremely grateful for the 'block' option on my phone.
There have been other experiences too, both annoying and comical, while reporting and interviewing men, often young and middle-aged, in the towns of north India. The only time they will make a brief eye contact with me is during the initial and the final namaste. For the rest of the interaction, I might as well be a ghost voice in the room.
It's quite fascinating actually. I am asking the questions and they are replying to them, while all the time looking at the male photojournalist accompanying me. I am there, yet I am not there. I am seen, yet I am not seen.
Sometimes, I imagine that I am an invisible force and the person I am interviewing is in some kind of a trance, compelled to answer all my questions but, out of some mysterious fear, not daring to look at the source of the voice.
I am not the only woman journalist to have experienced this -- my women colleagues also speak of such exasperating-comical experiences sometimes.
I don't know what is worse -- being 'babe-d', 'honey-ed' and 'darling-ed' or being ignored, while at the same time being acknowledged. For me, I think, it is the former.
Coming back to Smriti Irani.
Yes, Minister, there is sexism and all women encounter it.
Yes, we must keep those little red bulbs alert and active.
And yes, we must soldier on.
But we must also recognise when a 'dear' -- or 'dearrr' -- carries no sinister motive.