It'll be a relief when the rightful chefs are back to claim the kitchen so the household can be restored to its old ways, says Kishore Singh.
Illustration: Uttam Ghosh/Rediff.com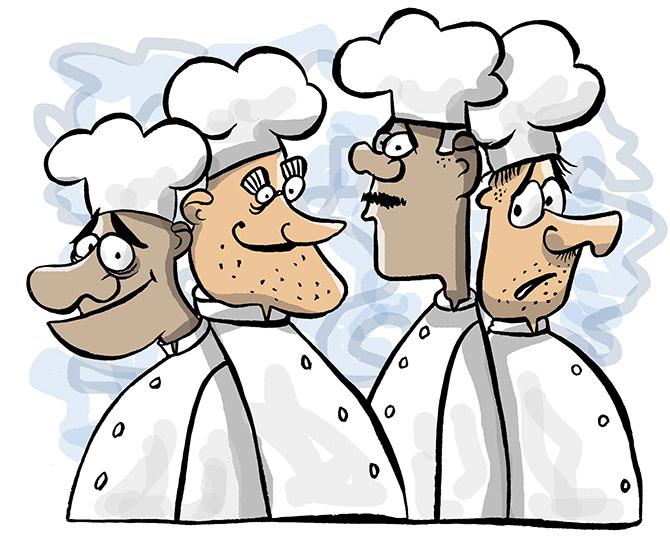 First, Cook #1 headed home to Bengaluru for a two-month break, which was okay because there was still Cook #2 to manage our meals -- and, really, how much does a family of four plus one dog eat anyway?
It meant a break from south Indian breakfasts with tangy sambhar
It was fine even when my brother, who was hosting my mother and sister, came over for a meal at which they ate like they hadn't had a proper meal in a while -- which they had not because his Permanent Cook was on leave, and the Temporary Cook had piles, so they were getting by on takeaways.
Then, our Cook #2 had a family emergency and left town, so the onus of cooking has fallen on my wife, which is not an ideal situation.
Though she means well, my wife is not, err, focussed on the task at hand.
When she's in the kitchen, the milk will boil over because she decided to do yoga in the balcony instead; she'll forget why she pulled all the stuff out of the freezer when all she wanted was some cheese; and though she might boil an egg, she'll probably have carried it to the potting shed to add to the compost bin than serve it to its intended diner, or wonder where she left the lasagna because -- strange! -- it found its way not to the table but her sari cupboard from where it was recovered a week later and proved quite inedible.
Our family likes its creature comforts, so there's always other help at home, but could they also cook?
Cleaner #1 did the sweeping and swabbing but was prone to taking time off without notice, which is why we had Cleaner #2, who was diligent, but slow, so dusting took the better part of the morning.
Having spotted an opportunity and decided to plug the vacuum, both turned up early, pre-empting a chance to earn some pin money while the rightful cooks were away.
Meanwhile, my son had asked the servant upstairs, who tends to the family downstairs, to send his wife to help him with his protein mixes and various fruity unguents prior to his departure for the gym, who became default Cook #3.
But my wife had asked Cleaner #2's husband to forfeit a contract job to temp with us, assuring him a fortnight's employment as Cook #4.
Neither, of course, knew how to cook.
Along with the driver, the presswallah and the gardener pitching in to help in the kitchen, our home became a nightmarish republic of cooks.
You'd think with so many helping hands, we'd be spoilt for choice.
But my daughter complained that someone had packed her a tiffin consisting entirely of slices of toasted bread.
I entertained a moment of deja vu when the previous night's leftovers were re-served as lunch, and the pooch was delighted that no one had remembered his gluten allergy, but the result was that he was promptly sick.
Breakfast was a chore, with various servers clashing over the menu and the laying of the table but leaving us all, in the end, unsated.
It'll be a relief when the rightful chefs are back to claim the kitchen so the household can be restored to its altogether more plebian ways.