Srinivas Bhogle and Purnendu Maji identify the Most Valuable Players of World Cup 2019.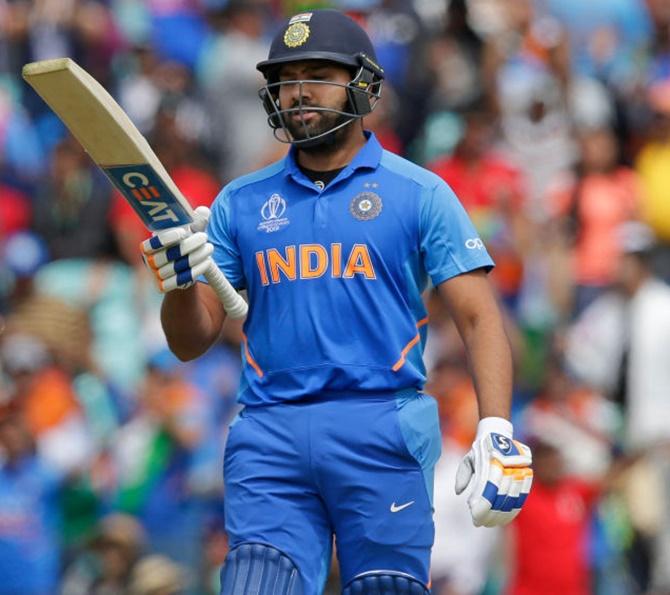 The top three players in the Most Valuable Player list of the 2019 World Cup are Rohit Sharma (MVPI: 767), Shakib Al Hasan (746) and Ben Stokes (725).
The most impactful in terms of actually winning the World Cup was Ben Stokes; when he was playing that final, he seemed to be in a completely different zone.
After the 2015 World Cup, that contained a large number of insignificant matches, the 2019 version seems better.
The semi-final line-up was decided at the very end of the league stage, and the top 60 contains players from every country.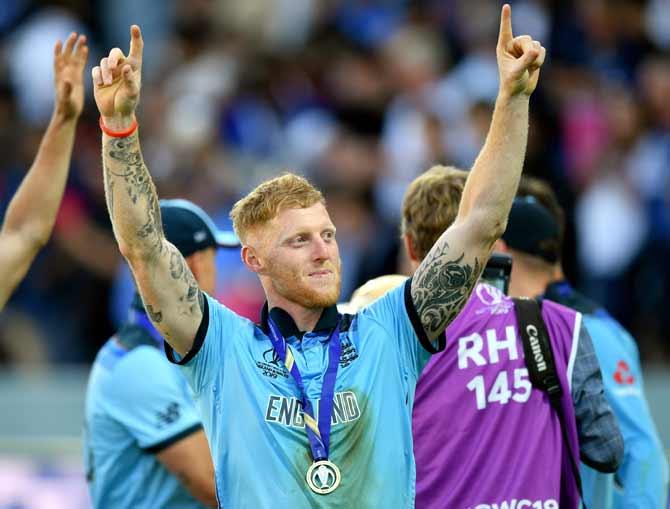 The 60 most valuable players in 2019 World Cup
| Rank | Player | Team | Runs | Top Score | Four | Six | Strike Rate | Wickets | Economy | Maidens | MVPI |
| --- | --- | --- | --- | --- | --- | --- | --- | --- | --- | --- | --- |
| 1 | Rohit Sharma | IND | 648 | 140 | 66 | 10 | 98.3 | 0 | - | 9 | 767 |
| 2 | Shakib Al Hasan | BAN | 482 | 121 | 44 | 2 | 90.6 | 9 | 5.2 | 7 | 746 |
| 3 | Ben Stokes | ENG | 465 | 89 | 38 | 11 | 93.2 | 7 | 4.8 | 11 | 725 |
| 4 | Mitchell Starc | AUS | 68 | 29 | 3 | 2 | 89.5 | 27 | 5.4 | 10 | 722 |
| 5 | Joe Root | ENG | 556 | 107 | 48 | 2 | 89.5 | 2 | 5.5 | 11 | 710 |
| 6 | David Warner | AUS | 647 | 166 | 66 | 8 | 89.4 | 0 | - | 10 | 706 |
| 7 | Aaron Finch | AUS | 507 | 153 | 47 | 18 | 102 | 1 | 6.7 | 10 | 670 |
| 8 | Jonny Bairstow | ENG | 532 | 111 | 67 | 11 | 92.8 | 0 | - | 11 | 642 |
| 9 | James Neesham | NZ | 232 | 97 | 16 | 5 | 78.9 | 15 | 5.4 | 10 | 607 |
| 10 | Kane Williamson | NZ | 578 | 148 | 50 | 3 | 75 | 2 | 4.3 | 10 | 605 |
| 11 | Jason Roy | ENG | 443 | 153 | 51 | 12 | 115.4 | 0 | - | 8 | 571 |
| 12 | Alex Carey | AUS | 375 | 85 | 46 | 2 | 104.2 | 0 | - | 10 | 563 |
| 13 | Chris Woakes | ENG | 134 | 40 | 9 | 3 | 89.9 | 16 | 5.2 | 11 | 563 |
| 14 | Jofra Archer | ENG | 13 | 7 | 1 | 0 | 59.1 | 20 | 4.6 | 11 | 561 |
| 15 | Lockie Ferguson | NZ | 4 | 4 | 1 | 0 | 66.7 | 21 | 4.9 | 9 | 547 |
| 16 | Jos Buttler | ENG | 312 | 103 | 22 | 8 | 122.8 | 0 | - | 11 | 527 |
| 17 | Virat Kohli | IND | 443 | 82 | 38 | 2 | 94.1 | 0 | - | 9 | 524 |
| 18 | Babar Azam | PAK | 474 | 101 | 50 | 2 | 87.8 | 0 | - | 8 | 523 |
| 19 | Hardik Pandya | IND | 226 | 48 | 21 | 4 | 112.4 | 10 | 5.7 | 9 | 510 |
| 20 | Trent Boult | NZ | 10 | 4 | 1 | 0 | 52.6 | 17 | 4.8 | 10 | 505 |
| 21 | JaspritBumrah | IND | 1 | 1 | 0 | 0 | 100 | 18 | 4.4 | 9 | 505 |
| 22 | Eoin Morgan | ENG | 371 | 148 | 26 | 22 | 111.1 | 0 | - | 11 | 496 |
| 23 | Mushfiqur Rahim | BAN | 366 | 102 | 30 | 3 | 93.6 | 0 | - | 7 | 484 |
| 24 | Mark Wood | ENG | 11 | 10 | 2 | 0 | 91.7 | 18 | 5.2 | 10 | 472 |
| 25 | Mohammad Amir | PAK | 11 | 8 | 1 | 0 | 78.6 | 17 | 4.9 | 8 | 465 |
| 26 | Faf du Plessis | SA | 387 | 100 | 36 | 4 | 89.6 | 0 | - | 9 | 464 |
| 27 | Pat Cummins | AUS | 51 | 23 | 3 | 0 | 75 | 14 | 5 | 10 | 432 |
| 28 | Steven Smith | AUS | 379 | 85 | 33 | 2 | 85.9 | 1 | 8 | 10 | 431 |
| 29 | Colin de Grandhomme | NZ | 190 | 64 | 16 | 4 | 100.5 | 6 | 4.2 | 10 | 431 |
| 30 | Chris Morris | SA | 74 | 42 | 4 | 3 | 121.3 | 13 | 5.4 | 8 | 415 |
| 31 | Nicholas Pooran | WI | 342 | 118 | 31 | 9 | 101.8 | 0 | - | 8 | 409 |
| 32 | Shaheen Afridi | PAK | 1 | 1 | 0 | 0 | 16.7 | 16 | 5 | 5 | 399 |
| 33 | Matt Henry | NZ | 18 | 7 | 2 | 0 | 72 | 14 | 4.9 | 9 | 390 |
| 34 | Andile Phehlukwayo | SA | 133 | 46 | 16 | 2 | 85.3 | 11 | 5.4 | 9 | 389 |
| 35 | Liam Plunkett | ENG | 62 | 27 | 7 | 1 | 151.2 | 11 | 4.9 | 7 | 378 |
| 36 | KusalPerera | SL | 273 | 78 | 32 | 1 | 111 | 0 | - | 7 | 376 |
| 37 | Quinton de Kock | SA | 305 | 68 | 34 | 4 | 86.9 | 0 | - | 9 | 375 |
| 38 | Mohammad Nabi | AFG | 107 | 52 | 5 | 2 | 64.1 | 10 | 4.7 | 9 | 368 |
| 39 | Jason Holder | WI | 137 | 51 | 12 | 6 | 97.2 | 8 | 5.4 | 8 | 366 |
| 40 | Sheldon Cottrell | WI | 33 | 15 | 3 | 1 | 70.2 | 12 | 5.7 | 8 | 362 |
| 41 | Usman Khawaja | AUS | 316 | 89 | 30 | 1 | 88.3 | 0 | - | 9 | 359 |
| 42 | Kagiso Rabada | SA | 58 | 31 | 4 | 2 | 82.9 | 11 | 5.1 | 9 | 353 |
| 43 | Rassie van der Dussen | SA | 311 | 95 | 14 | 10 | 90.4 | 0 | - | 9 | 350 |
| 44 | Wahab Riaz | PAK | 88 | 45 | 5 | 6 | 127.5 | 11 | 6 | 8 | 347 |
| 45 | Mohammed Shami | IND | 2 | 1 | 0 | 0 | 33.3 | 14 | 5.5 | 4 | 347 |
| 46 | Chris Gayle | WI | 242 | 87 | 26 | 12 | 92.7 | 2 | 4.5 | 8 | 339 |
| 47 | Carlos Brathwaite | WI | 154 | 101 | 13 | 8 | 106.2 | 9 | 7.3 | 8 | 339 |
| 48 | KL Rahul | IND | 361 | 111 | 31 | 5 | 77.5 | 0 | - | 9 | 339 |
| 49 | MS Dhoni | IND | 273 | 56 | 20 | 5 | 87.8 | 0 | - | 9 | 337 |
| 50 | Gulbadin Naib | AFG | 194 | 47 | 20 | 2 | 79.8 | 9 | 6.4 | 9 | 336 |
| 51 | MustafizurRahaman | BAN | 1 | 1 | 0 | 0 | 14.3 | 17 | 6.7 | 7 | 330 |
| 52 | Mohammad Hafeez | PAK | 253 | 84 | 22 | 5 | 88.8 | 2 | 5.9 | 8 | 315 |
| 53 | Ross Taylor | NZ | 350 | 82 | 29 | 2 | 75.3 | 0 | - | 10 | 313 |
| 54 | Adil Rashid | ENG | 45 | 25 | 4 | 1 | 118.4 | 11 | 5.7 | 11 | 302 |
| 55 | Imran Tahir | SA | 11 | 10 | 0 | 0 | 68.8 | 11 | 4.9 | 9 | 300 |
| 56 | Martin Guptill | NZ | 186 | 73 | 22 | 4 | 84.2 | 0 | - | 10 | 290 |
| 57 | Imam-Ul-Haq | PAK | 305 | 100 | 31 | 1 | 76.3 | 0 | - | 8 | 287 |
| 58 | Imad Wasim | PAK | 162 | 49 | 20 | 1 | 118.2 | 2 | 4.8 | 6 | 272 |
| 59 | Najibullah Zadran | AFG | 230 | 51 | 25 | 4 | 88.8 | 0 | - | 8 | 267 |
| 60 | Soumya Sarkar | BAN | 137 | 42 | 22 | 0 | 97.2 | 4 | 6.5 | 7 | 266 |