Srinivas Bhogle and Purnendu Maji identify the 60 Most Valuable Players in the IPL so far.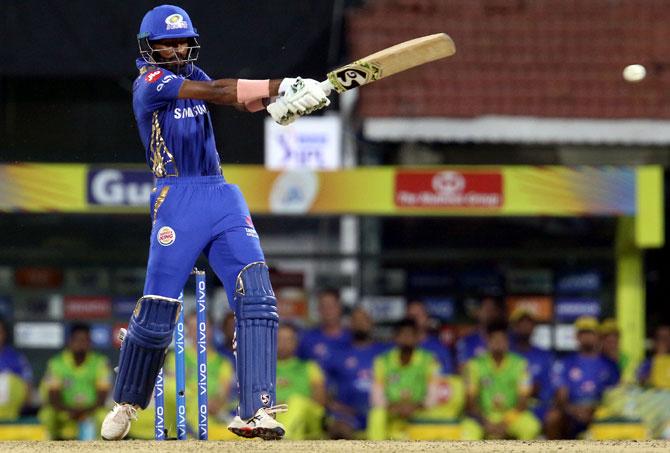 Among the top six in the MVPI list after the league stage, only Hardik Pandya is still in play and will get to play two, or perhaps three, more games.
Pandya has an MVPI average of 51 per game and is 122 MVP points behind Andre Russell who is now out of the IPL.
Hardik has about an even chance to be this year's most valuable player at the IPL.
Recall that the Most Valuable Player Index (MVPI) tries to encapsulate the cricketers's performances in terms of a 'run equivalent'.
The table below gives the MVPI details, and all the other key IPL performance variables.
Table: Best performing players so far at IPL 12 (after Match 56 ending May 5, 2019)
Rank
Player's Name
Team
From
Run
Top Score
4s
6s
Strike Rate
Wickets
Economy
Games
MVPI
PVI(US

$

)
1
Andre Russell
KKR
WI
510
80
31
52
205
11
9.5
14
834
1456
2
David Warner
SRH
AUS
692
100
57
21
144
0
-
12
751
2378
3
Hardik Pandya
MI
IND
373
91
26
28
197
14
9.5
14
712
2207
4
KL Rahul
KXI
IND
593
100
49
25
135
0
-
14
638
2463
5
Jonny Bairstow
SRH
ENG
445
114
48
18
157
0
-
10
573
548
6
Chris Gayle
KXI
WI
490
99
45
34
154
0
-
13
555
515
7
Rishabh Pant
DC
IND
401
78
33
21
155
0
-
14
554
3868
8
Quinton de Kock
MI
SA
492
81
43
21
133
0
-
14
552
725
9
Shikhar Dhawan
DC
IND
486
97
58
11
137
0
-
14
544
1366
10
AB de Villiers
RCB
SA
442
82
31
26
154
0
-
13
525
2993
11
Virat Kohli
RCB
IND
464
100
46
13
142
0
-
14
519
4679
12
Kagiso Rabada
DC
WI
14
9
0
1
93.3
25
7.8
12
493
145
13
MS Dhoni
CSK
IND
368
84
21
20
140
0
-
12
453
4730
14
Shreyas Iyer
DC
IND
442
67
39
14
124
0
-
14
451
2217
15
Parthiv Patel
RCB
IND
373
67
48
10
139
0
-
14
445
546
16
Shreyas Gopal
RR
IND
63
19
8
1
137
20
7.2
14
442
65
17
Imran Tahir
CSK
SA
0
0
0
0
-
21
6.5
14
432
331
18
Ajinkya Rahane
RR
IND
393
105
45
9
138
0
-
14
430
1329
19
Nitish Rana
KKR
IND
344
85
27
21
146
3
9
14
427
1138
20
Chris Lynn
KKR
AUS
405
82
41
22
140
0
-
13
427
3212
21
Rohit Sharma
MI
IND
386
67
50
9
129
0
-
13
405
5291
22
Ravindra Jadeja
CSK
IND
101
31
7
4
122
13
6.4
13
405
2469
23
Moeen Ali
RCB
ENG
220
66
16
17
165
6
6.8
11
402
604
24
Sanju Samson
RR
IND
342
102
28
13
149
0
-
12
397
2879
25
R Ashwin
KXI
IND
42
17
3
3
150
15
7.3
14
391
2777
26
Rashid Khan
SRH
AFG
34
17
2
2
155
15
6.5
14
389
3305
27
Mayank Agarwal
KXI
IND
332
58
26
14
142
0
-
13
388
368
28
Jos Buttler
RR
ENG
311
89
38
14
152
0
-
8
381
1650
29
Krunal Pandya
MI
IND
176
42
18
5
124
10
7.1
14
380
3308
30
Suryakumar Yadav
MI
IND
338
59
34
10
134
0
-
14
375
1219
31
Suresh Raina
CSK
IND
359
59
44
9
128
0
6
14
375
4190
32
Jasprit Bumrah
MI
IND
0
0
0
0
0
17
6.8
14
360
2778
33
Manish Pandey
SRH
IND
314
83
31
6
138
0
-
11
353
4452
34
Sunil Narine
KKR
WI
143
47
17
9
166
10
7.8
12
347
5146
35
Jofra Archer
RR
WI
67
27
4
4
168
11
6.8
11
338
3043
36
Axar Patel
DC
IND
107
26
10
3
135
9
7
12
324
2205
37
Faf du Plessis
CSK
SA
314
96
25
13
122
0
-
9
324
705
38
Kieron Pollard
MI
WI
238
83
11
19
156
0
-
14
320
2411
39
Prithvi Shaw
DC
IND
292
99
38
7
133
0
-
14
315
544
40
Dinesh Karthik
KKR
IND
253
97
22
14
146
0
-
14
311
3399
41
Shubman Gill
KKR
IND
296
76
21
10
124
0
-
14
303
849
42
Yuzvendra Chahal
RCB
IND
6
4
0
0
37.5
18
7.8
14
299
2867
43
Mohammed Shami
KXI
IND
1
1
0
0
50
19
8.7
14
294
2332
44
Deepak Chahar
CSK
IND
7
7
1
0
77.8
16
7.5
14
292
391
45
Mohammad Nabi
SRH
AFG
95
31
5
6
151
8
6.6
7
286
500
46
Steven Smith
RR
WI
319
73
30
4
116
0
-
12
283
6310
47
Shane Watson
CSK
AUS
258
96
29
12
124
0
-
14
275
2078
48
Vijay Shankar
SRH
IND
219
40
9
10
120
1
8.8
14
269
1699
49
Khaleel Ahmed
SRH
IND
0
0
0
0
0
17
8.2
8
264
1623
50
Robin Uthappa
KKR
IND
282
67
28
10
115
0
-
12
261
3503
51
Harbhajan Singh
CSK
IND
1
1
0
0
33.3
13
7.2
8
257
1112
52
Marcus Stoinis
RCB
AUS
211
46
14
10
135
2
8.7
10
242
3660
53
Sam Curran
KXI
ENG
95
55
13
3
173
10
9.8
9
242
4250
54
David Miller
KXI
SA
213
59
19
7
130
0
-
10
235
1824
55
Bhuvneshwar Kumar
SRH
IND
12
7
1
0
63.2
11
7.6
14
220
5519
56
Rahul Chahar
MI
IND
12
10
2
0
133
10
7.2
11
216
1257
57
Dwayne Bravo
CSK
WI
65
27
6
2
130
9
8.4
9
206
4438
58
Nicholas Pooran
KXI
WI
168
48
9
14
157
0
-
7
205
2927
59
Sandeep Sharma
SRH
IND
6
5
1
0
200
12
8.3
11
197
2175
60
Chris Morris
DC
SA
32
17
1
2
86.5
13
9.3
9
197
7977