Even in a country where Cricket and Bollywood have always been a potent mix, Virat Kohli and Anushka Sharma's fairytale romance is special.
Here's looking back at the rollercoaster ride involving two of India's A-listers.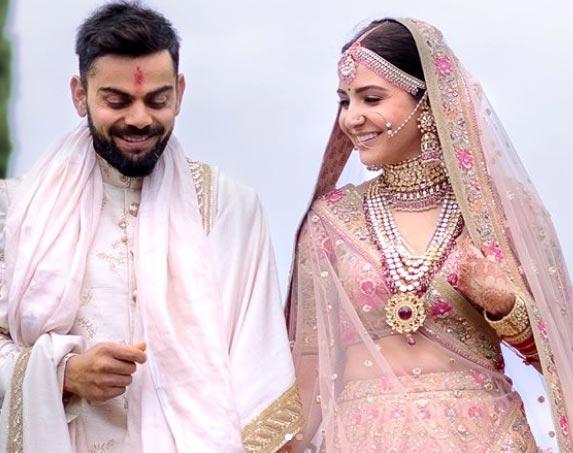 IMAGE: Virat Kohli and Anushka Sharma at their wedding in Tuscany, Italy, December 11, 2017. Photograph: Kind courtesy sabyasachiofficial/Instagram
The most awaited marriage of 2017 took place at a Tuscan villa in Italy, far from the prying camera of desi paps.
Bollywood star Anushka Sharma and India's cricket Captain Virat Kohli tied the knot on Monday in an elegant ceremony attended by their families and close friends.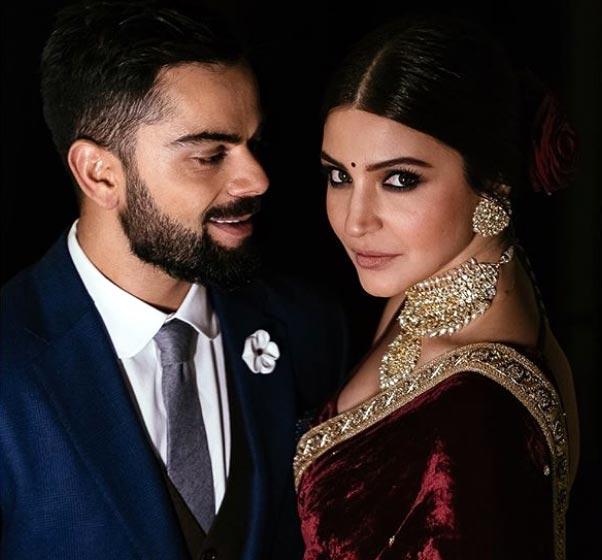 IMAGE: Virat and Anushka first met when they were cast in an advertising campaign four years ago. Photograph: Kind courtesy sabyasachiofficial/Instagram
Anushka and Virat first met when they were cast for a shampoo commercial in 2013.
The cherub with the bow and arrow did his number and before long the nation heard that the then plumpish, aggro, batsman and the plain speaking actress almost from another time were hooked. Ironic that verb, since Virat doesn't play the hook much.
Pictures from their holiday in New Zealand in 2014 appeared online and V&A -- not Virushka yet -- made it kind of semi-official attending events together and visiting each other at work.
Anushka was often seen cheering the superstar-on-the-ascendant from the VIP gallery at India games and IPL matches.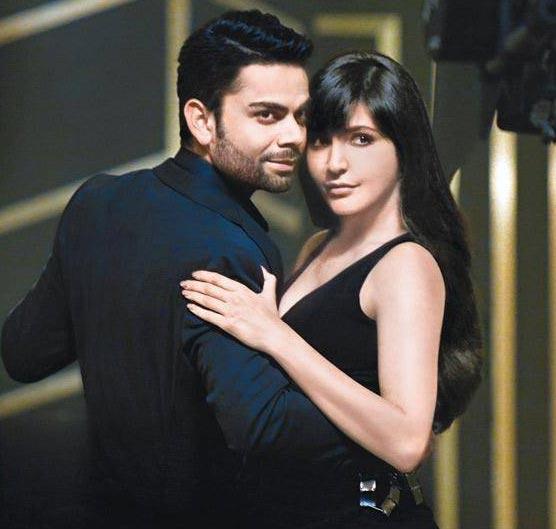 'Jo hai sabke saamne hai (Whatever is there is in front of everyone). We are not hiding anything, we are not trying to hide anything; I don't want to hide anything,' Virat declared at a 2014 event.
'But if you keep asking about the same thing again and again, and it becomes a matter of debate, then it does not feel right for both the individuals concerned,' Virat added, the first time he had spoken about his relationship.
'Even if you are seen together and you are asked to confirm (the relationship) I think it is a commonsense thing. Obviously, if you know, then why ask the same question?' Virat -- who is nicknamed 'Chikoo' (you can hear MS often call him that on the field; not that the younger players would dare -- for them he is 'Virupaaji') wanted to know.
'There is basic logic behind it. It is not something that is wrong apparently what we are doing. There is nothing to hide. We would not like to personally speak about it because it is something very personal for us and that should be respected by the media and everyone else as well,' he stressed.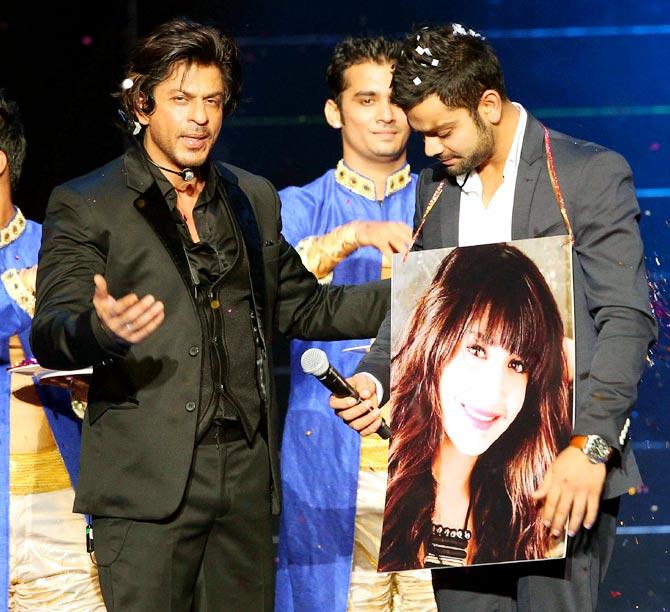 Earlier that year, Shah Rukh Khan had made Kohli spill the beans as the Badshah of Bollywood sort of tricked the cricketer into revealing the name of his Lady Love.
SRK conducted a mock Swayamwar wherein Virat was asked to select his potential bride at the Pepsi Indian Premier League gala dinner at the Emirates Palace hotel in Abu Dhabi in April 2014.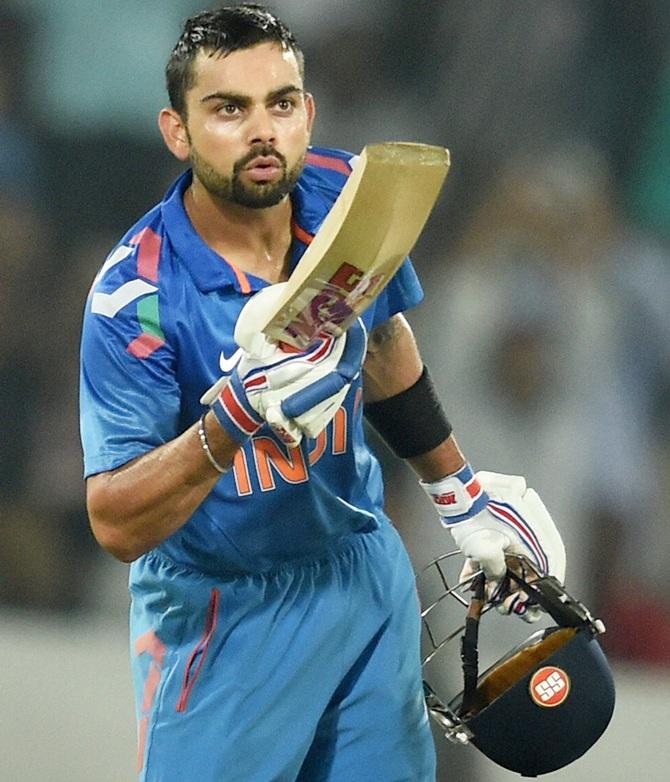 Virat made it all very public soon when he took off his helmet, kissed it and blew a kiss Anushka's way.
That very public show of affection occurred after Virat guided India to a six wicket victory against Sri Lanka in Hyderabad.
It was a strong statement from the couple since Anushka had so unfairly been blamed for Virat's poor batting on the English tour. The media and fans pounced on Anushka after she was seen in Virat's company on the tour.
Virat then took time off from preparing for the crucial World Cup quarter-final against Bangladesh to watch NH10, the first film Anushka produced.
'Just watched #NH10 and i am blown away. What a brilliant film and specially an outstanding performance by my love @AnushkaSharma. SO PROUD,' Virat tweeted.
As their relationship grew stronger, Anushka became a regular spectator at cricket games. Sadly, each time Virat failed to scintillate crowds, despicable trolls denounced her on social media.
The BCCI then strangely got into the act in May 2015, serving Virat notice for violating the Board's anti-corruption code. of course, not because Virat was involved in any dubious activity, but because...
during a rain-break in a Royal Challengers Bangalore-Delhi Daredevils game, Virat was seen chatting away with Anushka who was seated in the VIP box located next to the RCB dressing room at the M Chinnaswamy Stadium in Bengaluru.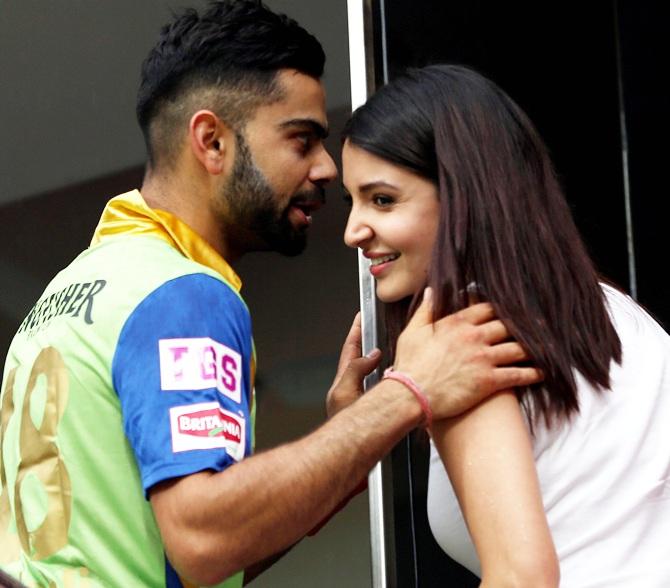 But storm clouds soon descended in paradise.
In February 2016, reports emerged that Anushka andf Virat were ending their relationship.
Virat 'unfollowed' Anushka on Instagram. Unfollowing someone you don't appear to like anymore seems to be Chikoo's tell-tale signature line. When he fell out with coach Anil Kumble earlier this year, Virat -- now India's captain -- 'unfollowed' Kumble on Twitter.
Happily, the rift with Anushka didn't last long.
A month later, after his match-winning knock against Australia in the World T20 in Mohali, Virat rushed to Anushka's defence after she had been lampooned on social media following the break-up.
'Shame on people for trolling @AnushkaSharma non-stop. Have some compassion. She has always only given me positivity,' an angry Kohli tweeted.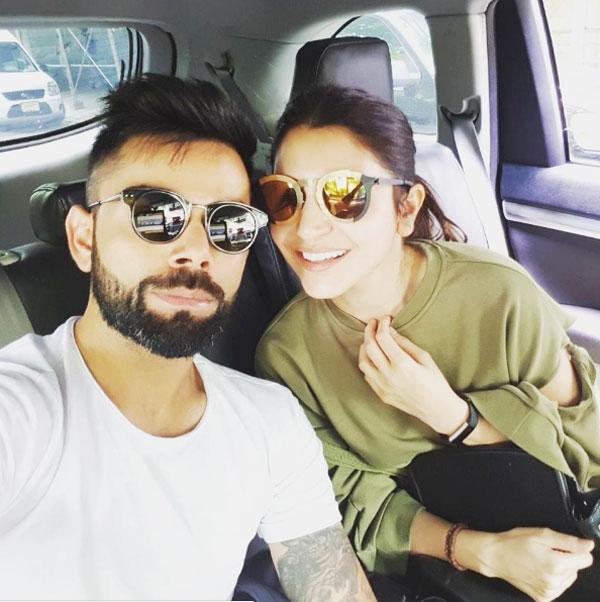 That gesture clearly melted Anushka's famous reserve and soon they were back to where they had left off, meeting up regularly, indicating that this time it was for keeps.
The trolls and the media didn't know what to make of it after V&A were seen dining at a Mumbai restaurant in April 2016.
Especially after Virat was spotted wearing a tee that said, 'We were on a break!' Underneath it was a portrait of Captain America and Wonder Woman. Marvel-ous eh?! :)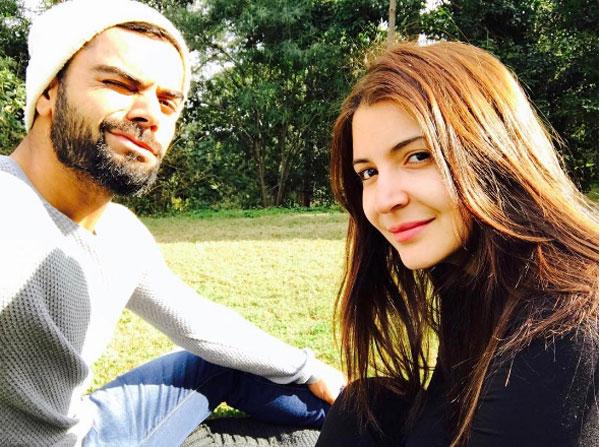 This Valentine's Day, Virat declared his love bindaas!
Posting a picture of the couple on Instagram, Chikoo wrote a heart-melting post that made the nation go all 'awww'!
'Everyday is a valentine day if you want it to be. You make everyday seem like one for me ♥♥. @anushkasharma,' Virat noted.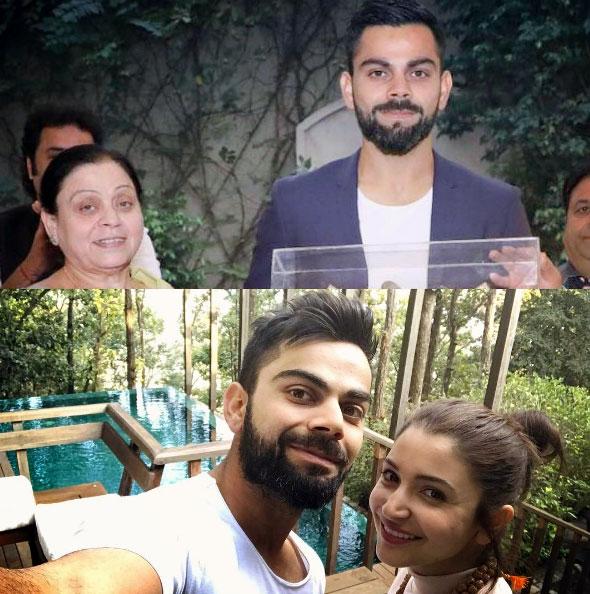 On Women's Day, March 8, the skipper hailed his mum Saroj Kohli and Anushka for being the two 'strongest' ladies in his life.
Posting a collage of images on Instagram featuring him along with Saroj and Anushka, Chikoo declared: 'Happy women's day to every woman out there, but specially to the two strongest women in my life.'
'...My mom for looking after the family in toughest times in life and @anushkasharma for fighting against the odds regularly and standing up for righteousness and changing the norms. #happywomenday.'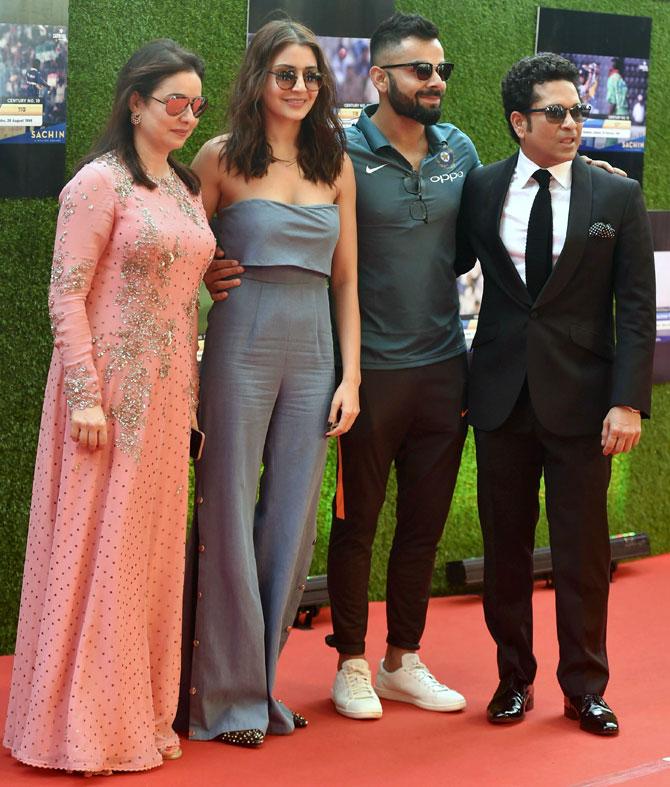 'Virushka' -- as they were now dubbed -- looked pleased as Ravi Shastri after Virat scores a century at the premiere of Sachin: A Billion Dreams in May, spending time in Mumbai before the Indian team left for the ICC Champions Trophy.
In London, they watched Wimbledon together -- where Virat was surely applauded by a respectful crowd while Anushka may have been pursued by all the desis in attendance -- and danced the night away at that city's flashy night clubs.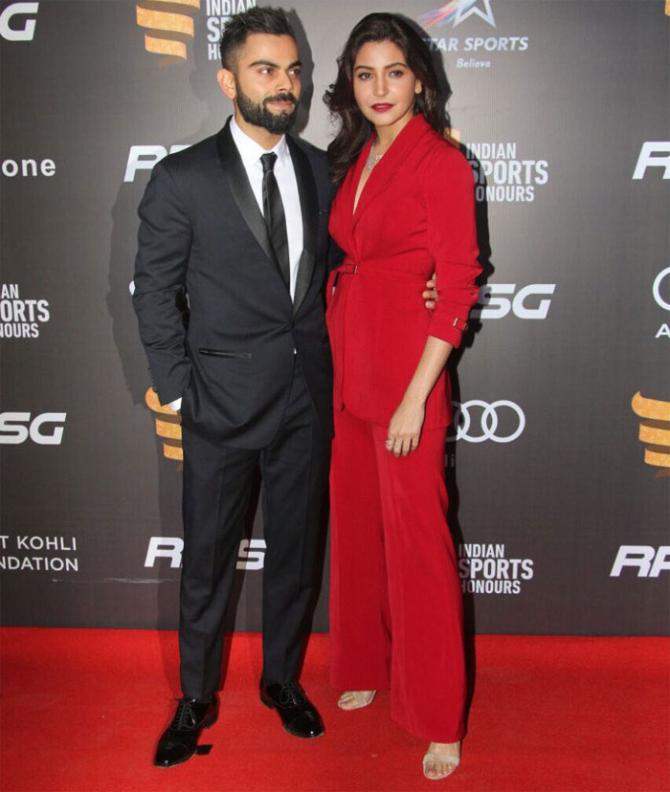 When they walked hand in hand on the red carpet of the Indian Sports Honours event in Mumbai last month, Virushka stole the show.
Virat looked dapper in a navy-blue suit while Anushka wore a rose-red pantsuit with a thin diamond necklace (a gift from Chikoo?)
The famously shy Anushka even shook a leg with Chikoo at his former team-mate Zaheer Khan's wedding reception. Zaks' wife is an actress too -- Sagarika Ghatge, well known from the hockey epic Chak De India!.
When Virat informed the BCCI in October that he wanted to skip the ODI and T20 leg of the home series against Sri Lanka, it was clear that nuptials were at hand.
After an amazing Test series -- how we love Chikoo for being such a sterling ambassador for Test cricket! -- where he scored a century and back to back double hundreds -- breaking one record after another -- the captain zoomed off to lovely Tuscany and a match of a lifetime.