Rajneesh Gupta gives us all the numbers and tells us how Virat Kohli creates record after record.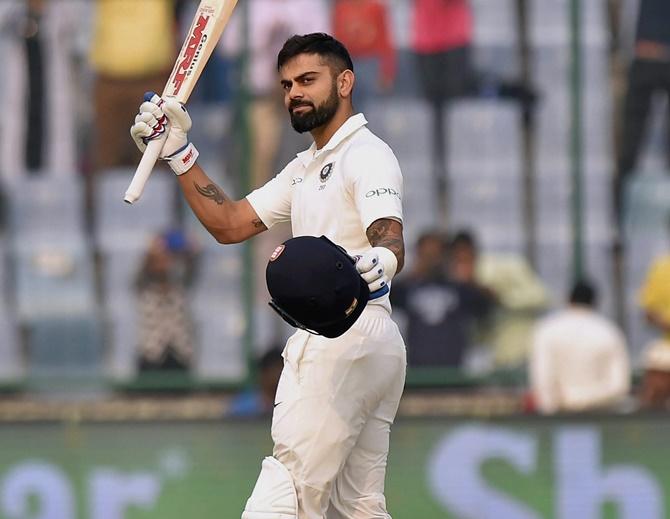 IMAGE: Virat Kohli acknowledges the cheers at the Feroz Shah Kotla after scoring a century, December 2, 2017. Photograph: Atul Yadav/PTI
Virat Kohli ended day one of the Delhi Test with an unbeaten 156 -- his third hundred on the trot.
Virat scored 104* in the second innings of the Kolkata Test after getting out for a duck in the first innings.
He then scored 213 in India's only innings in the Nagpur Test.
Virat is the first captain ever to score three consecutive centuries on TWO occasions.
Virat started his captaincy stint with three consecutive centuries versus Australia.
The record of most consecutive centuries as a captain is held by South Africa's Alan Melville who scored four in a row versus England between 1938-1939 and 1947.
Hundreds in most consecutive innings as captain
Batsman
Score
Vs
Venue
Season
Season Four
Alan Melville
103
England
Durban
1938-1939
189 + 104*
England
Nottingham
1947
117
England
Lord's
1947
Season Three
Don Bradman
132 + 127*
India
Melbourne
1947-1948
201
India
Adelaide
1947-1948
Graham Gooch
333 + 123
India
Lord's
1990
116
India
Manchester
1990
Mahela Jayawardene
195
England
Colombo SSC
2007-2008
213*
England
Galle
2007-2008
136
West Indies
Providence
2007-2008
Kumar Sangakkara
137
India
Mumbai
2009-2010
103
India
Galle
2010
219
India
Colombo SSC
2010
Misbah-ul Haq
101 + 101*
Australia
Abu Dhabi
2014-2015
102*
New Zealand
Abu Dhabi
2014-2015
Virat Kohli (Ind)
115 + 141
Australia
Adelaide
2014-2015
147
Australia
Sydney
2014-2015
Virat Kohli
104*
Sri Lanka
Kolkata
2017-2018
213
Sri Lanka
Nagpur
2017-2018
156*
Sri Lanka
Delhi
2017-2018
Other major records Virat broke on Saturday:
On 25, Virat completed his 5,000 runs in Test cricket. He became the 11th Indian batsman to score 5,000 runs in Test cricket.
By taking just 105 innings, Virat became the fourth quickest among Indians to accomplish this feat after Sunil Gavaskar (95), Virender Sehwag (99) and Sachin Tendulkar (103).
On 39, Virat completed 16,000 runs in international cricket. He is the quickest to reach this mark taking only 350 innings.
Hashim Amla held the record previously, taking 363 innings to do so.
On 50, Virat scored the fastest fifty of his Test career (off 52 balls). He had taken 53 balls to score his fifty against the West Indies at Mumbai in 2013.
On 100, Virat became the first captain to score a hundred in each game of a three Test series.
On 100, Virat became the first captain to score three consecutive centuries on TWO occasions.
He had started his Test captaincy stint with three consecutive centuries (115, 141 and 147 versus Australia in 2014-2015.
It took Virat only 110 balls to reach his hundred -- his fastest ever.
Virat had taken 119 balls at the Eden Gardens to reach his hundred in the first Test of this series.
The hundred is Virat's 20th in Test cricket in 105 innings.
He is the second quickest among the Indians and the fifth quickest overall to score 20 hundreds.
Only Don Bradman (55), Sunil Gavaskar (93), Matthew Hayden (95) and Steven Smith (99) have scored 20 hundreds in fewer innings than Virat.
The hundred is Virat's 52nd in international cricket. He is now 48 short of Sachin Tendulkar's world record of 100 international hundreds.
On 102, Virat established a new record of most runs by an Indian batsman in international cricket in a single calendar year, surpassing Rahul Dravid's 2,626 runs in 53 matches in 1999.
At the close of play on day one, Virat has 2,681 runs from 46 games in 2017.
Virat ended the day with 156 runs -- the most ever scored by an Indian captain on the first day of a Test.
Interestingly, the previous record was also held by Virat when he scored 151 on the opening day of the Vizag Test against England in 2016.