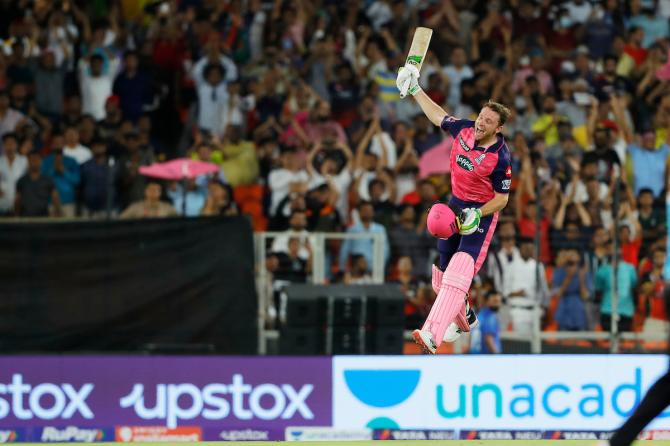 Rajasthan Royals and Gujarat Titans will clash in the final of Indian Premier League 2022 in Ahmedabad on Sunday, May 29.
The Royals sealed a place in the summit clash after Jos Buttler's blistering hundred earned them a seven-wicket victory over Royal Challengers Bangalore in Qualifier 2, in Ahmedabad, on Friday.
Buttler, this season's leading IPL scorer, smashed 106 not out off 60 balls as 2008 champions Rajasthan romped home with 11 balls to spare.
Gujarat Titans made the final after a seven-wicket win over Rajasthan Royals in Qualifier 1.
Check out the IPL 2022 Schedule:
No.
Date
Match
Time (IST)
Venue
QUALIFIER 1
May-24
Gujarat Titans vs Rajasthan Royals
7:30 PM
Eden Gardens
ELIMINATOR
May-25
Lucknow Super Giants vs Royal Challengers Bangalore
7:30 PM
Eden Gardens
QUALIFIER 2
May-27
Rajasthan Royals vs Royal Challengers Bangalore
7:30 PM
Ahmedabad
FINAL
May-29
Gujarat Titans vs Rajasthan Royals
7:30 PM
Ahmedabad
1
Mar-26
Chennai Super Kings vs Kolkata Knight Riders
7:30 PM
Wankhede Stadium
2
Mar-27
Delhi Capitals vs Mumbai Indians
3:30 PM
Brabourne – CCI
3
Mar-27
Punjab Kings vs Royal Challengers Bangalore
7:30 PM
DY Patil Stadium
4
Mar-28
Gujarat Titans vs Lucknow Super Giants
7:30 PM
Wankhede Stadium
5
Mar-29
SunRisers Hyderabad vs Rajasthan Royals
7:30 PM
MCA Stadium, Pune
6
Mar-30
Royal Challengers Bangalore vs Kolkata Knight Riders
7:30 PM
DY Patil Stadium
7
Mar-31
Lucknow Super Giants vs Chennai Super Kings
7:30 PM
Brabourne – CCI
8
Apr-1
Kolkata Knight Riders vs Punjab Kings
7:30 PM
Wankhede Stadium
9
Apr-2
Mumbai Indians vs Rajasthan Royals
3:30 PM
DY Patil Stadium
10
Apr-2
Gujarat Titans vs Delhi Capitals
7:30 PM
MCA Stadium, Pune
11
Apr-3
Chennai Super Kings vs Punjab Kings
7:30 PM
Brabourne – CCI
12
Apr-4
SunRisers Hyderabad vs Lucknow Super Giants
7:30 PM
DY Patil Stadium
13
Apr-5
Rajasthan Royals vs Royal Challengers Bangalore
7:30 PM
Wankhede Stadium
14
Apr-6
Kolkata Knight Riders vs Mumbai Indians
7:30 PM
MCA Stadium, Pune
15
Apr-7
Lucknow Super Giants vs Delhi Capitals
7:30 PM
DY Patil Stadium
16
Apr-8
Punjab Kings vs Gujarat Titans
7:30 PM
Brabourne – CCI
17
Apr-9
Chennai Super Kings vs SunRisers Hyderabad
3:30 PM
DY Patil Stadium
18
Apr-9
Royal Challengers Bangalore vs Mumbai Indians
7:30 PM
MCA Stadium, Pune
19
Apr-10
Kolkata Knight Riders vs Delhi Capitals
3:30 PM
Brabourne – CCI
20
Apr-10
Rajasthan Royals vs Lucknow Super Giants
7:30 PM
Wankhede Stadium
21
Apr-11
SunRisers Hyderabad vs Gujarat Titans
7:30 PM
DY Patil Stadium
22
Apr-12
Chennai Super Kings vs Royal Challengers Bangalore
7:30 PM
DY Patil Stadium
23
Apr-13
Mumbai Indians vs Punjab Kings
7:30 PM
MCA Stadium, Pune
24
Apr-14
Rajasthan Royals vs Gujarat Titans
7:30 PM
DY Patil Stadium
25
Apr-15
SunRisers Hyderabad vs Kolkata Knight Riders
7:30 PM
Brabourne – CCI
26
Apr-16
Mumbai Indians vs Lucknow Super Giants
3:30 PM
Brabourne – CCI
27
Apr-16
Delhi Capitals vs Royal Challengers Bangalore
7:30 PM
Wankhede Stadium
28
Apr-17
Punjab Kings vs SunRisers Hyderabad
3:30 PM
Brabourne – CCI
29
Apr-17
Gujarat Titans vs Chennai Super Kings
7:30 PM
MCA Stadium, Pune
30
Apr-18
Rajasthan Royals vs Kolkata Knight Riders
7:30 PM
Brabourne – CCI
31
Apr-19
Lucknow Super Giants vs Royal Challengers Bangalore
7:30 PM
DY Patil Stadium
32
Apr-20
Delhi Capitals vs Punjab Kings
7:30 PM
MCA Stadium, Pune
33
Apr-21
Mumbai Indians vs Chennai Super Kings
7:30 PM
DY Patil Stadium
34
Apr-22
Delhi Capitals vs Rajasthan Royals
7:30 PM
MCA Stadium, Pune
35
Apr-23
Kolkata Knight Riders vs Gujarat Titans
3:30 PM
DY Patil Stadium
36
Apr-23
Royal Challengers Bangalore vs SunRisers Hyderabad
7:30 PM
Brabourne – CCI
37
Apr-24
Lucknow Super Giants vs Mumbai Indians
7:30 PM
Wankhede Stadium
38
Apr-25
Punjab Kings vs Chennai Super Kings
7:30 PM
Wankhede Stadium
39
Apr-26
Royal Challengers Bangalore vs Rajasthan Royals
7:30 PM
MCA Stadium, Pune
40
Apr-27
Gujarat Titans vs SunRisers Hyderabad
7:30 PM
Wankhede Stadium
41
Apr-28
Delhi Capitals vs Kolkata Knight Riders
7:30 PM
Wankhede Stadium
42
Apr-29
Punjab Kings vs Lucknow Super Giants
7:30 PM
MCA Stadium, Pune
43
Apr-30
Gujarat Titans vs Royal Challengers Bangalore
3:30 PM
Brabourne – CCI
44
Apr-30
Rajasthan Royals vs Mumbai Indians
7:30 PM
DY Patil Stadium
45
May-1
Delhi Capitals vs Lucknow Super Giants
3:30 PM
Wankhede Stadium
46
May-1
SunRisers Hyderabad vs Chennai Super Kings
7:30 PM
MCA Stadium, Pune
47
May-2
Kolkata Knight Riders vs Rajasthan Royals
7:30 PM
Wankhede Stadium
48
May-3
Gujarat Titans vs Punjab Kings
7:30 PM
DY Patil Stadium
49
May-4
Royal Challengers Bangalore vs Chennai Super Kings
7:30 PM
MCA Stadium, Pune
50
May-5
Delhi Capitals vs SunRisers Hyderabad
7:30 PM
Brabourne – CCI
51
May-6
Gujarat Titans vs Mumbai Indians
7:30 PM
Brabourne – CCI
52
May-7
Punjab Kings vs Rajasthan Royals
3:30 PM
Wankhede Stadium
53
May-7
Lucknow Super Giants vs Kolkata Knight Riders
3:30 PM
MCA Stadium, Pune
54
May-8
SunRisers Hyderabad vs Royal Challengers Bangalore
3:30 PM
Wankhede Stadium
55
May-8
Chennai Super Kings vs Delhi Capitals
7:30 PM
DY Patil Stadium
56
May-9
Mumbai Indians vs Kolkata Knight Riders
7:30 PM
DY Patil Stadium
57
May-10
Lucknow Super Giants vs Gujarat Titans
7:30 PM
MCA Stadium, Pune
58
May-11
Rajasthan Royals vs Delhi Capitals
7:30 PM
DY Patil Stadium
59
May-12
Chennai Super Kings vs Mumbai Indians
7:30 PM
Wankhede Stadium
60
May-13
Royal Challengers Bangalore vs Punjab Kings
7:30 PM
Brabourne – CCI
61
May-14
Kolkata Knight Riders vs SunRisers Hyderabad
7:30 PM
MCA Stadium, Pune
62
May-15
Chennai Super Kings vs Gujarat Titans
3:30 PM
Wankhede Stadium
63
May-15
Lucknow Super Giants vs Rajasthan Royals
7:30 PM
Brabourne – CCI
64
May-16
Punjab Kings vs Delhi Capitals
7:30 PM
DY Patil Stadium
65
May-17
Mumbai Indians vs SunRisers Hyderabad
7:30 PM
Wankhede Stadium
66
May-18
Kolkata Knight Riders vs Lucknow Super Giants
7:30 PM
DY Patil Stadium
67
May-19
Royal Challengers Bangalore vs Gujarat Titans
7:30 PM
Wankhede Stadium
68
May-20
Rajasthan Royals vs Chennai Super Kings
7:30 PM
Brabourne – CCI
69
May-21
Mumbai Indians vs Delhi Capitals
7:30 PM
Wankhede Stadium
70
May-22
SunRisers Hyderabad vs Punjab Kings
7:30 PM
Wankhede Stadium